The Missing Links: Stephen Colbert Has Money to Blow
10,000 Days Ago Yesterday: Ferris Snagged A Foul Ball
According to this article, the events of the film Ferris Bueller's Day Off took place exactly 10,000 days ago yesterday.
This reminds me of how a person put in the work to find out the exact date Ice Cube was referring to in his song 'It Was A Good Day'. What other ambiguously-dated pop culture days should be tracked down next?
*
Well That About Covers It
Though it goes back a few years, this list of the Top 40 Magazine Covers of the Last 40 Years is definitely worth checking out.
(Via Matthias Rascher, who is a great Twitter follow.)
*
Stephen Colbert's Super PAC has $779K
He's not really running for anything, so what will become of all that campaign cash?
*
Also, Stephen Colbert Is In The Hobbit
What? Wait, Stephen Colbert is in The Hobbit? It would appear so.
*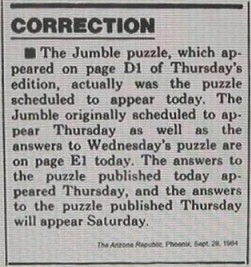 Strike That, Reverse It
Check out this gallery of amusing newspaper corrections. But be warned, a few of them are NSFW.
*
Paradise Falls Schmeradise Falls, Here's How to Really Launch Your House Into Orbit
I'll cut to the chase for you: You'll probably need to start saving your money.
*
If You Can Make It Here, You're Dead
Scouting New York gets in the Halloween mood by revealing NYC's smallest graveyard.