10 Amazing Variations on the Game of Thrones Theme Song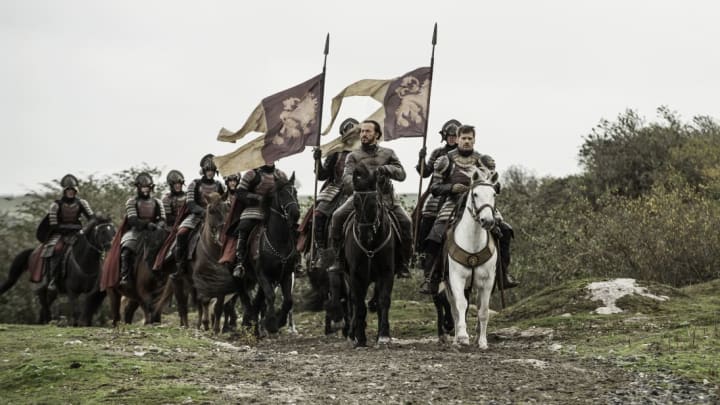 Jerome Flynn and Nikolaj Coster-Waldau in Game of Thrones / Helen Sloan, HBO
Game of Thrones has an iconic credits sequence, featuring a memorable theme song composed by Emmy Award-winning artist Ramin Djawadi. It's weirdly catchy—so much so that other artists have found increasingly unique ways to cover it over the years.
1. NESKeytar
Greig Stewart combined a Guitar Hero controller with an old school Nintendo to create the NESKeytar he used in this cover. Bonus: The NES still works as a separate gaming system!
2. Floppy Drives
Eight floppy drives playing in sync. The geekery is extreme.
3. Violin
A beautiful electric/acoustic violin version by Jason Yang.
4. Hard Rock
Roger Lima overdubs some metal riffage, drums, electric bass, and several layers of electric guitar.
5. Metal
Charlie Parra del Riego shreds.
6. Classical Guitar
Five guitar tracks!
7. Solo Piano
Bonus geek cred if you know the answer to his opening question.
8. 8-bit
YouTube commenter skinke says it best: "No? 'Game of Tones'? That's a missed opportunity if I've ever seen one."
9. Piano and Violin
Lara, coverer of video game music, takes a shot at this one, purely by ear. Wow.
10. Guitar, Cello, Drums, Shaker, and Flute
Talent show players for the win!
This post has been updated for 2019.