A Helium Balloon Bridge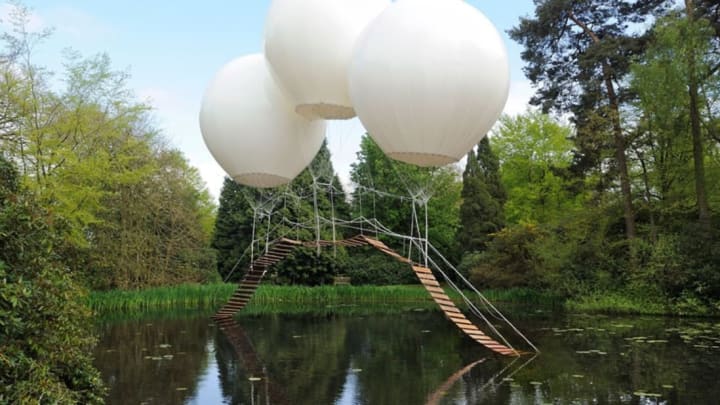 Olivier Grossette/ Splash News / Olivier Grossette/ Splash News
French artist Olivier Grossette created a helium balloon bridge installation in Cheshire, England that is beautiful and surreal. I want this to be something you can really use! 
*
Robot Revolution Update: giving new literal meaning to "manufactured pop act" (or rock act in this case …).
*
Long Read: The Land of the Free -- How Virtual Fences Will Transform Rural America. Very cool.
*
The Dictionary of Obscure Sorrows may all be made up (and some are a little too flowery), but when he gets it right, he gets it right (like with Kenopsia)
*
The top 10 best books for inquiring minds. Definitely bookmarked for future reading.
*
So there is a video of Sir David Attenborough comforting a blind baby rhino. And all is right with the world.
*
True Facts About The Land Snail, by Ze Frank. If frank language about reproductive organs disturbs you, I would not click!
*
From the Annals Of Too Much Time: a picture of a cat dressed up as "Breaking Bad's" Walter White. Frighteningly accurate (much more hair, though). I feel complete.
*
Like this picture of downtown Atlanta hotel The Westin, it's time for me to take off. Thanks to everyone who has read my Weekend Links (and sent them in!) over the years - don't stop now! Keep sending your submissions to FlossyLinks@gmail.com. As for me, you can follow my continued adventures on Twitter, or cast an eye to my website for my other writing. Love to you all! Adieu!