Frank Lloyd Wright-Approved Usonian Home Is on the Market in New York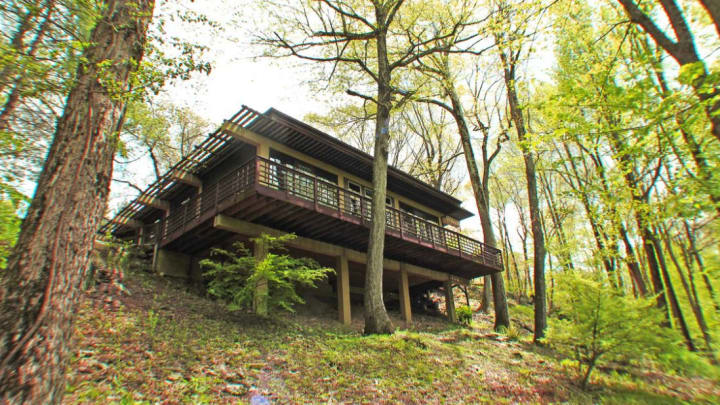 Houlihan Lawrence / Houlihan Lawrence
Frank Lloyd Wright is famous for building expensive, splashy buildings like Fallingwater, the Marin County Civic Center, and the Guggenheim Museum, but he also wanted to help the average American achieve domestic bliss. One example of his more accessible projects is Usonia Homes, a tiny residential community in Pleasantville, New York, on which Wright was the supervising architect. Seventy years after Wright first launched the project in 1947, one of the enclave's mid-century homes is now on the market. As Curbed reports, its list price is $1.2 million.
The 100-acre community has 48 homes, all of which were designed to be affordable, beautiful, and integrated with nature. Wright personally designed three of the homes and reviewed designs for the rest. Located on 29 Usonia Road, the house in question technically isn't Wright's handiwork, but it's still representative of his signature style: It's built into a hill, is made from natural materials, and has geometric angles, large glass walls, and a wraparound balcony.
Today, few original residents live in Usonia, but its homes still occasionally go up for sale—meaning this could be your window to score a Wright-conceived architectural treasure.
[h/t Curbed]