Redesigned Adidas Sneakers Channel Beijing's Olympic Stadium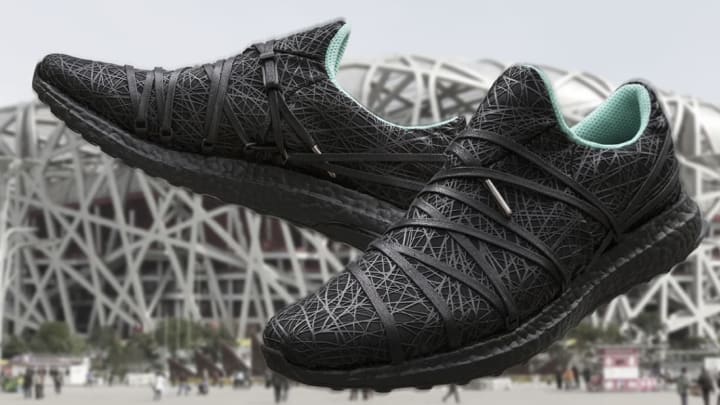 KXIV / KXIV
Beijing National Stadium has stood empty since the 2008 Olympics, but that hasn't stopped the building from becoming an architectural icon. Designer KXIV (Nathan Kiatkulpiboone) found inspiration in the tangled "Bird's Nest" structure when re-imagining Adidas's Ultraboost running shoe. As designboom reports, he used 3D-printing technology to achieve the lattice design.
KXIV comes from a background in architecture. When he isn't dreaming up shopping centers or city towers, he's applying the principles he uses as an architect to sneaker design. In 2014, he unveiled a pair of Nike Jordan X shoes that borrowed elements from Thailand's White Temple and Black House. He's also created a line of dress shoes inspired by modern architecture for the footwear brand SewRaw.
His latest project evokes the Bird's Nest woven exterior. The Swiss firm Herzog & de Meuron designed the stadium for the 2008 Olympics, and today it's remembered as one of the most distinctive structures ever built for the games.
To recreate the look on an Adidas sneaker, KXIV used polyurethane webbing fused to a lycra base. The upper layer of bands were 3D-printed in a way that holds the shoes together. The sneakers are just a prototype, so like the stadium they're based on, the striking form will remain unused for the foreseeable future.
KXIV / KXIV
KXIV
[h/t designboom]