For Sale: A Frank Lloyd Wright Home With a Waterfall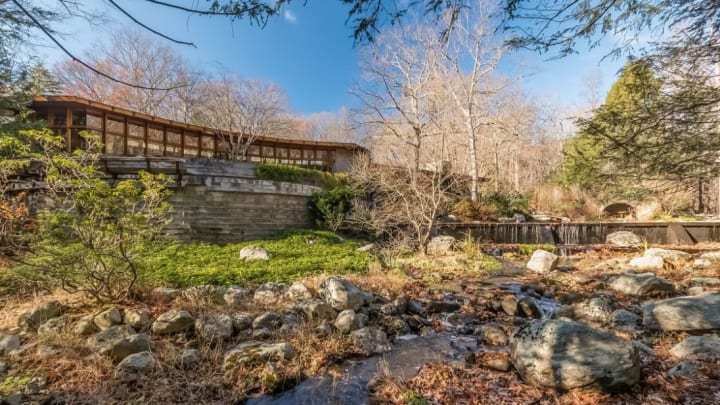 Houlihan Lawrence / Houlihan Lawrence
Frank Lloyd Wright's Fallingwater isn't the only home designed by the architect to include a waterfall. In the years preceding Wright's death in 1959, he designed Tirranna, a U-shaped residence in New Canaan, Connecticut. (The name "Tirranna" is an aboriginal Australian word meaning "running waters.") The house sits next to a pond fed by the nearby Noroton River and overlooks a tiny cascade. Experts say it's one of around 400 of Wright's remaining works in America—and now, it can belong to a fan willing to shell out just over $7 million for a piece of architectural history.
Tirranna's most recent owners were Ted Stanley, a philanthropist and entrepreneur, and his wife Vada, according to The Wall Street Journal. The two purchased the home around 20 years ago, but Vada Stanley passed away in 2013, and Ted Stanley last year. In January, the home was listed for $8 million. It's still on the market, so its sellers have lowered the asking price to $7.2 million.
Tirranna has seven bedrooms and sits on 15 acres of forest. In addition to the pond and waterfall, the grounds include gardens designed by Frank Okamura, the landscape architect for the Brooklyn Botanic Garden; a tennis court; a barn and a stable; a swimming pool; a greenhouse; a guest house; and a workshop.
The home itself has been renovated, but it still bears all the stylistic marks of a Frank Lloyd Wright-designed abode: gold leaf-covered chimneys, skylights, built-in bookshelves, and floor-to-ceiling glass window that provide sweeping views of the surrounding forest. Originally, it contained Wright-designed furnishings, but many items of furniture were sold by prior owners, so the Stanleys commissioned reproductions after they purchased the property.
View some pictures of Tirranna below, or visit the online listing for more images (or to make an offer!).
All photos courtesy of Houlihan Lawrence.