Create Your Own Frank Lloyd Wright Paper Cutouts With a New Book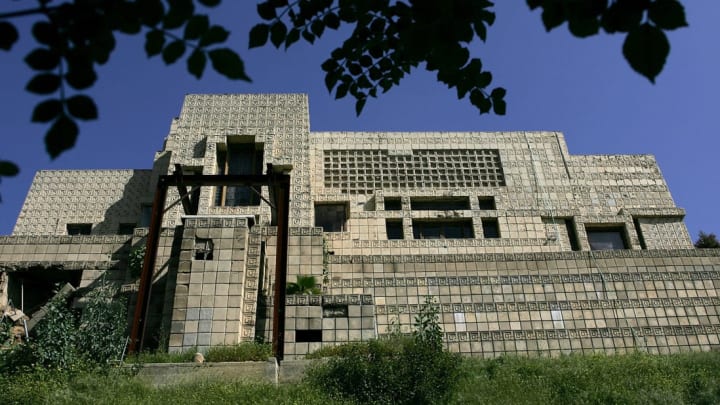 Justin Sullivan/Getty Images / Justin Sullivan/Getty Images
A new book lets you recreate the intricate designs of Frank Lloyd Wright in paper. Frank Lloyd Wright Paper Models: 14 Kirigami Buildings to Cut Out and Fold, a forthcoming book from the London-based publisher Lawrence King, lets you fold and cut your way to architectural greatness, with templates to make paper cutouts of the famous architect's most iconic works.
John Godwin
Kirigami is a Japanese art form that involves both cutting and folding paper, rather than folding alone. The book comes with templates that indicate where to cut and where to fold, with a simple four-step folding guide for each building. The results look not unlike the scale models that architects fabricate in their studios while designing buildings, though these require neither a workshop nor a 3D printer.
Lawrence King
You'll need some dexterity with an X-Acto knife—some of those windows are intricate work—but the most delicate parts actually come pre-cut. You just remove the template from the book and work along the printed lines. In other words, you can achieve a miniature version of Frank Lloyd Wright's genius without actually being any kind of genius.
The book includes templates for his most famous buildings, including Fallingwater and the Guggenheim Museum, as well as some buildings that may have faded from your memory, like the Ennis-Brown House, pictured above in both photographic and paper form.
Below is the Unity Temple, built in Oak Park, Illinois (where Wright lived for a large portion of his career) between 1905 and 1908.
John Godwin
And here's the Millard House in Pasadena, California, one of Wright's first "textile block" houses.
John Godwin
You can purchase the book for $20.
Lawrence King
[h/t Curbed]