The Funniest Town Name in All 50 States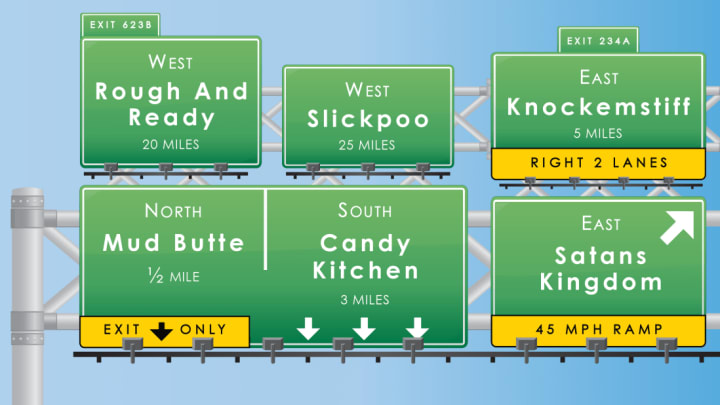 Lucy Quintanilla/Mental Floss / Lucy Quintanilla/Mental Floss
You can send your Christmas wish list to Santa Claus, Indiana, or get a refill in Hot Coffee, Mississippi. Whether honoring its founders, a local landmark, or its reputation for rowdy bar-brawling, the funniest town names in all 50 states show a sense of humor and personality.
1. ALABAMA // SCREAMER
Screamer, an unincorporated community in southeastern Alabama, has a noisy history. According to a local historian, the name may have two origins. In one version of the story, it comes from the fact that 19th century Native Americans used to loudly heckle white train travelers as they passed by what was then a reservation. The "screaming" could have also referred to the din made by local bears, panthers, and wildcats.
2. ALASKA // UNALASKA
Don't let the name fool you; Unalaska is as Alaskan as it comes. With a little more than 4500 residents, Unalaska is the largest city in the Aleutian Islands. Originally, Unangan residents named it Agunalaksh, a word that means "near the peninsula." As Russian fur traders arrived, the spelling morphed into Ounalashka, which eventually became Unalaska.
3. ARIZONA // WHY
Why call a town "Why?" This teeny-tiny community near the U.S.-Mexico border is named after the Y-shaped intersection of two nearby highways. But because of an Arizona law requiring place names have at least three letters, "Y" became the much more existential "Why."
4. ARKANSAS // SMACKOVER
This town of 1800 people in southern Arkansas, at one point one of the nation's biggest oil producers, was settled by French trappers in the early 19th century. The name Smackover may have come from the French name for the local creek, Chemin Couvert, which means "covered way"—and "sumac couvert" means a covering of sumac trees, a local plant. Alternate theories trace the name back to the legend of oil streaming "smack over the derrick" or a settler jumping "smack over the creek," according to the state's website.
5. CALIFORNIA // ROUGH AND READY
The early residents of Rough and Ready, California, were prepared to get down and dirty for their independence. Named after a mining company with the same moniker, the town—with a current population of about 1581—was the first to secede from the Union and become its own "republic" in 1850 as a protest against mining taxes, prohibition mandates, and laws that weren't enforced. Though their rebellion was laughably short-lived (the town rejoined the United States three months later), its residents still pay homage to Rough and Ready's spirited past with a celebration on the last Saturday in June.
6. COLORADO // NO NAME
What started out as a temporary solution has become a point of pride for locals (currently fewer than 200 in number) in No Name, Colorado. According to reports, a government official first marked a newly constructed exit off I-70 with a sign reading "No Name" as a placeholder. By the time officials got around to officially labeling it, "No Name" had the support of the community and it stuck. Visitors can find the spot near the No Name tunnels, No Name Creek, and the No Name hiking trail.
7. CONNECTICUT // HAZARDVILLE
Hazardville, Connecticut, began as a 19th-century industrial village that made gunpowder. Thankfully, that's not how it got its moniker: The town was named after Colonel Augustus George Hazard, who purchased and expanded the company in 1837.
8. DELAWARE // CORNER KETCH
It's rumored that Corner Ketch—an unincorporated community in New Castle County, Delaware—got its name from a rough-and-tumble local bar, whose patrons were so quarrelsome that townspeople would warn strangers, "They'll ketch ye at the corner."
9. FLORIDA // TWO EGG
Two Egg, Florida, got its name during the Great Depression. According to local lore, two young boys were so strapped for cash that they paid a local shopkeeper for sugar by giving them two eggs. These make-do business transactions occurred so regularly that patrons began referring to the establishment as a "two egg store." Eventually, the name caught on with traveling salesmen, who spread it to other towns.
10. GEORGIA // CLIMAX
Founded in the 1880s, the tiny town of Climax, Georgia, got its name from its location: It sits at the highest point on the railroad between Savannah and the Chattahoochee River.
11. HAWAII // VOLCANO
A cozy little burg near Hilo, Volcano is adjacent to several volcano hot spots. (Sorry.) You can walk the dormant Kilauea Iki Trail, the site of a 1959 eruption, and then stop by the Lava Rock Café for a coffee before heading to Hawaii Volcanoes National Park.
12. IDAHO // SLICKPOO
Near Culdesac, Idaho, sits the multiple-house assembly of Slickpoo, a slice of real estate that may barely qualify as a town but was once a bustling village. Originally the site of a Catholic mission, it was said to have been gifted to the missionaries by landowner Josiah Slickpoo.
13. ILLINOIS // SANDWICH
No, it's not named after the cold-cut concoction. Originally called Almon after land developer Almon Cage when it was founded in 1855, Sandwich got its name when a train stop liaison named it after his hometown of Sandwich, New Hampshire. It still capitalizes on the connotation, though: The town holds a Sandwich Festival annually.
14. INDIANA // SANTA CLAUS
It feels like Christmas every day in Santa Claus, Indiana. But the origin of the name wasn't quite so festive. As the story goes, the town was first named Santa Fe. In 1896, when the town wanted to secure a post office, postal officials told it to pick another name since Santa Fe was already taken. Someone thought Santa Claus was an acceptable alternative, and the post office agreed. To their dismay, children began mailing letters to Santa Claus, Indiana, with regularity.
15. IOWA // WHAT CHEER
A former coal mining town in the southeast of the state, What Cheer was christened Petersburg by Peter Britton, who settled here in the 1850s. But enterprising shop owner Joseph Andrews, who created the town post office, suggested calling it What Cheer, possibly after an old English greeting. Britton protested, but the name stuck. Today What Cheer has about 600 residents—down from a peak of 5000—and hosts a seasonal flea market and musical events at its opera house.
16. KANSAS // GAS
The wags in Gas know what you're thinking. "You just passed Gas." "Gas Kan." "Get Gas!" The jokes write themselves. Gas got its name when, no surprise, natural gas was discovered in the area in 1898. Farmer E.K. Taylor promptly sold 60 acres of his land to industrial interests and subdivided the rest into lots, laying the groundwork for Gas (a.k.a. Gas City). Today it's home to around 600 people.
17. KENTUCKY // BUGTUSSLE
The name of this tiny hamlet on the Kentucky-Tennessee border is an homage to, you guessed it, the local bug population. The town's oldest residents say that when workers helped out during the harvest, they would sleep in barns—on hay that was infested with doodlebugs. Legend has it that the workers stayed so long that the bugs grew big enough to "tussle" for the prime napping spots.
18. LOUISIANA // UNEEDUS
The Lake Superior Piling Company established a settlement of model farms here in the 1920s, bringing prosperity to this corner of rural Louisiana. The company's owners tweaked their corporate slogan, "you need us," into the town's new name—and apparently, the feeling was mutual. Residents allegedly founded another model farm community nearby and dubbed it Weneedu.
19. MAINE // BURNT PORCUPINE
It's easy to imagine where this island off the coast of Maine got its unusual name—just squint at it. Located near Bar Harbor and Acadia National Park, Burnt Porcupine has nearby sister islands with equally intriguing names: Bald Porcupine, Long Porcupine, and Sheep Porcupine.
20. MARYLAND // BORING
The village of Boring could have avoided all of the jokes if they had just stuck with the town's original name—Fairview. But there are a lot of other Fairviews in the U.S., so when a post office was established in the village in 1880, the postal service requested a rename. Residents voted to honor their first postmaster, David J. Boring—and he surely thought the recognition was anything but.
21. MASSACHUSETTS // BELCHERTOWN
While we had hoped that Belchertown was named for the aftermath of a particularly tasty meal, the real story is a bit less delicious: It's named after Jonathan Belcher, a colonial governor of Massachusetts.
22. MICHIGAN // HELL
Yes, there is a Hell on Earth, and it's 15 miles northwest of Ann Arbor. There are several stories floating around about how this name came to be, but the one the town itself declares official is this: In the 1830s, the town settler, George Reeves, made a deal with local farmers to trade his homemade whiskey for the grain they grew. When the farmer's wives knew their husbands were off dealing with Reeves, they were known to remark, "He's gone to hell again." The name stuck.
23. MINNESOTA // NIMROD
It's a pretty exclusive group of Minnesotans who can lay claim to being an official Nimrod: just 69 at last count. Though the town takes up just one square mile of the Gopher State, it's got one big claim to fame: It's the hometown of Dick Stigman, a pro baseball player who pitched for the Minnesota Twins, Cleveland Indians, and Boston Red Sox in the 1960s. As for the name itself, it's a Biblical reference. In the book of Genesis, Nimrod is described as "a mighty hunter before the Lord" and is credited with overseeing the construction of the Tower of Babel.
24. MISSISSIPPI // HOT COFFEE
Back in the horse-and-carriage days, the spot where the town of Hot Coffee, Mississippi, now sits marked the midpoint between Natchez, Mississippi, and Mobile, Alabama—two popular travel destinations. In the late 1800s an inn was erected and, recognizing a good business opportunity when he saw one, a man named L.N. Davis built a store to replenish the supplies of weary travelers and hung a coffee pot outside, which advertised "the best hot coffee around." His secret? He used spring water to brew New Orleans beans, then sweetened the drink with molasses drippings. Though the store is no longer there, Davis's java made enough of an impression to become the town's namesake.
25. MISSOURI // TIGHTWAD
Most legends surrounding the town's name tend to trace it to a postmaster who was upset with a cheapskate watermelon farmer who sold a promised melon out from under him for an extra 50-cent profit. But these days, the main draw to this tiny town in central Missouri is its bank—customers from all over the country open accounts here just to be able to send checks with the Tightwad logo on them.
26. MONTANA // PRAY
While it's true that you'll likely spend more time staring at the heavens while in Big Sky Country, the town of Pray, Montana, wasn't named as a religious suggestion. Founded in 1907, it was named for then-state representative Charles Nelson Pray.
27. NEBRASKA // MAGNET
After mapping out a town in northeast Nebraska, settler B.E. Smith was tasked with naming it. He wanted an attractive name for the community that would draw visitors across its borders, so he christened it Magnet in 1893. Today the locale is home to about 75 residents.
28. NEVADA // JIGGS
About 30 miles south of Elko, Nevada, sits the small town of Jiggs. In 1918, businessman Albert Hankins owned the local hotel, dance hall, and general store—which basically meant he owned the whole town. Looking for a new name for the place, he took a suggestion from his kids. "Jiggs" was the top hat-wearing, Irish-American protagonist of their favorite comic strip Bringing Up Father. Following the name change, the women's organization in town dubbed itself Maggie's Club after the character's wife.
29. NEW HAMPSHIRE // SANDWICH
The Fourth Earl of Sandwich, John Montague, did more than invent a lunchtime staple. In 1763, he chartered a town between the Lakes Region and the White Mountains of New Hampshire. And just like the edible kind of sandwich, the town of Sandwich was named after him. The earl also lent his title to the nearby Sandwich mountain range and Sandwich dome.
30. NEW JERSEY // LOVELADIES
Lauren Spinelli
The town of Loveladies, New Jersey, was actually named after a man, not a group of women. Located on Long Beach Island, it got its start as one of the life-saving stations that appeared on the Jersey shore in the 1870s. The station borrowed its name from a nearby island owned by Thomas Lovelady, a local hunter and sportsman. When the community grew into a town it tested out several new titles, including Club House and Long Beach Park. In 1952, the early name of Loveladies became official.
31. NEW MEXICO // CANDY KITCHEN
Sandwiched between Zuni and Navajo reservations in western New Mexico, Candy Kitchen Ranch purportedly got its name when a local moonshine distiller needed a front to hide his illicit operations during Prohibition. To secure the sugar necessary to concoct barrels of hooch, the moonshiner established a confectionery that produced pinion nut candy on the side. Candy Kitchen isn't the only sweet-toothed locale in this neck of rural New Mexico, either: 85 miles down the dusty trail sits a place called Pie Town!
32. NEW YORK // NEVERSINK
The old town of Neversink is currently sunk under about 175 feet of water. Named for the Neversink River, the longest tributary of the Delaware River, the city of 2000 was one of the unlucky Catskill towns flooded in the 1950s to create reservoirs that would provide water to New York City. Luckily, the town relocated in the 1950s shortly after its old Main Street was sunk for good. Not all neighboring locales were so fortunate, though. The flooding forced locals to give a bittersweet goodbye to the now-underwater town of … Bittersweet.
33. NORTH CAROLINA // WHYNOT
Around 1860, residents living in the fertile heart of central North Carolina had no name for their home. But when the United States Post Office planned to put down roots in the area, the townspeople convened to decide on a name. Debate ensued: Why not name it this? Why not name it that? The discussion dragged on until one frustrated local butted in and said, "Why not name the town Why Not and let's go home?" Ambivalence won the day.
34. NORTH DAKOTA // CANNON BALL
Cannon Ball, North Dakota gets its name not from a battle, but from geological curiosities called concretions. Millions of years ago, sediment naturally cemented around plants or shells in the Peace Garden State and hardened into rock, forming unusually perfect spheres that—you guessed it—resemble cannonballs. While these round rocks dot the local Cannonball River, you can ogle at more if you drive 170 miles west to the northern stretches of Theodore Roosevelt National Park.
35. OHIO // KNOCKEMSTIFF
Though nobody can quite pinpoint when the town of Knockemstiff acquired its odd name, they can at least agree that it certainly earned it. Most of the stories about the area's early days, before it got its foreboding name, involve bar brawls, moonshine, and other types of delinquency. The most famous origin tale, though, centers on the advice of a preacher. When approached by a woman asking him how to keep her cheating husband home and faithful, the preacher responded simply: "Knock 'em stiff." Take that advice however you want. The town received mainstream attention in 2008 when author Donald Ray Pollock, a native of Knockemstiff, published a book of 18 short stories that shine a gritty light on life in this rough Midwestern community.
36. OKLAHOMA // GENE AUTRY
The community formerly known as Berwyn, Oklahoma, took on the name of the famous singing cowboy after the man himself came to town and purchased a 1200-acre ranch that he would turn into the headquarters of his Flying A Ranch Rodeo. A few years after the purchase, Cecil Crosby, the deputy sheriff of Carter County, where Berwyn was located, suggested the town change its name to honor Autry. The town's 227 residents all signed a petition in favor of the change, with the post office and railroad agreeing to alter their names soon after. On November 16, 1941, the town of Berwyn officially became Gene Autry, Oklahoma. Though Autry sold the Flying A Ranch after World War II, the town that bears his name still recognizes the late cowboy actor with a museum and film festival in his honor.
37. OREGON // ZIGZAG
The unincorporated community of Zigzag, Oregon, is a scenic spot that rests in the middle of Mount Hood National Forest. The community itself is named after the Zigzag River, which drains from the Zigzag Glacier. Though the history of the name is unknown, it might be traced back to Joel Palmer, a pioneer of the Oregon territory, who described the erratic movements needed to descend through a ravine near Mount Hood: "The manner of descending is to turn directly to the right, go zigzag for about one hundred yards, then turn short round, and go zigzag until you come under the place where you started from; then to the right, and so on, until you reach the bottom." Though it was used to describe one particular ravine, the name stuck, and it eventually morphed into becoming a local community. In addition to a town, river, and glacier, Zigzag also lends its name to a volcanic mountain and canyon.
38. PENNSYLVANIA // INTERCOURSE
The Lancaster County, Pennsylvania, village of Intercourse knows what you're thinking. "It's okay, you can giggle!" the village's website says. "We're happy with our name. It's the perfect conversation starter." Just how did the town come by its unusual moniker, which it adopted in 1814? There are several possibilities. According to one theory, the name came from the fact that the town—which was originally called Cross Keys after a local tavern when it was founded in 1754—was at the intersection of two major roads. Another theory posits that the name is an evolution from "Entercourse" because, at the time, the town was located next to the entrance of a racetrack. The final theory revolves around the original meaning of the word intercourse: "connection or dealings between persons or groups; exchange especially of thoughts or feelings." The sexual meaning of the word intercourse didn't come into popular use until the late 18th century. Intercourse isn't the only Pennsylvania town name likely to delight 12-year-olds: Less than 20 minutes up the road is the town Blue Ball. It was named after an 1850s inn.
39. RHODE ISLAND // WOONSOCKET
The sixth largest city in Rhode Island was historically known as la ville la plus française aux États-Unis, which translates to "the most French city in the United States." Although during the Depression three-quarters of Woonsocket's residents were of French-Canadian descent, by the 2000 census, that number had dipped to 46.1 percent. "Woonsocket," though, does not come from French. Historians agree that the town's whimsical name is a corruption of a word from a Native American language, but they don't agree on the language, much less the word, from which it derives.
40. SOUTH CAROLINA // KETCHUPTOWN
This Horry County town got its name from a country store built by Herbert Small in 1927, but not because of the condiments it sold. Every week, farmers would flock to Small's store to "catch up" on news and gossip. As a town grew up around the store, the name stuck.
41. SOUTH DAKOTA // MUD BUTTE
Mud Butte was named for a nearby barren butte—that is, an isolated hill with steep sides and a flat top. In 1981, archeologists digging around in Mud Butte unearthed the sixth Tyrannosaurus rex skeleton ever discovered, after a local rancher finally got around to calling a museum about the dinosaur bones he'd seen jutting out of a cliff on his property for years.
42. TENNESSEE // DIFFICULT
There are competing theories on the genesis of Difficult's name. One holds that when town residents applied for a post office, the U.S. Postal Service responded, "your name is difficult," referring either to its pronunciation, spelling, or the handwriting on the application. Residents took the letter as an order, and accepted the name Difficult. The other theory goes that the town named itself Difficult out of spite after a postal official suggested its name was too hard to pronounce.
43. TEXAS // DING DONG
Upon learning that the town of Ding Dong is located in Bell County, Texas, you might reasonably conclude that the two facts are related. But you'd be wrong. The community was named after its founders, the Bell family—but they're unrelated to Governor Peter Hansborough Bell, in whose honor the county was named.
44. UTAH // MEXICAN HAT
Visitors to Mexican Hat, Utah, never have to wonder how the community got its name. The answer is as plain as day: a 60-foot-wide, sombrero-shaped rock formation on the northeast side of town.
45. VERMONT // SATANS KINGDOM
If New England town names are any indication, Satan's been awfully busy. The prince of darkness evidently has franchises in Massachusetts, Connecticut, and Vermont—the latter of which was purportedly named by a resentful settler who "expected fertile, rolling acres and had received rocks and hills instead."
46. VIRGINIA // BUMPASS
It's pronounced "bump-iss," the locals will tell you—if they tell you anything at all. Many Bumpass residents have developed a no-talking-to-strangers policy. Maybe they're just tired of being the butt of every joke.
47. WASHINGTON // HUMPTULIPS
This tiny town, located about 25 miles north of Aberdeen (famous as Kurt Cobain's birthplace), was once a major logging center. Today it's better known for its unusual name, which comes from a local Native American word meaning "hard to pole." The phrase is a reference to the nearby Humptulips River, which Native Americans used to canoe by propelling themselves along with poles. The unusual-sounding term has brought the area a bit of fame: Humptulips is mentioned in the books Another Popular Roadside Attraction by Tom Robbins and The Long World by Sir Terry Pratchett.
48. WEST VIRGINIA // LICK FORK
While the name of this unincorporated community might whet your appetite, it's likely named for a nearby salt lick, which was probably more appealing to horses and wild animals than humans. There's a Lick Fork creek, road, and more nearby, so there's no shortage of photo opportunities.
49. WISCONSIN // BOSSTOWN
This Richland County, Wisconsin, community reportedly takes its name from William Henry Dosch. Nickname: Boss. According to The Romance of Wisconsin Place Names, Dosch was sick as a boy, and he got so used to the attention he received while ill that he later became rather bossy with his family. Later, he owned a store on the site of an old saw mill.
50. WYOMING // CHUGWATER
It's Chug-water, not Chug-water. The land that this tiny Wyoming town calls home was once the territory of the Mandan tribe, whose chief was reportedly injured during a buffalo hunt and sent his son to lead the hunting party in his place. According to Chugwater's website, the son determined that the easiest way to kill the buffalo was to drive them off the local chalk cliffs. "The word 'chug,'" the town's website notes, "is said to describe the noise that the buffalo or the falling chalk made when it hit the ground or fell into the water under the bluff, depending on which version of the legend you wish to believe. Indians began to call the area 'water at the place where the buffalo chug.'" When white settlers came to the area, they used the Native American terminology for the land, dubbing it Chug Springs. A local stream was named Chugwater Creek (after Chug Springs), and that's where the town gets its name.
By Erika Berlin, Stacy Conradt, April Daley, Michele Debczak, Kirstin Fawcett, Shaunacy Ferro, Kate Horowitz, Kat Long, Bess Lovejoy, Erin McCarthy, Jen Pinkowski, Lucas Reilly, Nico Rivero, Jake Rossen, Jay Serafino, and Jenn Wood.