11 Camping Essentials to Get You Through the Summer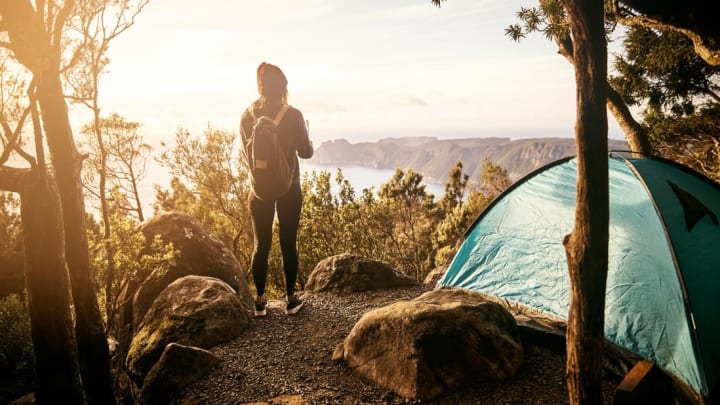 iStock/pixdeluxe / iStock/pixdeluxe
This article contains affiliate links to products selected by our editors. Mental Floss may receive a commission for purchases made through these links.
If you're hitting the trails this summer, you'll want to make sure you've got everything you need to make your trip to the great outdoors the best it can be. Before you lose cell service, grab these 11 camping essentials.
1. Alite Monarch Chair; $70
Treat your butt to this comfy hammock chair, which is perfect for sitting around the campfire. The patented design only has two legs (you'll need your own legs to balance it) but that means it can easily perch on uneven terrain where other camping chairs can't go—not to mention you can use it as a rocking chair. When packed up, it's just a foot long and weighs just a little over a pound, so it can go anywhere, whether that means the soccer field on Saturday morning or a long backpacking trip.
Buy it: REI
2. Scrubba Wash Bag; $50 to $55
Wash your clothes on the go with this little bag, which has a textured washboard lining to give your clothes an actual scrubbing. Throw your clothes in, add water and soap, then slosh the bag around for a few minutes to get a high-quality wash for your sweaty, dirt-laden outdoor gear. Then empty out the soapy water, rinse, and hang your newly cleaned clothes to dry. Scrubba also makes a bag designed just for delicates, a travel clothesline, a camping towel to dry your clothes, and even a set of inflatable hangers.
Buy it: Amazon ($55) or REI ($50)
3. PackTowl; $7 to $55
This travel-ready towel dries 30 percent faster than the traditional cotton version, and despite its thin form, it can absorb up to five times its weight in water. It comes in multiple different styles, sizes, and colors from lightweight hand towels to deluxe beach blankets, the largest of which folds down to be about the size of a kid's lunchbox. The company touts its PackTowl Luxe as "the most luxurious fast-drying towel available"—and having used it as a very comfy desk blanket to ward off frigid office temperatures, we'd have to agree.
4. Otterbox Venture Cooler; $230 to $350
Otterbox's Venture Coolers are just as indestructible as the company's famous phone cases. They're waterproof, drop-tested from every angle, and can be made certifiably bear-proof with an optional lock set. You can add slide-on cupholders, a bottle opener, a cutting board, and other accessories as needed; you can even organize the interior into compartments to keep your fruit from getting squished by your soda, your bread from getting wet from your icy beer, etc. And the 2-inch foam insulation is designed to keep your ice solid for a full 14 days.
Buy it: Otterbox
5. Kicker Bluetooth Speaker; $81
Kicker's heavy-duty outdoor speaker is water-resistant, durable, and fits in a cupholder. But don't let the small size fool you: It's also capable of churning out "muscular bass" beats. It's got 10 hours of playback, plus a built-in USB port that you can use to charge your phone.
Buy it: Amazon ($81 plus shipping) or Walmart ($137)
6. Sea to Summit X-Series Cookware; $95
When you're carrying everything you need to survive for days, weight matters. So does size. These aluminum-base, silicone-walled dishes and pot are a little pricey, but they take up barely any room and weigh less than 1.5 pounds. The two-person cook set comes with a pot (and a lid with a built-in strainer), two bowls, and two mugs. They collapse almost flat and fit together like nesting dolls, saving you space in your pack or in your car. Note: You'll need a camping stove, because an open fire will burn the silicone sides of the pot.
Buy it: Amazon ($95) or REI ($110)
7. Kelty Sine 35 Sleeping Bag; $161
Even if it's summer, you probably still need to prep for cold nights. This sleeping bag has easily customizable ventilation so you can adjust it for whatever the weather. Outside magazine calls the Kelty Sine 35 "a smart choice for almost everything." The diagonal zips make it easy to get in and out of, and if you're a feet-outside-the-covers person, there's a vent down at the bottom of the bag for your tootsies.
Buy it: Amazon ($167) or REI ($161)
8. Summer Moon 2 Tent; $142
This squat tent is super simple to set up because it only uses two poles. At less than 4 pounds, it debuted as the lightest tent on the market for less than $200, according to its manufacturer Sierra Designs. It's designed to function in three seasons and also comes in a three-person size. It comes equipped with Sierra Designs's Night Glow, an accessory that turns your headlamp into an overhead light.
Buy it: Amazon ($142) or Moosejaw ($190)
9. Jetboil Flash Personal Cooking System; $90
This handy system lights up with the push of a button and boils two cups of water at a time for coffee, instant oatmeal, dehydrated meals, and more. It's essentially a combo stove/Thermos, which you can use both for cooking and as a drinking vessel. The Neoprene sleeve protects your hands while it's hot—with a color-changing indicator to warn you when it is—and it comes with a lid you can use to drink straight out of the cup once everything is done boiling. When you're done, the fuel, stove, and accessories all fit back into the cup for safe storage in your bag.
Buy it: Amazon ($90) or REI ($100)
10. Radiant 300 Rechargeable Lantern; $36
Your campfire can only be your sole source of light for so long. This ultra-bright rechargeable lantern works for five hours at its brightest setting and 27 hours at its lowest, recharging in three-and-a-half hours. It's water- and impact-resistant, so there's no need to treat it with kid gloves. Just clip the carabiner handle to your pack and go. It can also be used as a power source for your phone or tablet.
Buy it: Amazon
11. Vasque Breeze III GTX Boot; $180
What kind of hiking boot you want will depend a lot on the type of trip you're taking and the specific contours of your foot, but for all-around outdoor footwear, you could do worse than Vasque's Breeze boots. The Breeze III is lighter, with better traction than its predecessors. It's got great grip on rocky terrain, keeps your feet cool with mesh panels, and features a nice cushion that you'll appreciate after hours on your feet. It comes in men's and women's sizes.
Buy it: Men's: Amazon or REI or Backcountry; Women's: Amazon or REI or Backcountry
Mental Floss has affiliate relationships with certain retailers and may receive a small percentage of any sale. But we choose all products independently and only get commission on items you buy and don't return, so we're only happy if you're happy. Thanks for helping us pay the bills!
A version of this article first ran in 2017. It has been updated to reflect current availability.