5 Fascinating Animals That Served in the Military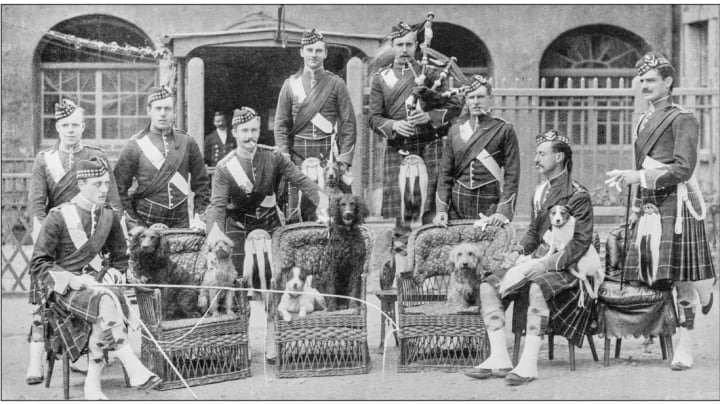 iStock / ilbusca / iStock / ilbusca
We've already told you the story of Sir Nils Olav and about 10 other animals that have received military-style honors, but few of those critters actually served in the military. Now it's time to take a look at some of the bravest and most celebrated critters that have ever served their countries.
1. Judy
A liver and white pointer born in 1937, Judy, became the mascot of the British Royal Navy at a young age. In 1942, her ship was attacked by bombers and forced to beach on a nearby island that had little food and no apparent water sources. Judy disappeared for two days; when she reappeared, she immediately started digging on the coastline and uncovered a fresh water spring—saving the lives of her shipwrecked crewmates.
Eventually, Judy and the rest of the crew were rescued by a Chinese junk and were taken to Sumatra. During their attempt to reach Padang, they were taken as prisoners by the Japanese. The entire crew was sent to the war camp in Medan, making Judy the only dog registered as a Prisoner of War during WWII.
At the camp, Leading Aircraftman Frank Williams adopted Judy and shared his small daily ration of rice with the dog. Judy helped the prisoners by distracting the guards while they were administering punishments and warning her fellow inmates when snakes or scorpions were around. Williams helped save the dog by making an agreement with the camp's Commandant that he could have one of Judy's future puppies as long as he told his guards to leave the dog alone.
The men were transferred to Singapore in 1944 and while dogs weren't allowed on the ship, Williams trained Judy to lay very still and smuggled her onboard in a rice sack. When the ship was torpedoed, he threw her from a portal hoping to save her life, before making his own escape. While Williams was recaptured before he saw Judy, he heard stories from others about a dog that helped rescue drowning men by bringing
them
pieces of floating debris.
Judy and Williams met again at their new prison camp, where they were forced to clear a path through the jungle to make way for a new railroad. Eventually, the guards sentenced Judy to death, but she managed to hide out in the jungle until hostilities ceased. After the war, Judy and Williams returned to the UK and Judy was given the Dickin Medal (the animal version of a Victoria Cross) in 1946. Williams was given the People's Dispensary for Sick Animals' (PDSA) White Cross of St. Giles, their highest award possible for his protection of Judy.
2. Bamse
This heroic pup, whose name means "teddy bear" in Norwegian, eventually became a symbol for Norwegian freedom during WWII. Bamse was bought by Captain Erling Hafto in 1937 with the intent of turning her into a ship's dog. Before the war, she would look after the Captain's children, but when WWII broke out, Hafto's ship was drafted into the Royal Norwegian Navy and Bamse went along for the ride.
After the Nazis invaded Norway, Bamse's ship was one of only 13 Norwegian naval vessels that managed to escape to the UK. The ship was converted into a minesweeper and stationed in Montrose, Scotland for the rest of the war. While Bamse might not have helped search for mines very efficiently, when the ship wound up in battle, she would stand on the front gun tower of the boat wearing her own special metal helmet. More important to the troops, she lifted the spirits of the crew. She also wrangled them up at the end of the day to get them back on the ship before curfew: She rode the bus, with a bus pass attached to her collar, to her crew's favorite bar, then went in and fetched them. When she couldn't find her crewmates, she would ride the bus back to base alone.
Bamse wasn't just loyal. She was also heroic: She once pushed a knife-wielding attacker into the sea, saving the life of a lieutenant commander; on another occasion, she jumped off the boat and dragged a sailor who had fallen overboard back to shore.
Given the Nazi occupation back home, it's no surprise that Bamse quickly became
mascot
of all Free Norwegian Forces—they needed something positive and heart-warming to remind them why they kept fighting and couldn't go home.  The PDSA even made her an official Allied Forces Mascot.
When she died in 1944, Bamse was given full military honors and her funeral was attended by hundreds of people. In 1984, she was posthumously awarded the Norwegian Norges Hundeorden for her war service and the PDSA awarded her their Gold Medal in 2006, making her the only animal from WWII to receive the honor. In 2006, a life-sized bronze statue of Bamse was erected in Montrose. In 2008, a biography about the pup was released, titled Sea Dog Bamse.
3. Theo
Theo was a bomb detection dog in the British Army's 1st Military Working Dog Regiment. The English Springer Spaniel was born in 2009, trained in his duties and then assigned to his handler, Liam Tasker, in 2010.
The pair was sent to Afghanistan in September 2010 for Theo's first tour. In March of 2011, Tasker and Theo were on patrol in the Nahri Saraj District when they were attacked by Taliban insurgents. Tasker was shot and killed by a sniper and upon returning to base, Theo suffered from a seizure and died. It is believed his death was caused by the stress he incurred by the attack and Tasker's death.
Amazingly, while the duo was only in service together for about six months, they had already set a new record for bomb finds for their period of deployment and were considered the most successful working dog team in Afghanistan. As a result, Theo was posthumously awarded the Dickin Medal in 2012.
4. Lin Wang
Think dogs are the only animals that can be useful during wars? Think again.
Lin Wang was an Asian elephant that served with the Chinese Expeditionary Force in WWII. He originally served the Japanese army by transporting
supplies,
but was captured by the Chinese in 1943 along with 12 other elephants. The Chinese used the elephants in a similar manner until they were recalled back to China in 1945.
After the war, Lin Wang continued to help the military by aiding in the building of war monuments and by performing a circus to help raise money for famine relief. Eventually, he was transferred to an army base in Kaohsiung, where he helped transport logs and perform other simple tasks.
In 1952, Lin Wang was given to the Taipei Zoo, where he met his lifelong mate, Malan. The elephant eventually became the most famous animal in Taiwan and in 1983, the zoo threw him a birthday party for what would approximately be his 66th birthday. His birthday was celebrated every year after that on the last Sunday of October. Lin Wang survived until 2003, making him around 86 years old (typically Asian elephants live to around 70 years).
While he may not have made a huge difference in the war, he was still a major celebrity in Taipei. His memorial service lasted several weeks and was attended by tens of thousands of people. In honor of his memory, Lin Wang was posthumously awarded the title of "Honorary Taipei Citizen" by the mayor.
5. Tirpitz
In WWI, Tirpiz started out in the Germany Navy—who kept the pig on hand as a source of fresh meat. He was onboard the SMS Dresden when it sank off the coast of South America in 1915. The German soldiers fled, but the poor pig was left on board to sink. Fortunately, Tirpiz was able to make its way to the top deck and swim clear of the ship. He immediately started heading straight for the Royal Navy ships and was eventually rescued and pulled onboard the HMS Glasgow.
The ship's crew quickly adopted the pig, naming him after Alfred von Tirpitz, the German Admiral and Secretary of State of the Imperial Naval Office. The pig stayed on the ship for a year and was then placed in quarantine until he was adopted by the man who first saw him swimming to their boat. Tirpitz was then transferred to Whale Island Gunnery School for the rest of his career.
Unfortunately, the fact that Tirpitz was still just a pig eventually caught up to him and after the war ended, he was auctioned off as pork for charity, helping the British Red Cross raise 1,785 pounds. Later on, his stuffed head was donated to the Imperial War Museum.
There are thousands of animals who have served in the military, and this is only a small selection of the heroic critters worth reading about. If you feel like one particular military animal was egregiously left out of this list though, let us know in the comments. Who knows, maybe we will cover more military animals in a future article.