Tiny Star Wars Fans Can Now Cruise Around in Their Very Own Landspeeders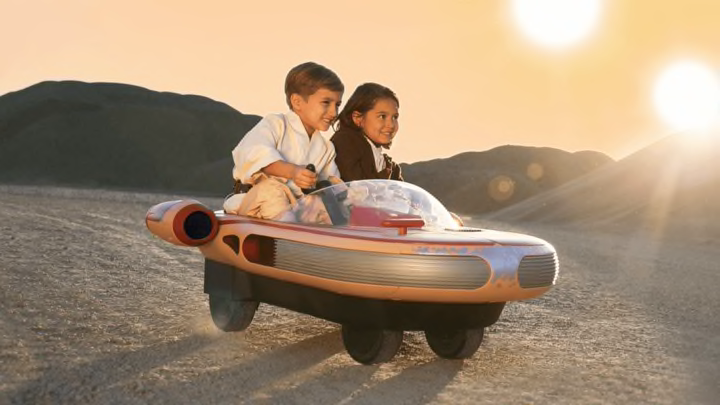 Radio Flyer / Radio Flyer
Some kids collect Hot Wheels, while others own model lightsabers and dream of driving Luke Skywalker's Landspeeder through a galaxy far, far away. Soon, Mashable reports, these pint-sized Jedis-in-training can pilot their very own replicas of the fictional anti-gravity craft: an officially licensed, kid-sized Star Wars Landspeeder, coming in September from American toy company Radio Flyer.
The Landspeeder has an interactive dashboard with light-up buttons, and it plays sounds from the original Star Wars film. The two-seater doesn't hover, exactly, but it can zoom across desert sands (or suburban sidewalks) at forward speeds of up to 5 mph, and go in reverse at 2 mph.
The vehicle's rechargeable battery allows for around five hours of drive time—just enough for tiny Star Wars fans to reenact their way through both the original 1977 movie and 1980's The Empire Strikes Back. (Sorry, grown-up sci-fi nerds: The toy ride supports only up to 130 pounds, so you'll have to settle for pretending your car is the Death Star.)
Radio Flyer's Landspeeder will be sold at Toys "R" Us stores. It costs $500, and is available for pre-order online now.
Watch it in action below:
[h/t Mashable]