BioLite's 'Smokeless' Fire Pit Promises a More Efficient Burn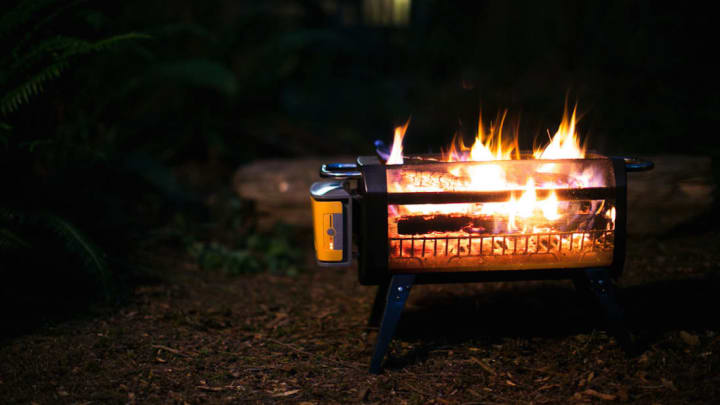 BioLite / BioLite
For thousands of years, people have gathered around open flames to cook food, find warmth, and share stories deep into the night. Campfires have been around since the dawn of humanity, but what if there was a way to use modern technology to make them even better? The people at BioLite believe they've found one.
The FirePit is the outdoor gadget startup's answer to the recreational, backyard fire. It offers the same benefits as a more conventional product: a space for building wood or charcoal fires, a removable grate for grilling, and metal screens on each side to protect onlookers from embers. But the yellow battery pack is what sets it apart from anything else on the market. With the press of a button, a fan inside the FirePit stokes a hotter, more efficient blaze without producing all of the smoke and soot people are used to.
BioLite
"Air injection makes the fire burn more completely," Ryan Gist, one of the lead engineers on the project, told Mental Floss. "So you basically get all the energy out of your fuel." The result is a fire you can enjoy without worrying about your eyes and throat burning, moving your chair every five minutes to avoid a gust of smoke, or having your clothes stink for weeks.
It also makes for a fire capable of burning longer and brighter with less wood. Smoke is made of tiny fuel particles that haven't fully burned up. Using a fan, the FirePit can draw that runaway fuel back into the fire before it has a chance to escape. "It's like when you're stuck on the highway behind a truck and it's got black stuff coming out of the tailpipe," BioLite marketing director Erica Rosen told Mental Floss. "When you see black stuff coming out of a fire, it's the same thing. So what we've done is, we've given fire a tuneup."
FirePit's built-in fan makes the fire easy to control. If campfire gazers want to see big, roaring flames through the box's X-ray mesh, they can turn the air down low. The higher fan setting produces a smaller, more intense burn, which is perfect for chilly autumn nights. Adjusting the blaze can be done remotely with the BioLite Energy app or manually from the control panel on top of the battery pack.
BioLite
BioLite designed the FirePit for backyards, but its foldable legs make it convenient to carry to the beach, a campsite, or anywhere else where you might bring a cooler of the same size. Once it's cooled down after an evening of grilling hot dogs and toasting marshmallows, the pit fits neatly into its solar panel case, where it can recharge in time for the following night (the battery also features a USB plug for charging indoors).
The FirePit is available now; you buy it from Amazon or directly from BioLite's website.
BioLite
All images courtesy of BioLite. A version of this story ran in 2017.