America's 25 Best Desserts You Have to Try
Why save the best for last? These desserts are so impressive, they deserve a spot at the top of the menu—and the top of your personal 'must eats' list. Savor 25 essential sweet eats from around the country.
1. EDIBLE HELIUM BALLOON, ALINEA // CHICAGO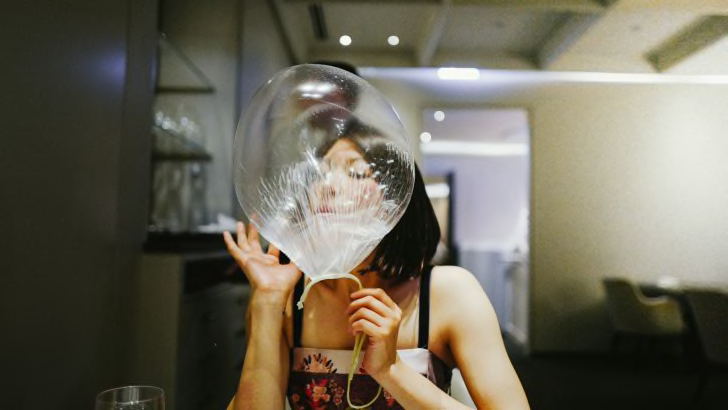 The fare at this three-Michelin-starred restaurant gives "light meal" a new meaning. Along with a tasting menu filled with savory works of molecular gastronomy, chef Grant Achatz serves up edible helium balloons in a variety of flavors, including grape and banana. Of course, a seat at one of these tables doesn't come easy or cheap. Reservations—which start at $175 a person—are released two months in advance and fill up quickly after the release date on the 15th of each month.
2. KOUING AMAN BREAD PUDDING, LES MADELEINES // SALT LAKE CITY, UTAH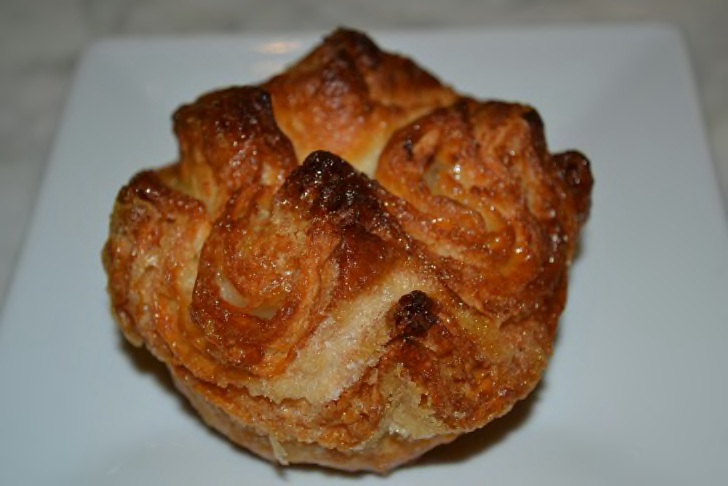 Once featured on The Best Thing I Ever Ate, the French-inspired pastries from Les Madeleines reign supreme. The sweet-and-salty treats are flaky as well as crunchy and are finished with a salted caramel topping. According to the menu, "If you love salted caramel, this is the pastry for you."
3. SEASONAL DOUGHNUT, HOLE DOUGHNUTS // ASHEVILLE, NORTH CAROLINA
Asheville, North Carolina's Hole Doughnuts shop keeps it simple with one yeast doughnut recipe in four varieties: vanilla glazed, toasted almond sesame, cocoa rub, and an ever-changing seasonal flavor. But that doesn't mean the flavors aren't complex. Light and airy, the handmade treats are a must-try.
4. CHILTON COUNTRY PEACH UPSIDE DOWN CAKE, HIGHLANDS BAR AND GRILL // BIRMINGHAM, ALABAMA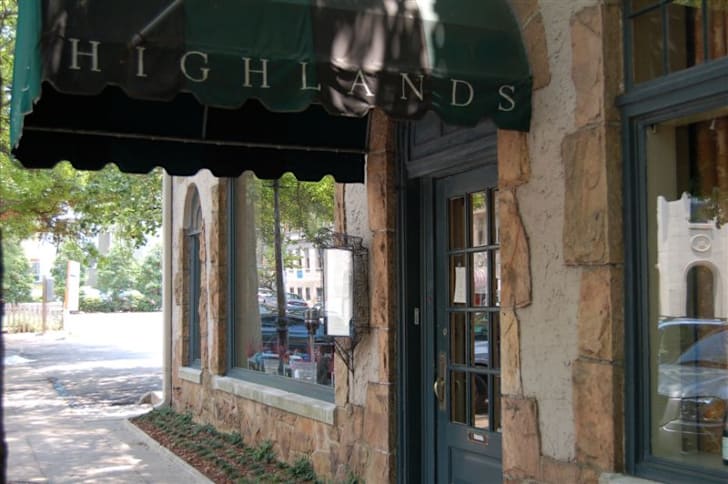 Dolester Miles, an award-winning pastry chef, dreamed up this creative dessert just for the Alabama eatery. Topped with chantilly cream, the fruity dish is an unconventional twist on a classic.
5. ICE CREAM SUNDAE, ABC KITCHEN // NEW YORK CITY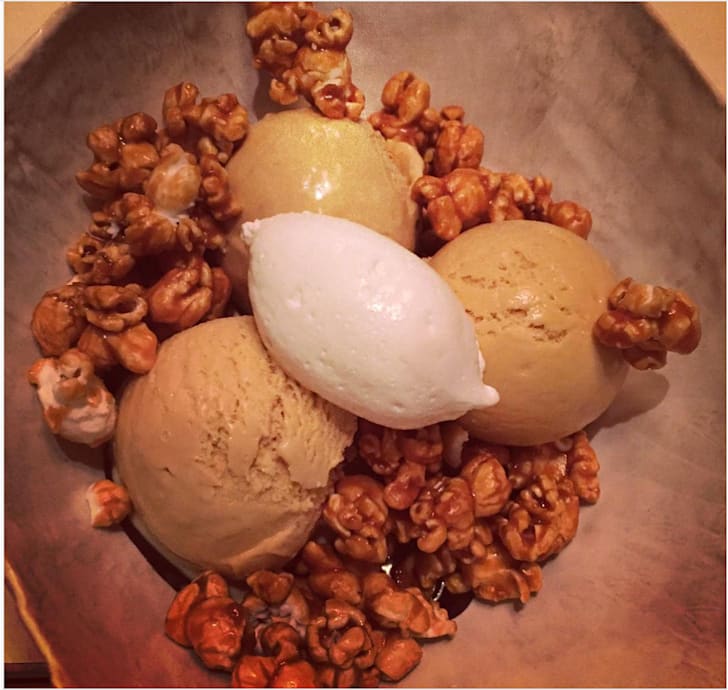 The inside scoop on ABC Kitchen's indulgent sundae: The dessert is a balance of popcorn, salted caramel ice cream, hot fudge, candied peanuts, and whipped cream.
6. TRIPLE COCONUT CREAM PIE, DAHLIA'S BAKERY // SEATTLE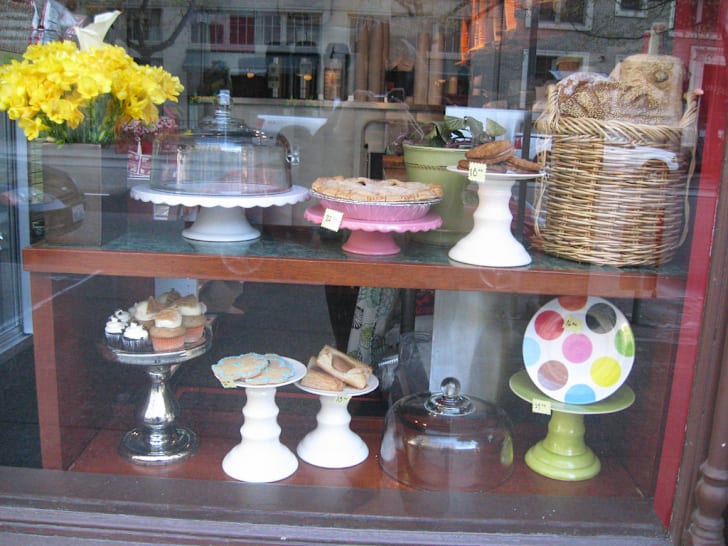 This sweet eat from Dahlia's Bakery is POTUS-approved. President Obama is such a fan of the dessert that he's returned to it a number of times, according to Seattle Weekly. Sample the famous pie—a coconut crust filled with shredded coconut cream and topped with toasted coconut, fresh whipped cream, and shaved white chocolate—as a whole pie (either a "baby" 6 inch or a 9 inch), by the slice, or as an "individual bite."
7. STICKY BUN, FLOUR BAKERY + CAFE // BOSTON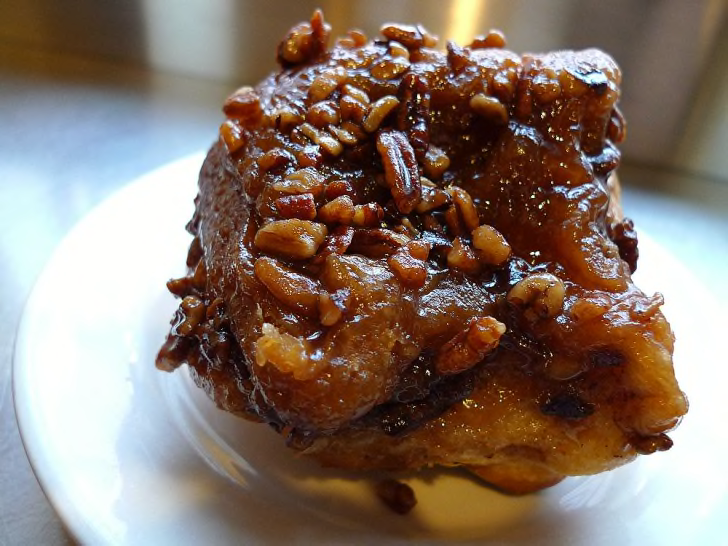 It's not hard to track down a sticky bun in any city, but the gooey caramel pastry from this award-winning brand—in eight locations across Massachusetts—is a real winner. In fact, the sticky bun once defeated one of Bobby Flay's creations. (Another honorable mention: The bakery's famous meringue clouds have also earned rave reviews.)
8. BREAD PUDDING SOUFFLÉ, COMMANDER'S PALACE // NEW ORLEANS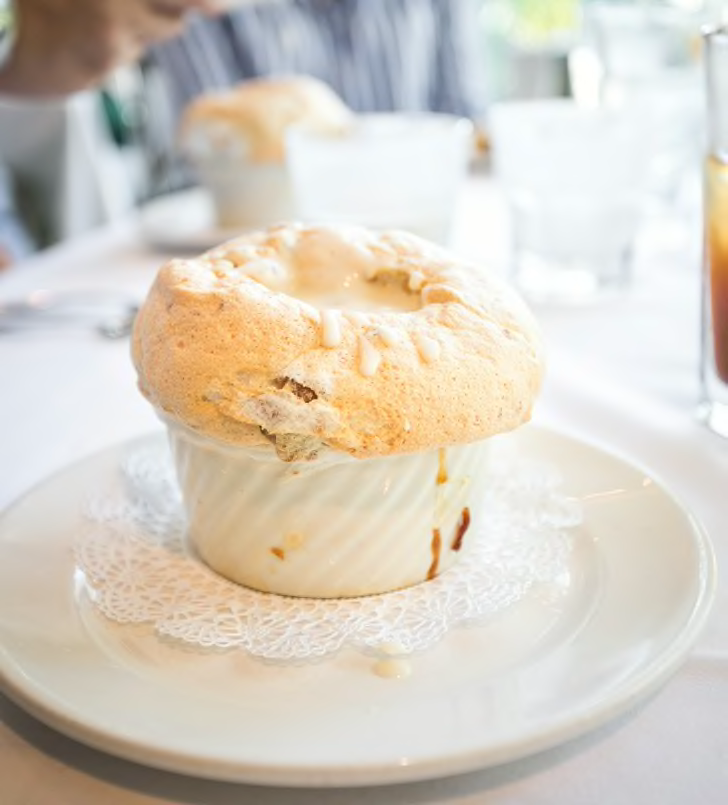 Commander's Palace is an award-winning institution in New Orleans. While you can't go wrong with any item on the menu at this restaurant, located in a Victorian-era mansion, the bread pudding soufflé—a creole bread pudding served with a warm whiskey sauce—is a standout among diners.
9. WHOOPIE PIE, LABADIE'S BAKERY // LEWISTON, MAINE
In Maine, you're often just steps away from a fresh whoopie pie. (There's a reason the delicacy was declared "the official state treat" in 2011.) But Labadie's Bakery claims to sell "the original Maine whoopie." And their treats don't get points just for originality. The bakery sells a variety of flavors of the creamy staple. Can't decide? Spring for the sampler of a dozen.
10. CHURROS, 180 XURROS // PORTLAND, OREGON
Vegan and dairy-free, these made-to-order churros are delicious in any form, whether they are "lightly dusted in cinnamon and sugar" or packed with Nutella. Mix things up with the bakery's dipping sauces, like lemon curd or marshmallow swirl.
11. SEASONAL PIES, SISTER PIE // DETROIT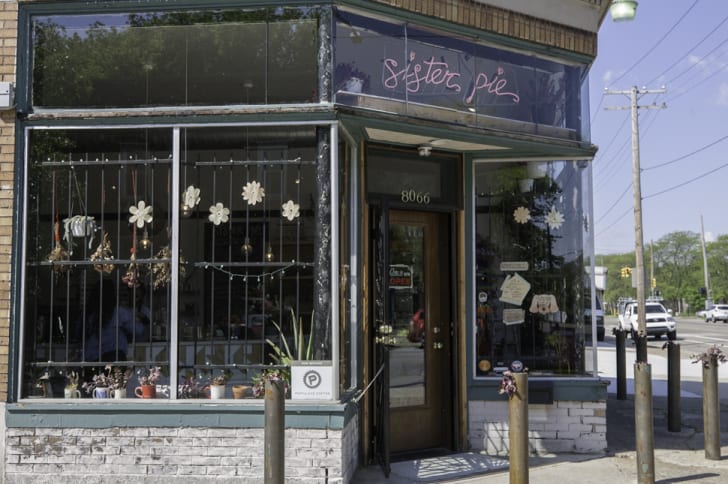 At this bakery, patrons can choose from a rotating menu of pies (Think Coffee Chess Pie and Apple, Sage, Gouda Pie), all made from natural, local ingredients. The Salted Maple is a favorite among fans of the so-called "piebrary." Feeling generous? Customers are encouraged to "Pie it forward" and purchase a slice for a future customer.
12. TRIPLE BERRY CAKE, SWEET LADY JANE'S // LOS ANGELES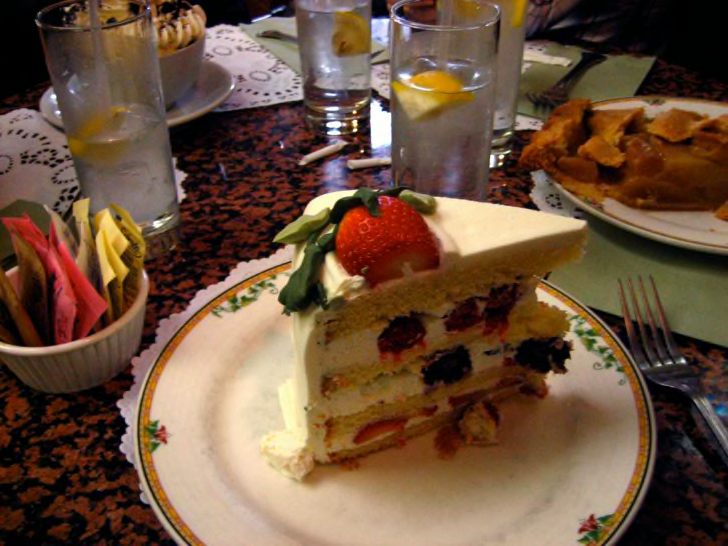 There's a reason Sweet Lady Jane's popular treat has inspired dozens of copycat recipes and earned a spot on Oprah's favorite things. Three layers of fresh blackberries, strawberries, and raspberries are heaped onto this whipped cream-frosted yellow butter cake. Can't make it to La La Land to snag a piece in person? The bakery also ships the cake frozen.
13. LEMON ICEBOX PIE, THE SILVER SKILLET // ATLANTA
The ultimate southern comfort when you're in the Peach State: homemade pie from a neighborhood mainstay. And The Silver Skillet in Atlanta delivers with the popular lemon icebox pie. Featured on The Food Network's Diners, Drive-Ins and Dives, the restaurant is known for the dessert, a lemon-based mixture on top of a graham cracker and vanilla wafer crust.
14. STATE FAIR FRY, YARDBIRD SOUTHERN TABLE AND BAR // MIAMI
Batter up: Fried twinkies, fried freshly-baked oreos, and vanilla ice cream come together to make up this decadent dish. "Who doesn't love our deep fried Oreos?" the restaurant asked followers in 2016. The answer: not many. The restaurant even earned a shout-out from The Food Network.
15. CHOCOLATE BOMBE, PISTACIA VERA // COLUMBUS, OHIO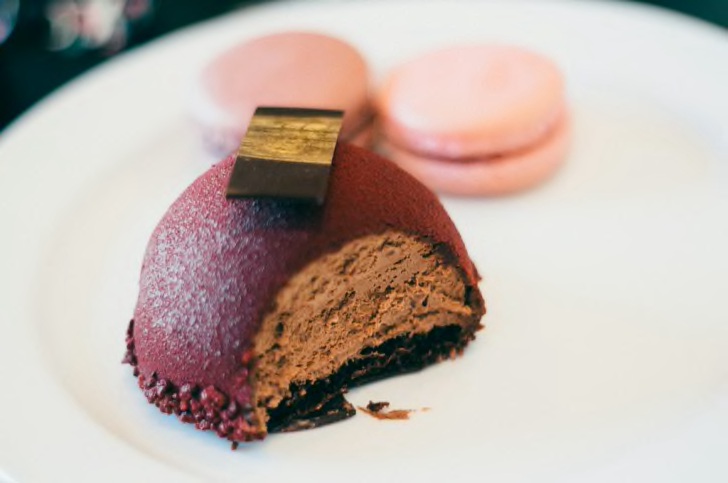 Not for the faint of heart, this rich dessert features chocolate in three different textures: "thin layers of chocolate buttermilk cake, marsala chocolate mousse & semi-sweet chocolate ganache," according to
the menu
. And if cake isn't your thing, go for the also-popular Parisan macarons, available in a dozen flavors.
16. PB&J ICE CREAM PIE, TARTINE COOKIES AND CREAM // SAN FRANCISCO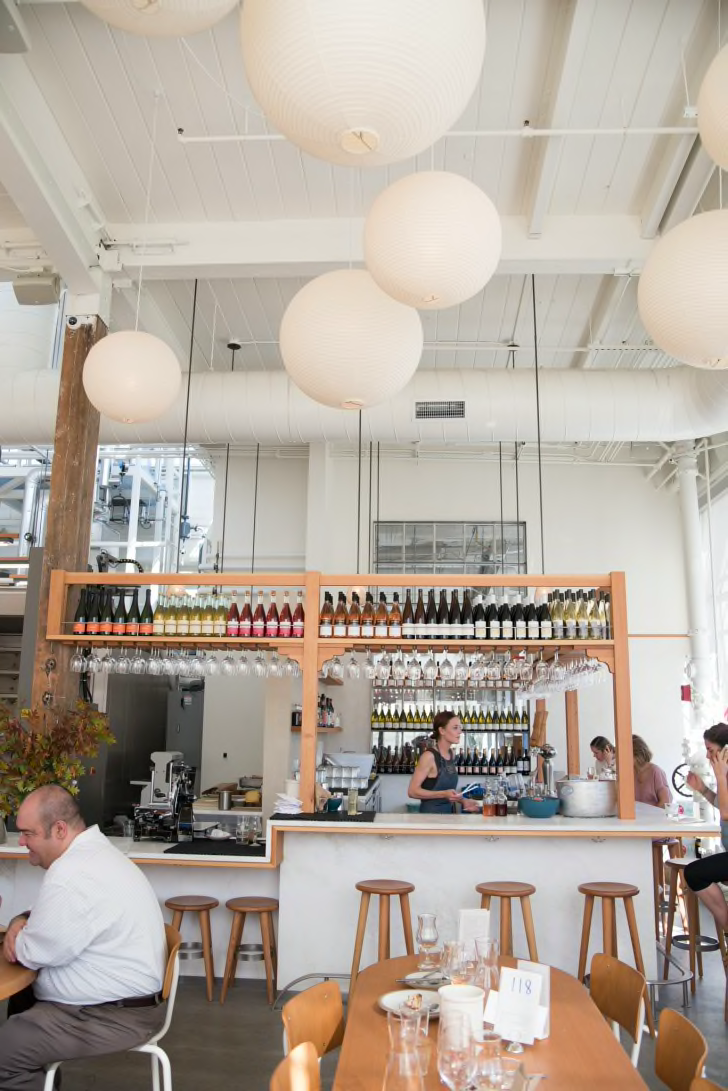 A modern take on a childhood favorite, the PB&J ice cream pie from Tartine Cookies and Cream is a blend of sorbet, soft-serve, and fresh fruit on a cookie crust and garnished with candied peanuts—and Bon Appetit's best dessert of 2017.
17. FRUIT TARTS, PASTICHE // PROVIDENCE, RHODE ISLAND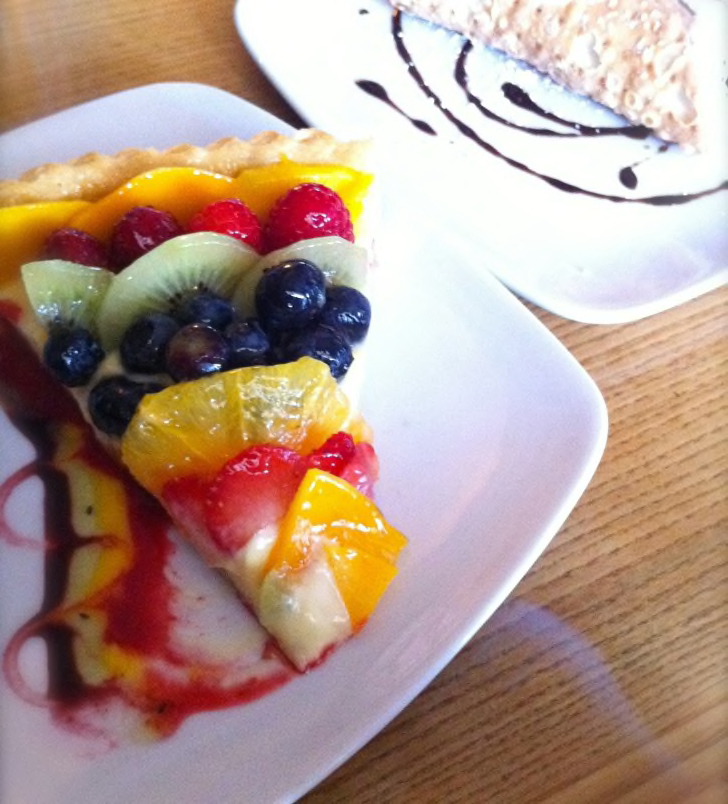 Locals take pride in the freshly baked fruit tarts from this small café. Cozy up to the warm fireplace in the winter and pair your pastry with Pastiche's teas or hot chocolates.
18. THE ULTIMATE COCONUT CAKE, PENINSULA GRILL // CHARLESTON, SOUTH CAROLINA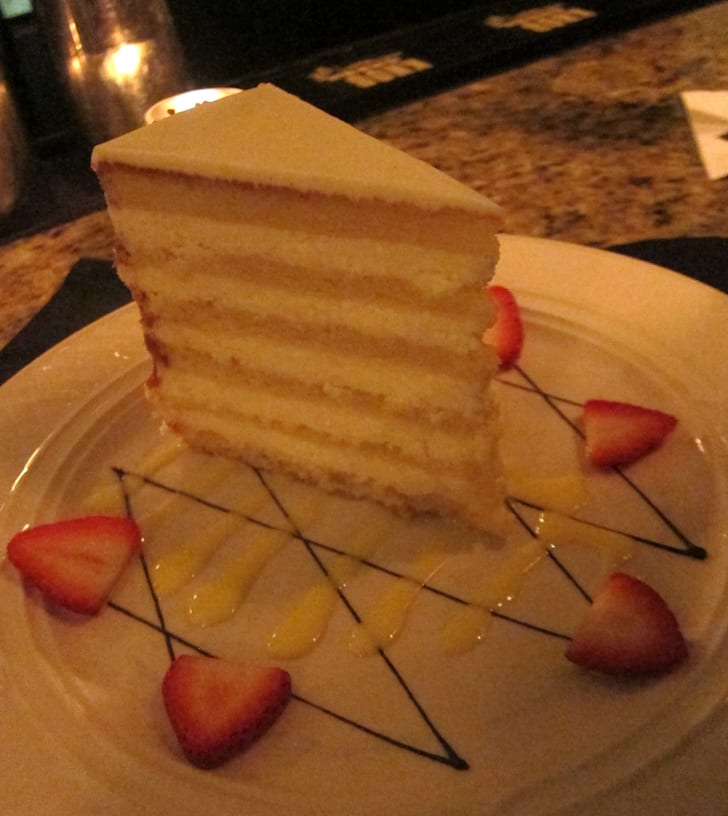 Get your sugar high from Peninsula Grill's towering 12-layer delicacy of fresh coconut, cream cheese frosting, and vanilla cake. Since its debut in 1997, the famous treat has earned praises from Bobby Flay and The New York Times, among others—and continues to top itself, literally. Today, each coconut cake stands at five inches.
19. BOURBON AFFECIONADO, 610 MAGNOLIA // LOUISVILLE, KENTUCKY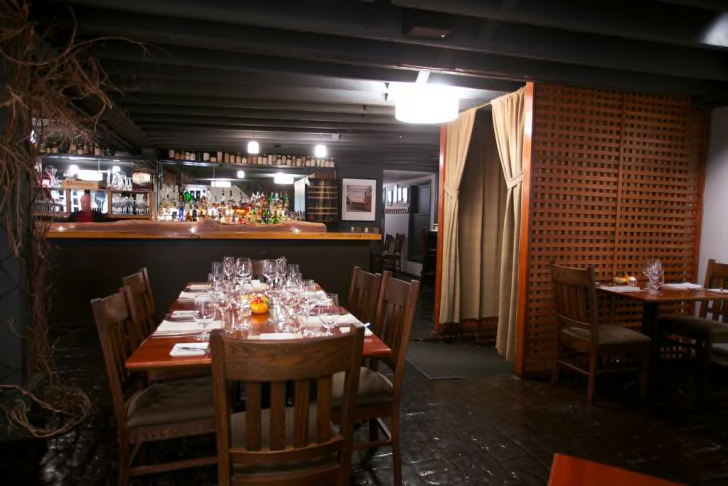 This dessert from 610 Magnolia has a lot of spirit. Namely, bourbon. As executive chef Kevin Ashworth told The Whiskey Reviewer, the dish involves "bourbon soaked banana cake, there's bourbon in the butterscotch, the maple syrup is aged in Pappy Van Winkle barrels, we use bourbon staves for the smoke. If we can put bourbon in it, we put bourbon in it."
20. FRIED MILK, UCHIKO // TEXAS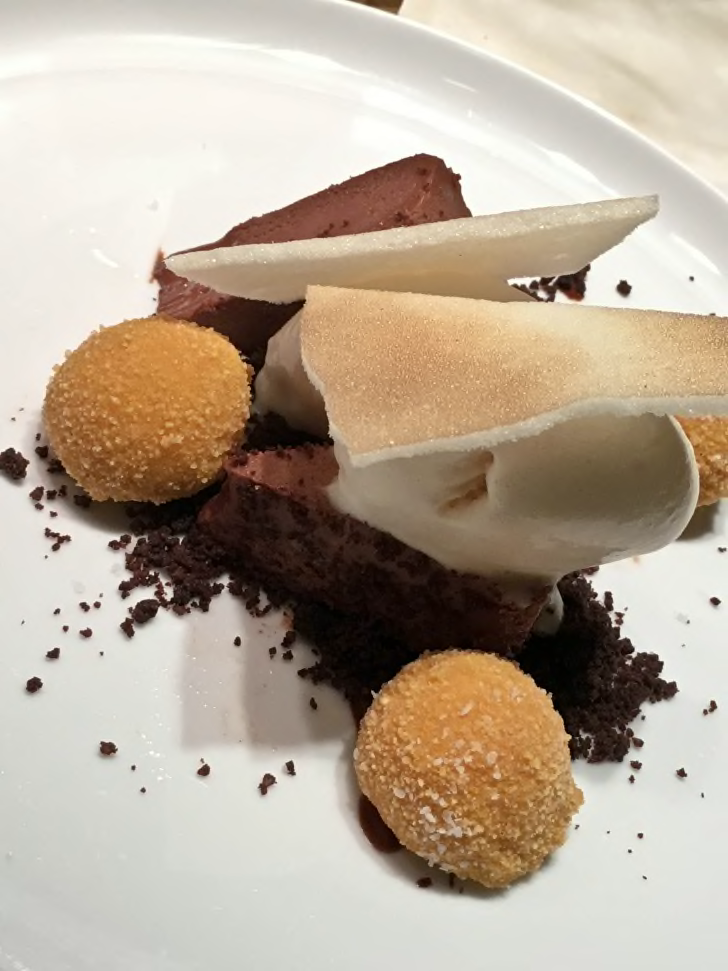 This Sushi spot—with locations throughout Texas and an upcoming restaurant in Denver—offers up a famous take on dairy: fried milk. Conceptualized by Top Chef winner and pastry chef Paul Qui, the dish is a combination of ice milk sherbet, toasted milk, cornflake crumble, and chocolate powder.
21. APPLE PIE, BLUE DUCK TAVERN // WASHINGTON, D.C.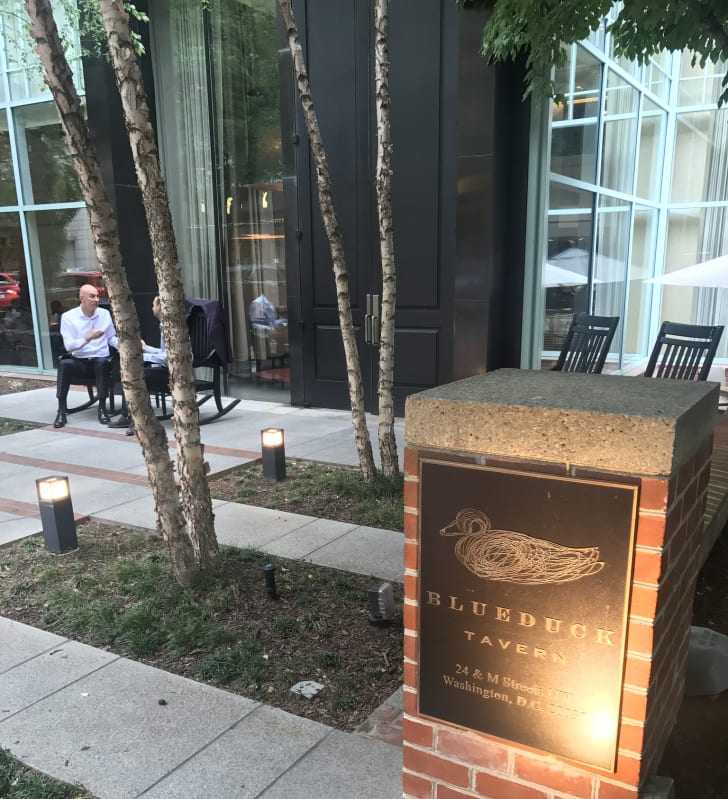 Climbing up the ranks of D.C.'s hottest restaurants was as easy as pie for this establishment. Applesauce and filling are combined to form the middle of this famous pie, all baked in a thick, buttery crust. Add a scoop of the restaurant's homemade ice cream to really complete the dish.
22. BROWNIE ROYALE, BAILEYS' CHOCOLATE BAR // SAINT LOUIS, MISSOURI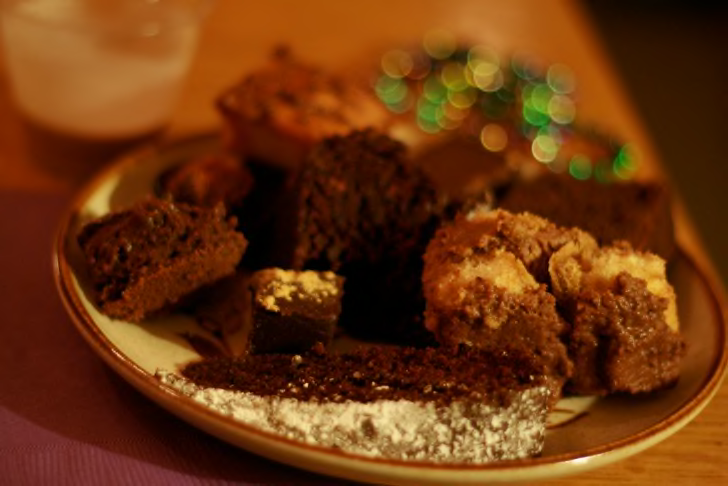 Chocolate lovers won't know what to sample first at this Missouri restaurant, which boasts a variety of chocolate creations. One popular choice: the Brownie Royal, a fudgy brownie with hot fudge, bananas, and a cherry.
23. POI GLAZED DONUT, KAMEHAMEHA BAKERY // HONOLULU, HAWAII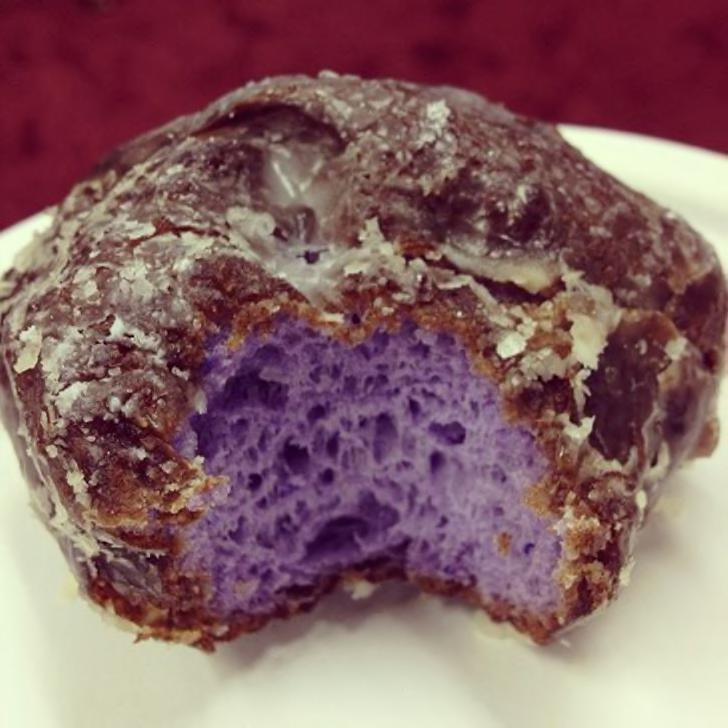 Kamehameha Bakery is known for putting a local spin on traditional desserts, like adding the tarot root poi to Portuguese malasada. The purple, glazed donuts are a favorite among locals and tourists alike. In the words of the bakery's website, "There's nothing quite like a donut, warm, fluffy, and a little bit gooey."
24. CUPCAKES, CARYTOWN CUPCAKES // RICHMOND, VIRGINIA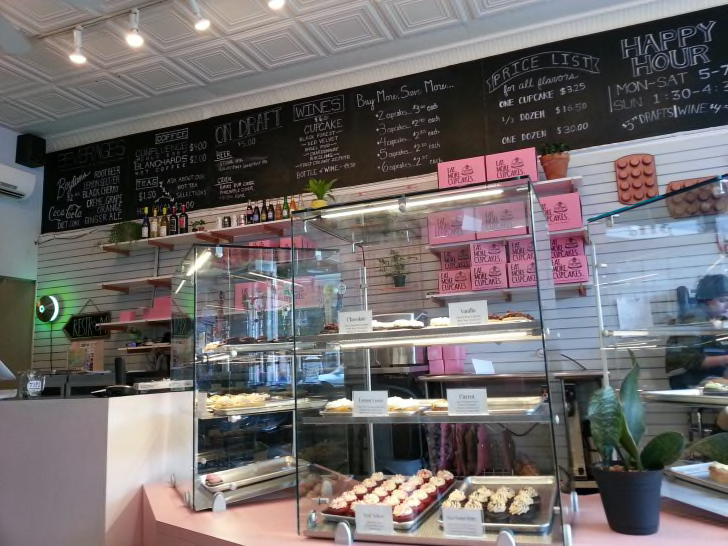 The gourmet cupcake shop keeps customers guessing with rotating themed flavors, like "Polyjuice Potion" and "Butterbeer" from the "Cary Potter" menu, as well as nearly a dozen other varieties.
25. DUCK FAT DONUT & ICE CREAM, THE GREY PLUME // OMAHA, NEBRASKA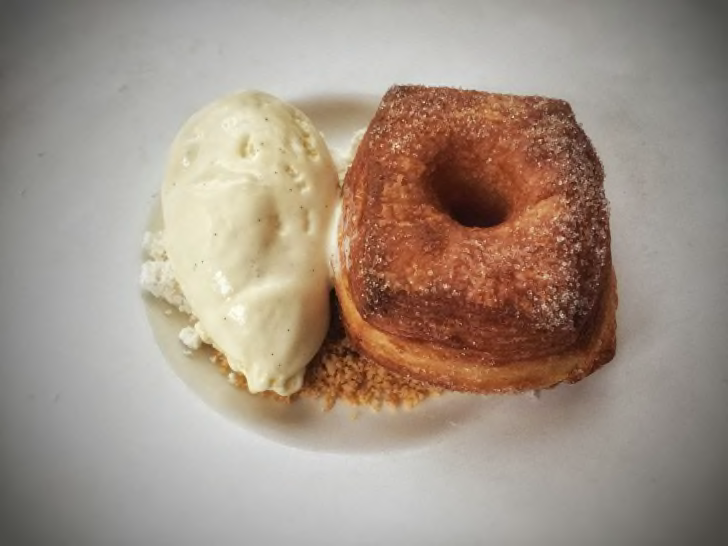 Eco-friendly restaurant The Grey Plume offers up this unique treat. The name says it all: Each brioche creation is fried in duck fat before being paired with vanilla and brown butter ice cream.