Epic Poster Features Over 100 Hand-Drawn Illustrations of Dinosaurs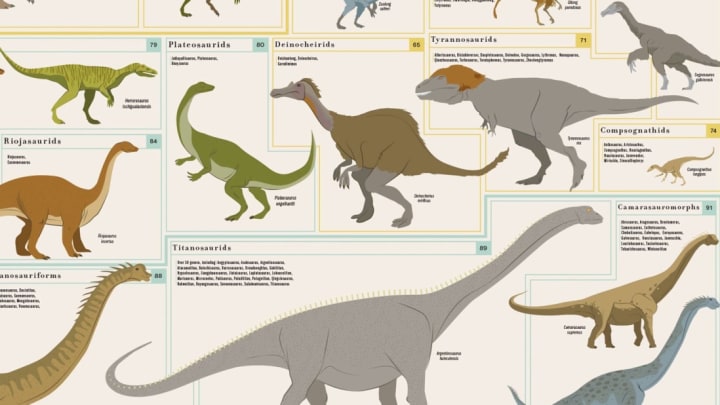 Pop Chart Lab / Pop Chart Lab
Paleontologists are constantly discovering new dinosaurs (or questioning whether beloved species ever existed in the first place), so it's hard to keep track of every dino that ever existed. But if you want an up-to-date catalogue of the most significant beasts from the Triassic to the Cretaceous periods, this taxonomy poster from Pop Chart Lab is tough to beat.
Titled Dinosauria, the chart organizes more than 700 genera of dinosaurs into one easy-to-read infographic. All of the standard favorites are represented, like Triceratops and T. Rex, as well as some more obscure or newly discovered prehistoric reptiles like Conchoraptor and Psittacosaurus. Pop Chart Lab pulled its data from the most current classification systems, even including research published just this year that unifies ornithischians with theropods.
The 100 hand-drawn illustrations and accompanying taxonomic timeline took over 500 hours of research to design. Hanging it on your wall at home requires a lot less effort: You can order a 24-inch-by-36-inch print for $37 from Pop Chart Lab's online store.