A Rare Frank Lloyd Wright House in Usonia, New York Just Hit the Market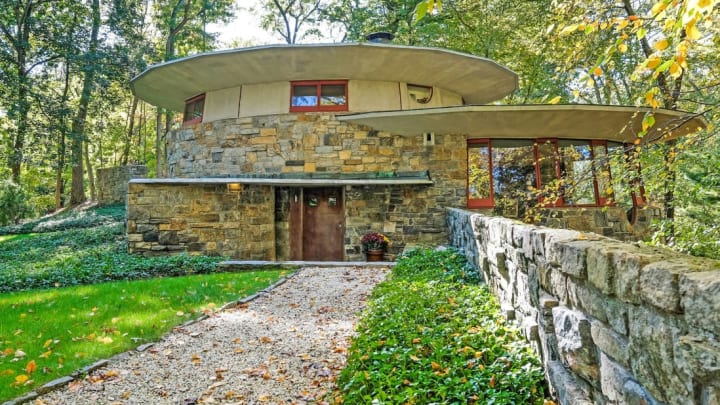 Houlihan Lawrence / Houlihan Lawrence
The Guggenheim Museum isn't Frank Lloyd Wright's only distinctive building inspired by circular shapes. In the 1940s, the architect was recruited to create the master plan for Usonia, an affordable—albeit tiny—planned community in Pleasantville, New York. One of the three houses in Usonia that Wright himself designed recently hit the market, and for a cool $1.5 million, it can be yours.
Usonian houses were Wright's modest, single-family residences, a trademark style he first adopted in Wisconsin during the 1930s. While affordable, they were also all unique. The cylindrical Sol Friedman House, built between 1948 and 1949, was one of the Pleasantville community's first homes.
Wright designed the three-bedroom residence, also known as "Toyhill," to sit atop a rocky hill. Characteristic of his style, the two-story stone and concrete structure melds seamlessly into its natural surroundings, with large windows, Wright's signature Cherokee Red floors, stone walls, and built-in furniture. Adjacent to the main house, there's a concrete pedestal carport that looks akin to a giant mushroom or flying saucer.
You can view some pictures of the Sol Friedman House below, or check out the listing here.
Houlihan Lawrence
Houlihan Lawrence
Houlihan Lawrence
Houlihan Lawrence
Houlihan Lawrence
Houlihan Lawrence
Houlihan Lawrence