One of Gaudí's Most Famous Homes Opens to the Public for the First Time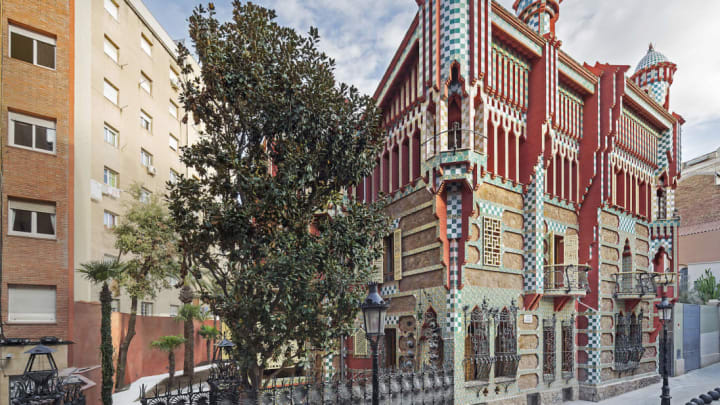 Pol Viladoms / Pol Viladoms
Visiting buildings designed by iconic Catalan architect Antoni Gaudí is on the to-do list of nearly every tourist passing through Barcelona, Spain, but there's always been one important design that visitors could only view from the outside. Constructed between 1883 and 1885, Casa Vicens was the first major work in Gaudí's influential career, but it has been under private ownership for its entire existence. Now, for the first time, visitors have the chance to see inside the colorful building. The house opened as a museum on November 16, as The Art Newspaper reports.
Gaudí helped spark the Catalan modernism movement with his opulent spaces and structures like Park Güell, Casa Batlló, and La Sagrada Familia. You can see plenty of his architecture around Barcelona, but the eccentric Casa Vicens is regarded as his first masterpiece, famous for its white-and-green tiles and cast-iron gate. Deemed a UNESCO World Heritage Site in 2005, Casa Vicens is a treasured part of the city's landscape, yet it has never been open to the public.
Then, in 2014 the private Spanish bank MoraBanc bought the property with the intention of opening it up to visitors. The public is finally welcome to take a look inside following a $5.3 million renovation. To restore the 15 rooms to their 19th-century glory, designers referred to historical archives and testimonies from the descendants of former residents, making sure the house looked as much like Gaudí's original work as possible. As you can see in the photos below, the restored interiors are just as vibrant as the walls outside, with geometric designs and nature motifs incorporated throughout.
In addition to the stunning architecture, museum guests will find furniture designed by Gaudí, audio-visual materials tracing the history of the house and its architect, oil paintings by the 19th-century Catalan artist Francesc Torrescassana i Sallarés, and a rotating exhibition. Casa Vicens is open from 10 a.m. to 8 p.m. General admission costs about $19 (€16).
[h/t The Art Newspaper]
All images courtesy of Pol Viladoms.