Let Alexa Help You Brine a Turkey This Thanksgiving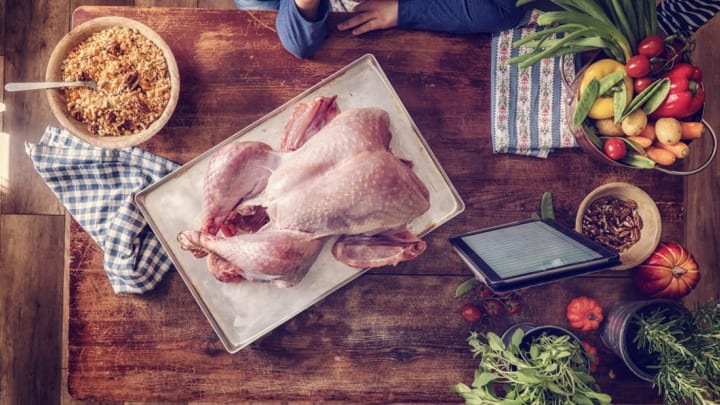 iStock / iStock
There's a reason most of us only cook turkey once a year: The bird is notoriously easy to overcook. You could rely on gravy and cranberry sauce to salvage your dried-out turkey this Thanksgiving, or you could follow cooking advice from the experts.
Brining a turkey is the best way to guarantee it retains its moisture after hours in the oven. The process is also time-consuming, so do yourself a favor this year and let Alexa be your sous chef.
"Morton Brine Time" is a new skill from the cloud-based home assistant. If you own an Amazon Echo you can download it for free by going online or by asking Alexa to enable it. Once it's set up, start asking Alexa for brining tips and step-by-step recipes customized to the size of your turkey. Two recipes were developed by Richard Blais, the celebrity chef and restaurateur best known for his Top Chef win and Food Network appearances.
Whether you go for a wet brine (soaking your turkey in water, salt, sugar, and spices) or a dry one (just salt and spices), the process isn't as intimidating as it sounds. And the knowledge that your bird will come out succulent and juicy will definitely take some stress out of the holiday.