11 Gifts for the Curious Kids in Your Life
No matter their age, you want to find gifts that will keep the kids in your life entertained, stimulated, and give them a sense of accomplishment—even during playtime. Luckily, these 11 gifts will do all of that, and will encourage their curiosity to grow.
1. The Play Gym by Lovevery; $140
Specially designed by experts to stimulate infants for their first year, this play mat grows with your favorite baby. It has five developmental zones and multiple activities—like teethers, mirrors, and colorful flash cards. And, when baby becomes a toddler, the mat converts into a tent fort for further imaginative play.
Find It: Amazon
2. Real Insect Superpowers Comic Book; $18
Follow the adventures of the Supersonic Assassin, the Malevolent Mimic, and other insect superheroes as they smash, zap, hypnotize, and sting in this 88-page book that's part comic, part nature encyclopedia.
Find It: Uncommon Goods
3. Droid Inventor Kit; $100
This is definitely the droid you're looking for. Recommended for kids in grades eight years and up, this customizable robot comes with an app that defines more than 22 missions as well as easy block-based coding activities. And for any Star Wars fans, the Droid makes 20 different sounds, just like from the movies
Find It: Amazon
4. Solar System Chalk; $40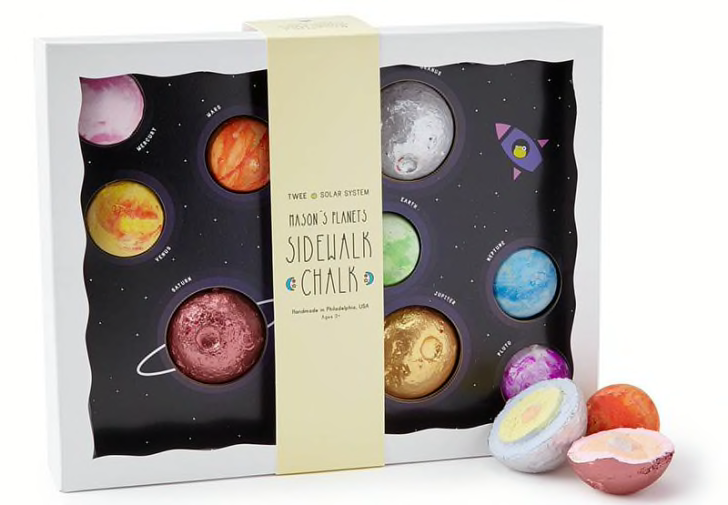 This nine-piece chalk set features all the planets in the solar system, along with Pluto. Each piece has multiple colors, which represent the planets' cores, layers, and crusts. And for each set sold, $2 will be donated to The Children's Hospital of Philadelphia to support autism research.
Find It: Uncommon Goods
5. Jr. NASA Rocket Scientist Lab Coat; $20
Get kids excited about science early with this lab coat, which comes in sizes for boys and girls. Alongside three pockets, the jacket also has the NASA logo and the words "Rocket Scientist." When your astronaut-in-training is done playing, the coat can be tossed in the washing machine.
Find It: Amazon
6. 3Doodler 3D Pen Set; $50
This wireless pen allows kids to freestyle draw in the air—the eco-plastic filament cools in place quickly, giving kids plenty of practice with spatial reasoning without the costs of a full 3D printer.
Find It: Amazon
7. Giant Coloring Poster; $19
If your kid is going to color on the wall, you may as well give them a designated place to do so. Children can use pencils, markers, and paints on this 33''x 45'' poster that depicts all types of animals in a zoo. This gift will not only encourage creative expression, but it can also help kids work on their motor skills.
Find It: Amazon
8. Root-Vue Farm; $39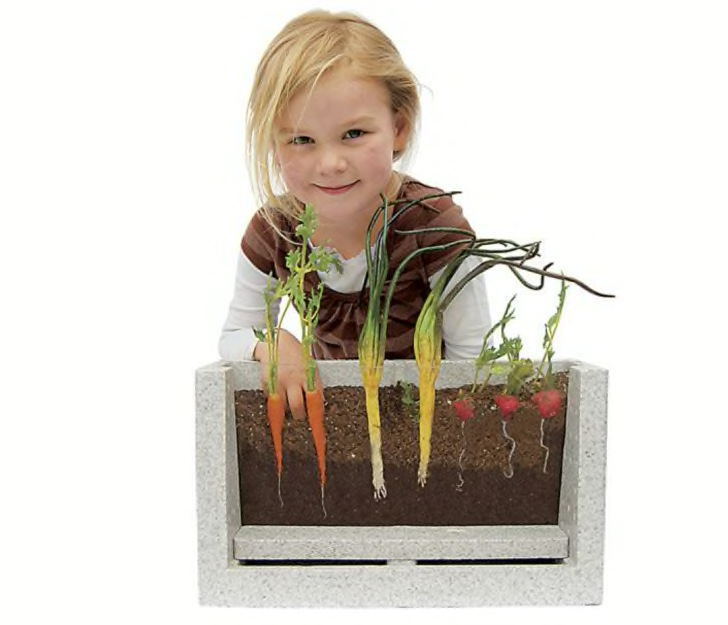 Whether they join FFA or not, kids can get a head start on understanding horticulture with this indoor garden system. Plant the included seeds—for carrots, radishes, and onions—and watch them obsess over the underground view of their harvest.
Find It: Amazon
9. Geosafari Jr. Kidnoculars; $9
Kid-proof and specially designed for tiny hands and faces, these binoculars can help preschoolers get to know the world around them. Play a game like "I Spy" and have them find squirrels in trees, clouds in the sky, or all those Cheerios they spilled behind their bed.
Find It: Amazon
10. Dimpl Baby and Toddler Learning Toy; $13
This brightly colored sensory toy holds a young one's attention with 100% food-grade silicone bubbles they can press and poke—perfect for keeping kids occupied in a stroller or car.
Find It: Target
11. Otamatone; $30
The face on this highly kawaii ribbon synthesizer is made of rubber, and by manipulating it with one hand you can make cool sounds (the other hand controls the pitch along the ribbon controller). With a bit of practice, you can even play real music—check out this entertaining cover of "Take On Me."
Find It: Amazon
Mental Floss has affiliate relationships with certain retailers and may receive a small percentage of any sale. But we only get commission on items you buy and don't return, so we're only happy if you're happy. Thanks for helping us pay the bills!