Amsterdam is Turning Plastic Trash Into 3D-Printed Furniture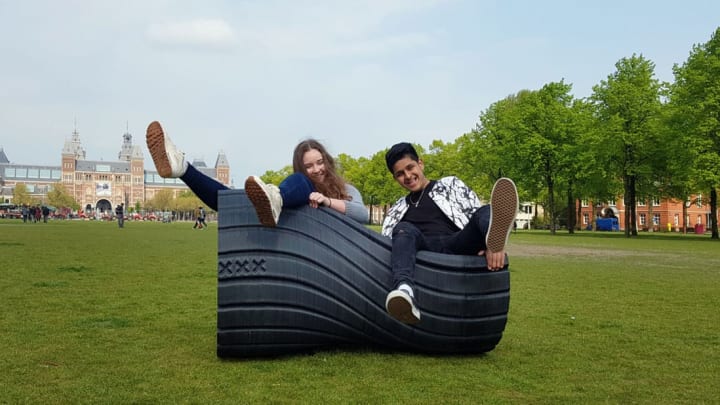 PrintYourCity / PrintYourCity
The city of Amsterdam in the Netherlands is taking a unique approach to waste management, Inhabitat reports. Under the direction of The New Raw, a Rotterdam-based design studio, recycled plastic is being used to make public benches that capture a lot of the area's charm while providing solutions for the 51 pounds of plastic refuse each Amsterdam resident tosses away each year.
The initiative is called Print Your City! and encourages those materials to be repurposed via 3D printing to make new, permanent fixtures. The New Raw calls it a "closed loop" of use, where the plastic is used, reused, and materialized in the same environment. The bench, dubbed XXX, seats two and rocks back and forth with the sitters' movements, offering a metaphor for the teamwork The New Raw is attempting to cultivate with the general public.
Print Your City!
"Plastic has a major design failure," says Panos Sakkas, an architect with The New Raw. "It's designed to last forever, but it's used only for a few seconds and then easily thrown away."
The goal is to collect more plastic material in the city to use for projects that can be designed and implemented by citizens. In the future, 3D printing may also support bus shelters, waste bins, and playground material—all of it recyclable.
[h/t Inhabitat]