Looking for a Job? Here's the Largest Employer in Each State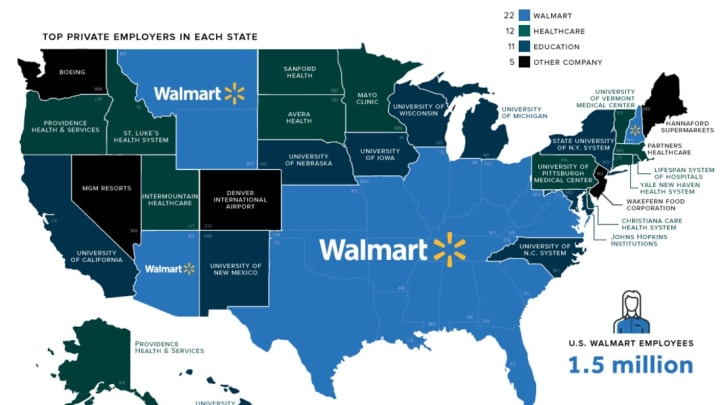 Visual Capitalist / Visual Capitalist
Whether you love or hate Walmart stores, they're a vital component of America's economy. The big box store is the top employer in nearly half of America's 50 states, according to a new map spotted by Thrillist.
Created by Visual Capitalist, a Canadian media and news firm, the graphic below breaks down the nation's largest private employers, state by state. Based on data collected by the website 247WallSt.com, it excludes state governments and military bases but includes public universities, hospitals, and airports, in addition to other businesses.
Walmart reigned supreme across the South and Midwest, with presences in states ranging from Alabama to Wyoming. Together, the map's data suggests, Walmart hires over 1.5 million Americans, including nearly 172,000 employees in Florida alone.
Health care was also big business, with hospital services making up the brunt of the local economy in states including Alaska, Connecticut, Delaware, Idaho, and Minnesota. In Washington state, the airplane manufacturer Boeing dominated the local market, while MGM Resorts International employed 55,200 people in Nevada. And in both Maine and New Jersey, regional grocery chains like Hannaford Supermarkets and Wakefern Food Corporation helped locals pay the bills.
Check out the full map below.
Visual Capitalist
[h/t Thrillist]