Wednesday is New Comics Day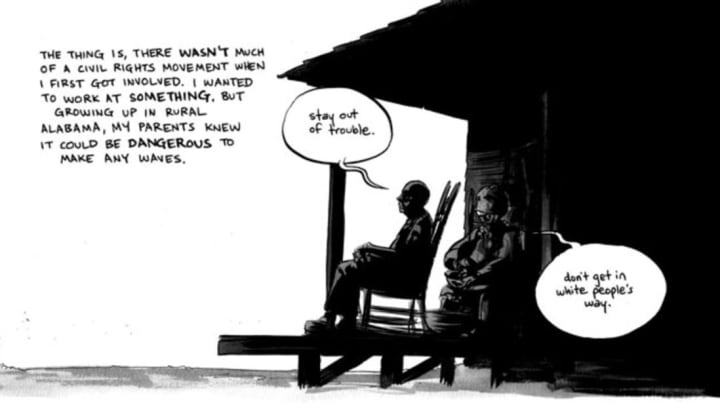 Top Shelf / Top Shelf
Every Wednesday, I highlight the five most exciting comic releases of the week. The list may include comic books, graphic novels, digital comics and webcomics. I'll even highlight some Kickstarter comics projects on occasion. There's more variety and availability in comics than there has ever been, and I hope to point out just some of the cool stuff that's out there. If there's a release you're excited about, let's talk about it in the comments.
1. March Book One

Written by Congressman John Lewis with Andrew Aydin; art by Nate Powell;
Top Shelf
Probably the most important graphic novel release of the year tops our list this week. March Book One is the first of a three book autobiography by Congressman John Lewis, the last surviving member of the "Big Six", the organizers of The Great March on Washington in 1963 to call for civil rights for African Americans. Lewis' life story, from growing up raising chickens in Alabama to helping organize one of the most important movements of the 20th Century, will be documented in this series, and the fact that he chose to do it as a graphic novel is remarkable though it follows a historic precedent. 
In 1958 a comic called "Martin Luther King and the Montgomery Story" told the story of Martin Luther King, Jr. in order to help spread his ideas of non-violent protest. It was chosen to be produced as a comic partly to slip under the radar of those who were, at the time, confiscating and burning literature distributed within the black community, but also because by telling its story with words and pictures it could reach and inform the largest possible audience of all ages and education levels. You can learn more about this comic and read it in its entirety here.
Lewis took inspiration from that comic when choosing to tell his story this way. He is helped by Andrew Aydin, who works in his Congressional office on telecommunications and technology policy, and by artist Nate Powell, who is instrumental in bringing this book to life. Powell is an award-winning writer and artist who often takes on ambitious subject matter such as Swallow Me Whole, his breakthrough 2008 graphic novel about schizophrenia. He has quietly become one of the most interesting, important and prolific graphic novelists being published by Top Shelf. His artwork, made up of his active, ink-drenched brushed lines and beautifully thought out page compositions, is always wonderfully integrated with the written word of his captions or dialogue. He is the real deal when it comes to using this medium to its fullest advantages in the aspect of storytelling.
Lewis is the first sitting Congressman to write a graphic novel, and this book sports the first cover blurb written by a former U.S. President (Bill Clinton). Lewis is even going to be making signing appearances at places like next month's Small Press Expo to promote the book.
This first volume of Lewis' story begins with his childhood and ends with his non-violent lunch counter sit-ins and protests against segregation in Nashville. You can read a 14 page preview of the book here at Top Shelf's website.
2. Infinity #1
Written by Jonathan Hickman; art by Jim Cheung
Marvel
Although Marvel's most recent event book Age of Ultron just ended a couple of weeks ago, their newest one is already starting up. For a while, both Marvel and DC were weighing down the natural story progression of many of their titles by hitching everything to a neverending cycle of line wide "events." We've had a reprieve from that for a couple of years, but that may be over now. 

However, unlike many previous event books, Infinity is driven by the singular vision of one particular writer rather than a committee of writers and editors. 

Jonathan Hickman has been building to this story in the pages of both his Avengers and New Avengers comics since they both began this past year. His most recent issue of Avengers found the team heading to the other end of the universe to face the threat of a group of alien beings called The Builders who plan to destroy humanity and rebuild it in their own form. That leaves Earth unprotected, and Thanos (the big guy with the pink face we saw after the credits in the Avengers movie) steps in to take advantage of their absence. 

Well, "unprotected" is a loose term. There are of course still a whole lot of Marvel heroes on Earth that will have to step up to the Thanos challenge, particularly the group referred to as the "Illuminati," who are the stars of Hickman's New Avengers comic. They consist of Reed Richards, Captain America, Black Panther, Iron Man, the Sub-Mariner, the Beast, Dr. Strange, and Black Bolt, and they will most likely play a major role in this book.

Hickman excels at these kinds of universe-threatening epics, as his recent runs on the Avengers books and Fantastic Four before them have shown. With his dramatic narration setting the scene, he writes superhero comics that seem to have more gravity (and gravitas) than most. And that's just in an average issue. It will be interesting to see what happens when he is unleashed on an all-important event book like this.

Here's a preview of Infinity #1.
3. Cartozia Tales #1
Various Writers and Artists
Cartozia
Arguably one of the great aspects of comics that are almost unique to the medium is how multiple writers and artists can collaborate on multiple stories in an effort to build one shared universe. Sure, this may occur in small doses in books or television, but Marvel and DC have spent over half a century perfecting this form of large-scale storytelling in a way that no one in any other medium has done. Outside of those two giant universes, we'll often see the birth of smaller worlds and universes set in motion by ambitious creators seeking to make something special on their own.
Cartozia Tales is a new all-ages indie anthology comic that is based around the concept of a map. Editor Isaac Cates has coordinated a great idea for this series in which he takes a map of this fictional world of Cartozia and divides it up among the group of regular creators who are devoted to each issue. The first book is filled with a number of short 4-page stories that each take place in a particular section of Cartozia, and each ends with a cliffhanger of sorts. In the next issue, Cates will assign that section of the map to one of the other creators and have them pick up the story where it left off, potentially giving their own take on the characters, mythical creatures, and plot direction of that particular story. Cates has assembled a talented group of up-and-coming regulars including Mike Wenthe, Lupi McGinty, Jen Vaughn, Caitlin Lehman, and more. In addition, each issue will feature more established guest contributors such as James Kolchaka, Ben Towle, and Evan Dahm. The first issue features Dylan Horrocks and Jon Lewis, and Horrocks' story, I have to say, is pretty much guaranteed to make you smile. Especially if you have a little girl. 
I've had the opportunity to read the first issue and my 5 year old daughter is especially enamored with it. Its imaginative, fantasy-based setting and kid-friendly cartooning make it appealing for readers of any age. There is also an emphasis throughout the book on maps and cartography including a fun instructional exercise on map-making that your kids can do at home (my daughter is now on a whole mapmaking kick thanks to this).
Cartozia is launching a Kickstarter this week but you can subscribe to their comic now through their website.
4. The Bunker #1
Written by Joshua Hale Fialkov; art by Joe Infurnari
Comixology Submit

A recent notable entry into Comixology's Submit program for self-published comics is a new series called The Bunker. It begins when a group of friends discover an underground bunker with their names engraved on the outside and it leads to visions of a bleak, dystopian future that may be the result of their own actions, intended or unintended. It immediately draws to mind similarities to Stephen King's It and Naoki Urasawa's 20th Century Boys, not to mention Lost, which one of the characters actually acknowledges in story. 

Fialkov has developed a bit of a cult following for his various projects over the years starting with his horror series Elk's Run which was under-appreciated in its time and plagued by publishing issues. After some recent work for both Marvel and DC, he is returning to creator-owned material here and using Comixology's publishing platform with a smart plan in mind. The first issue contains 35 pages to introduce the story and is priced at $1.99. The following issues will be published monthly and contain 12 pages of story each, presumably priced at the optimal digital comics price of 99¢. Digital allows independent creators to experiment with things like page count, publishing schedules and price, and no one combination of the three has become an industry standard yet which makes this an interesting time for such ventures.

Joe Infurnari has worked for almost every publisher in comics and has published numerous webcomics on his own and through collectives like Act-i-vate. His expressive way of drawing people almost brings to mind a Young Adult graphic novel style but with a definite edge to it that plays well to the horror of Fialkov's plot.

You can buy the first issue of The Bunker through Comixology's website here.
5. Buck Rogers in the 25th Century #1
Written and illustrated by Howard Chaykin
Hermes Press

Buck Rogers is a character that probably needs no introduction. For most comic book fans, neither does veteran writer/artist Howard Chaykin—but Hermes Press however might require some explanation. They're a small independent publisher that primarily focuses on reprints of classic material like the original Buck Rogers newspaper strips from the 1920s. 

With that historical perspective in mind, they've brought on Howard Chaykin to bring Buck Rogers back to the roots of Philip Francis Nowlan's original creation, which started with the story Armageddon 2419 A. D. (published in Amazing Stories in 1929) with the hero being a World War I fighter pilot who find himself suspended in time and awoken 500 years in the future. In this four issue mini-series, we'll see Rogers team with Colonel Wilma Deering to free the United States from the oppression of alien-influenced China.

Chaykin is the ideal choice to take on this book. He has a penchant not only for sci-fi action but for period drama and the fashion and style that goes along with it. The preview images alone call to mind Chaykin's past work on books like American Flagg!, Cody Starbuck, and Blackhawk.

Take a look at this unlettered preview over on the Westfield Comics blog.



HONORABLE MENTIONS
Why limit myself to just listing 5 comics each week? There's so much else out there.

T.H.U.N.D.E.R. Agents #1
IDW is the latest publisher to try to revive this old superhero title once drawn by Wally Wood. Longtime T.H.U.N.D.E.R. Agents fan Phil Hester lobbied hard to become the writer for this book and now gets his chance to put his mark on it. Here's an interview with Hester.

Marooned - Kickstarter
Tom Dell'Aringa's long-running webcomic is in the process of raising funds for a hardcover collection and is already well past its goal. Marooned is a funny and really well done strip about a stranded astronaut (drawn in kind of a Dagwood Bumstead style) and his robot sidekick, Asimov. Contribute to the Kickstarter if you'd like.

Right State
An extremist militia group is planning to assassinate America's second African American president and the best chance to stop them is a former Special Forces war hero turned right-wing media pundit who must infiltrate the group. A fascinating political concept for this new Vertigo graphic novel written by Mat Johnson, who previously explored race in America in the acclaimed Incognegro. You can find more info here.