Wednesday is New Comics Day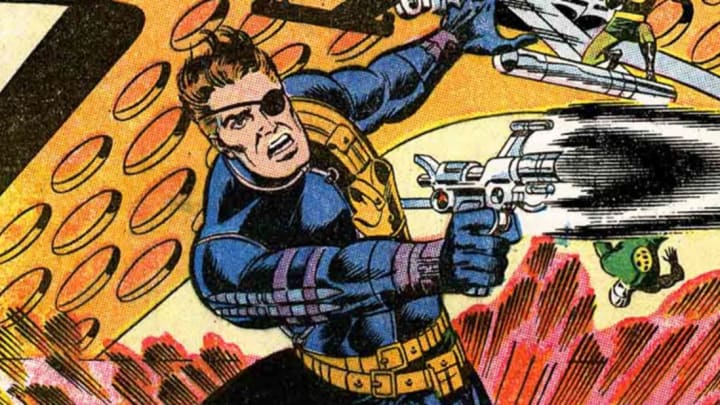 Marvel Comics / Marvel Comics
Every Wednesday, I highlight the five most exciting comic releases of the week. The list may include comic books, graphic novels, digital comics and webcomics. I'll even highlight some Kickstarter comics projects on occasion. There's more variety and availability in comics than there has ever been, and I hope to point out just some of the cool stuff that's out there. If there's a release you're excited about, let's talk about it in the comments.
1. Mighty Avengers #1
Written by Al Ewing; art by Greg Land, Jay Leisten and Frank D'Armata
Marvel Comics

Fifty years and a day after the very first issue of Marvel Comics' The Avengers and spinning out of the events of the recent Infinity crossover event, comes a new volume of Mighty Avengers featuring a new, more racially diverse team than we've ever seen in a major Marvel book. Granted, the team that Jonathan Hickman has assembled over in the main Avengers title has added a number of women and "superheroes of color" to the roster, but here we have a team that is comprised mostly of African American and Hispanic heroes with just a couple of white characters rather than the other way around. On this new team, we see heroes like Luke Cage (formerly known as Power Man), Monica Rambeau (formerly Captain Marvel and now using the name Spectrum), a new Power Man (Victor Alvarez, empowered by "the spiritual ferocity of five boroughs"), White Tiger (Ava Ayala, the first Puero Rican superhero), and The Falcon (Sam Wilson, longtime Avenger and sometimes partner to Captain America). Filling out the ranks is She-Hulk, Spider-man (who, if you've been following the Superior Spider-man comic, is actually Spidey's old nemesis Doctor Octopus in the body of Peter Parker) and a mysterious character wearing a garish Spider-man Halloween costume.

With the regular Avengers team lost on the other end of the universe and Thanos taking advantage of their absence to attack Earth, this new Avengers team forms to hold back the invasion. However, this first issue introduces us to these new characters as they're mostly fighting B- and C-list villains which sets them up as more of a rag-tag, street-level team of heroes. This isn't too far removed from what Brian Michael Bendis used the the New Avengers comic for during his run which also included Luke Cage and Spider-man. That said, their first mission is to take on the most cosmic of all villains, Thanos, and characters like Spectrum are pretty up there in terms of power levels compared to most other superheroes.

There are a number of reasons for people to get excited. Certainly, we haven't really seen a major team book from either Marvel or DC with a cast of characters that is this racially diverse but also with the balance of diversity leaning away from the white, male heroes. There's also the inclusion of some real fan favorite characters like Cage but especially Monica Rambeau who has been an underused character since Warren Ellis brought her off the shelf to be the team leader for his Nextwave series in 2006. Also, British writer Al Ewing has done a number of highly regarded stories for 2000 AD and Judge Dredd and his fans have been waiting for him to finally get a shot at a major superhero comic. Early word on this book says he knocks it out of the park. You can read a preview here.
2. RASL
By Jeff Smith; color by Steve Hamaker
Cartoon Books

RASL is Jeff Smith's post-Bone graphic novel which he began releasing in black and white, 32-page installments back in 2008. Bone, one of the most cherished and influential all-ages fantasy comics of our time, was completed in 2004 and made Smith into the kind of creator whose next move everyone would be anticipating. Like many artists who become associated with a particular, highly successful individual work, Smith decided to push away from certain aspects of Bone with his new book, notably making it a story geared more towards adult readers.

A dark, noirish tale about an inter-dimensional art thief, RASL deals with heavy sci-fi topics like string theory, parallel universes and the works of Nikola Tesla. It also treads in violence and sex, making it a definite departure from the Scholastic-friendly work Smith is known for. After studying the physics of string theory and spending two weeks out in the desert of the American Southwest back in 2000, he developed the idea that would become RASL, a work that would take him most of the next decade to complete. 

Now, for the first time, RASL is being published in one complete edition, but it is also appearing in color for the first time. Much like Bone, which was initially published in black and white and eventually released in successful color editions, Smith has brought in colorist Steve Hamaker to add a new level of richness to his line work. RASL has won numerous awards and has garnered glowing reviews during its serialized run. Now, it can finally stand alone on a book shelf as Smith's next great completed work.

You can see a 10 page preview of the full color pages here.
3. Boxers & Saints
By Gene Luen Yang
First Second

Boxers and Saints is a set of two separate graphic novels that tell two sides of the same story. They can be bought separately or together in a slipcase edition but each stands on its own. Set during the Boxer Rebellion in late 19th century China, both stories look at the conflict between Chinese villagers and Western Christian missionaries. Boxers focuses on a young boy named Bao whose village is destroyed by Western invaders and joins the uprising against them. In Saints, a young girl named Vibiana is taken in by the missionaries and finds herself caught between her loyalties to Christianity and to her native land.

Both books are written and illustrated by Gene Luen Yang, the award-winning creator of 2006's American Born Chinese which also used overlapping and connected narratives, albeit in a different approach. Yang became a big star in the "bookstore comics" world after the success of American which has since been used in schools to help struggling and disabled readers find ways to relate personally to books. Yang has been very active in advocating for the use of graphic novels as teaching tools and this book, with its historical perspective and themes involving young persons finding their place in their own world, will surely be considered another potential resource for instructors.
You can see more about these two books here.
4. The Best of Milligan & McCarthy
By Peter Milligan and Brendan McCarthy
Dark Horse

The creative partnership of writer Peter Milligan and artist Brendan McCarthy produced some of the craziest, psychedelic, thought-provoking and ultimately influential comics of the 1980s that most people have probably never read. Dark Horse is now collecting a number of their comics, many long out of print and one that was immediately banned upon release, in this new hardcover collection.

Milligan is pretty active in the American comics scene these days, most recently writing Red Lantern and Justice League Dark for DC. He's perhaps best known for his run on Marvel's X-Statix in the early 2000s or his Vertigo series Shade The Changing Man in the '90s. His American comics always have a strange, satirical edge to them but his early comics for 2000 AD and Eclipse are just plain out there and weird. Especially when he was collaborating with McCarthy whose hallucinatory layouts and overactive imagination made for some hard to comprehend but downright intriguing comics.

The work collected here includes: Paradax, a superhero story, of sorts, about a man who can walk through walls and objects while wearing a bright, yellow spandex suit; Rogan Gosh, a mind-bending story of "Indian science fiction"; Freakwave, a post-apocalpytic tale where the world is submerged by water (a story that Milligan and McCarthy shopped around to Hollywood at one point only to later see a very similar story appear in the form of Kevin Costner's Waterworld); and Skin a story about a thalidomide baby turned skinhead that the book's original publisher found too disturbing to actually print.

You can see more about this book and read a preview of Paradax here.
5. S.H.I.E.L.D. by Steranko: The Complete Collection


By Jim Steranko and various
Marvel Comics
Continuing the theme of rare psychedelic comics becoming more readily available, Jim Steranko's classic run from the late '60s on Nick Fury Agent of S.H.I.E.L.D., as well as the run on Strange Tales that started it all, is being collected together for the first time in S.H.I.E.L.D by Steranko: The Complete Collection. With Marvel's new S.H.I.E.L.D TV show about to air this month, we're likely to see a flood of the market with related bookstore merchandise. However, these comics probably bear little resemblance to what Joss Whedon will be doing on that series. Instead, they stand as a treasury of the early groundbreaking work of one of Marvel Comic's most interesting creators.

Jim Steranko is the comics world's own Most Interesting Man. If you follow him on Twitter (@iamsteranko) he tends to hop on late at night and regale his followers with incredible, multiple-tweet tales about his early days as an illusionist and escape artist or the time he "bitch-slapped" Batman creator (or credit-stealer, if you will) Bob Kane. Back in 1968, he was working in advertising and moonlighting at Marvel when he took WWII character Sgt. Nick Fury and brought him into the future as a James Bond-style secret agent. Steranko was one of the few auters working at Marvel in those days where he wrote and drew his own stories and was mostly left alone enough by the publisher to try new things in sequential storytelling. He used photographic backgrounds, psychedelic patterns and designs, unexpected wordless scenes (pretty unfashionable in comics at the time) and even a sequence extended to a 4-page spread (the first time this had probably been done in comics). His work on this series is considered some of the finest comics of its era and has enjoyed a recent resurgence in popularity, particularly among comic book artists and designers who still find themselves influenced by the visual tricks Steranko performed here.

HONORABLE MENTIONS
Kings Watch #1
Jeff Parker and Marc Laming bring together Flash Gordon, Mandrake the Magician and the Phantom for this new book from Dynamite. Parker (recently named the new writer for Aquaman) is everywhere these days and artist Marc Laming is a star on the rise. His detailed, realistic style is the kind of thing most fans of superhero and genre comics just eat up. Some preview images are here.
Heroic Tales: The Bill Everett Archives
Another one of these collections devoted to one particular artist from the early days of comics. This one is all Bill Everett, creator of the Sub-Mariner and co-creator of Daredevil. This reprints a number of rarities from the '30s and '40s that have never been reprinted before. Preview it here.
Cyborg 009
The original Cyborg 009 was a 1960s manga series by Shotaro Ishinomori that was recently redistributed on Comixology's platform. This new series is a Western adaptation of the material for Archaia by F.J. DeSanto, Bradley Cramp and Marcus To. It's about a team of 9 heroes turned into cyborgs who rebel against the nefarious arms dealer who created them. An interview with the creators and some preview images are here.