Want to Switch Careers in 2018? These Are the 25 Best Jobs in America Right Now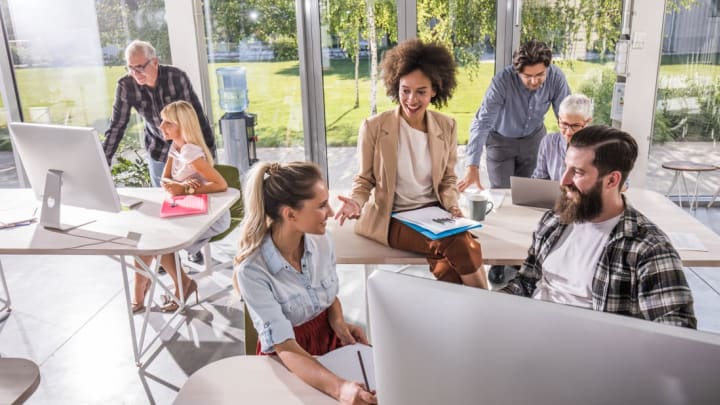 iStock / iStock
If the salary and availability of a position are the most important qualities you look for on your job search, Glassdoor has a list of appealing options for you in 2018. As Thrillist reports, the job-reviewing site's annual list of the best jobs in America is based on three criteria: median annual base salary, number of job openings, and job satisfaction. The jobs below came out with the best overall scores in all three categories.
If you're looking to snag one of the jobs on the list, you could do worse than sharpening your tech skills: Data scientist fills the top slot, with an overall rating of 4.8 out of 5, followed by DevOps engineer with a score of 4.6. Managers of different varieties also make the list. Marketing manager comes in third place, HR manager in fifth, and strategy manager in seventh. Jobs in the health field are a little less represented, but still make a few appearances. The best-rated is occupational therapist in the fourth slot. Physician assistant also makes the cut.
Of course, there are many factors that influence job quality outside the criteria in this list. After checking out the positions below, you might want to consider aspects like stress level and location before resuming your job hunt.
1. Data Scientist
Number of job openings: 4,524
Median base salary: $110,000
Job satisfaction: 4.2/5
2. DevOps Engineer
Number of job openings: 3,369
Median base salary: $105,000
Job satisfaction: 4/5
3. Marketing Manager
Number of job openings: 6,439
Median base salary: $85,000
Job satisfaction: 4/5
4. Occupational Therapist
Number of job openings: 11,903
Median base salary: $74,000
Job satisfaction: 4/5
5. HR Manager
Number of job openings: 4,458
Median base salary: $85,000
Job satisfaction: 3.9/5
6. Electrical Engineer
Number of job openings: 5,839
Median base salary: $76,000
Job satisfaction: 3.9/5
7. Strategy Manager
Number of job openings: 1,195
Median base salary: $135,000
Job satisfaction: 4.2/5
8. Mobile Developer
Number of job openings: 1,809
Median base salary: $90,000
Job satisfaction: 4.1/5
9. Product Manager
Number of job openings: 7,531
Median base salary: $113,000
Job satisfaction: 3.7/5
10. Manufacturing Engineer
Number of job openings: 4,241
Median base salary: $72,000
Job satisfaction: 4/5
11. Compliance Manager
Number of job openings: 1,222
Median base salary: $96,000
Job satisfaction: 4.3/5
12. Finance Manager
Number of job openings: 2,998
Median base salary: $116,000
Job satisfaction: 3.8/5
13. Risk Manager
Number of job openings: 1,209
Median base salary: $97,000
Job satisfaction: 4.2/5
14. Business Development Manager
Number of job openings: 4,060
Median base salary: $75,000
Job satisfaction: 3.9/5
15. Front End Engineer
Number of job openings: 1,122
Median base salary: $100,000
Job satisfaction: 4.2/5
16. Site Reliability Engineer
Number of job openings: 1,064
Median base salary: $120,000
Job satisfaction: 4.1/5
17. Mechanical Engineer
Number of job openings: 5,079
Median base salary: $75,000
Job satisfaction: 3.8/5
18. Analytics Manager
Number of job openings: 1,381
Median base salary: $115,000
Job satisfaction: 3.9/5
19. Tax Manager
Number of job openings: 3,309
Median base salary: $110,000
Job satisfaction: 3.7/5
20. Creative Manager
Number of job openings: 824
Median base salary: $110,000
Job satisfaction: 4.3/5
21. Software Engineer
Number of job openings: 29,187
Median base salary: $102,500
Job satisfaction: 3.6/5
22. Hardware Engineer
Number of job openings: 806
Median base salary: $115,000
Job satisfaction: 4.2/5
23. Corporate Recruiter
Number of job openings: 2,330
Median base salary: $65,000
Job satisfaction: 4.3/5
24. QA Manager
Number of job openings: 1,741
Median base salary: $92,000
Job satisfaction: 3.8/5
25. Physician Assistant
Number of job openings: 5,517
Median base salary: $104,000
Job satisfaction: 3.6/5
[h/t Thrillist]