Scottish Supermarket Fires Robot Employee for Scaring Customers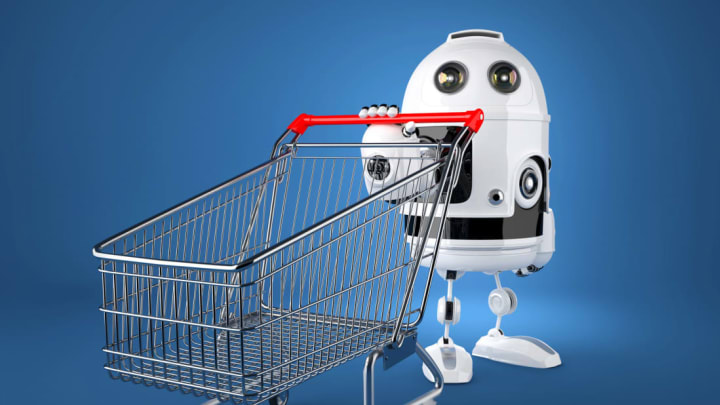 iStock / iStock
This article contains affiliate links to products selected by our editors. Mental Floss may receive a commission for purchases made through these links.
Fear not, grocery clerks: Robots probably aren't going to be coming for your jobs anytime soon, judging from one machine's abrupt hire-and-fire in Edinburgh, Scotland. According to the Daily Record, Fabio, the shopbot robot, was canned after just one week on the job because he wasn't clicking with human patrons.
Fabio was recruited to work at Scottish supermarket Margiotta's flagship store as part of the BBC's Six Robots & Us, a TV program/experiment designed to gauge how useful humans find robots. The bot was programed to greet customers with hugs and flattery ("Hello, gorgeous") and guide them to various products.
Ultimately, though, Fabio lacked both the personality and nuance of a real-life employee. Background noise hampered his ability to understand specific requests, and at times his directions were correct but unhelpful; when asked where the beer was, for example, he'd reply, "It's in the alcohol section." His sales abilities were also lacking: When providing patrons with pulled pork samples, Fabio handed out samples to two patrons every 15 minutes, whereas his human colleagues managed to charm 12 customers into accepting the freebies.
Margiotta's owners thought that Fabio would enhance visitors' in-store experience, but they soon noted that they were actually avoiding the 'bot. They eventually caved, and informed the robot that his services would no longer be needed.
Shoppers may have felt relieved over Fabio's abrupt retirement, but staffers reportedly mourned his loss: While packing the machine up, one clerk actually began crying. They'd grown fond of him, plus he'd helped them dodge redundant requests from patrons—even if he wasn't so great at helping the actual customers themselves.
[h/t Daily Record]