Epic Poster Charts More Than 500 Varieties of Beer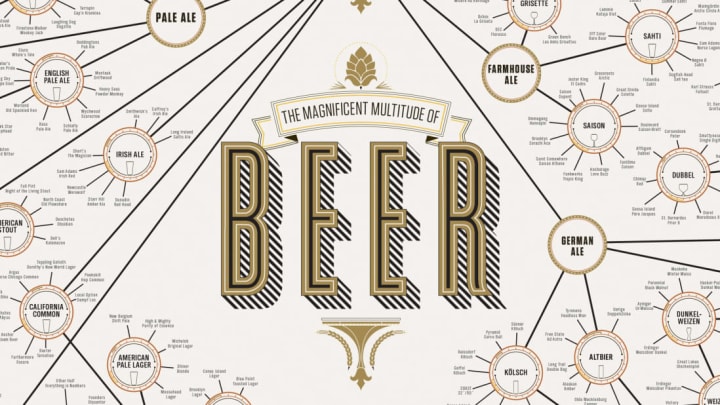 Pop Chart Lab / Pop Chart Lab
Pop Chart Lab has produced several beer-related posters, like the "Very Many Varieties of Beer" and the "Very, Very Many Varieties of Beer." They've outdone themselves again with their latest refreshing visualization. The new chart, titled "The Magnificent Multitude of Beer," organizes more than 500 individual beers into more than 100 different styles.
According to Pop Chart Lab, this latest poster is particularly expansive, listing two to five times as many beers as their previous charts. Even the most seasoned beer aficionado has something to learn from studying it. The product's description reads:
"This ultimate beer chart breaks down every style of brew from hoppy IPAs to fruity Iambics. Now including ABV and IBU ranges for each style—as well as glassware recommendations!—this massive mapping of beer captures the delicious, awe-inspiring output of breweries around the world."
All that information requires an appropriate package to contain it. The poster measures 48-by-32-inches—making it more than big enough to cover the wall behind your home bar. Hang this poster where you can see it and your well of beer knowledge will never run dry. You can preorder a print for $65, with shipping set to begin on February 15.
Pop Chart Lab
Pop Chart Lab