Laser-Cut Wood Maps Showcase World Cities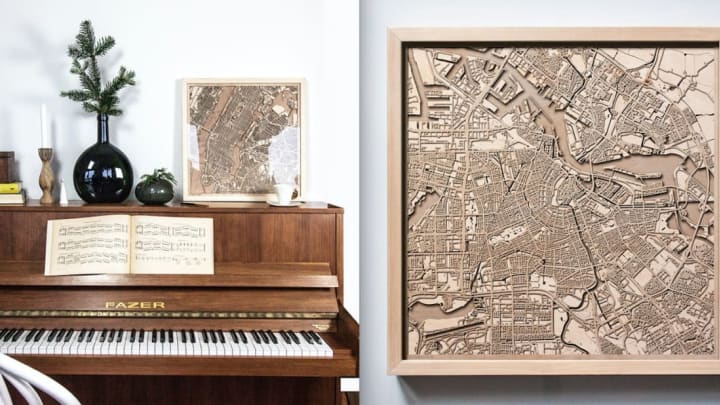 CityWood, Kickstarter / CityWood, Kickstarter
You can already express your love for your local geography with a chocolate map or a custom-designed poster. The latest material for immortalizing your home city is laser-cut wood. As Curbed reports, CityWood is a line of striking, minimalist maps currently raising funds on Kickstarter. (The campaign has blown past its original $3000 goal by raising more than $73,000 so far—and counting.)
CityWood offers maps of nearly 100 cities, including New York, Los Angeles, London, and Tokyo. The waterways and city streets of each location are engraved into high-quality plywood using a laser cutter. The map is then put together by hand, and packaged inside a wood frame behind plexiglass.
Customers have their choice of sizes, from a small 5-inch-by-7-inch map for their desk to a 36-inch-by-36-inch display for their wall. Prices range from $29 to $439.
To preorder a CityWood map of your own, you can pledge to the product's Kickstarter before the campaign ends on February 16. CityWood is also accepting votes on new cities to add to its lineup.
CityWood, Kickstarter
CityWood, Kickstarter
CityWood, Kickstarter
[h/t Curbed]