Take a Virtual Ride on This 90,000-Piece LEGO Roller Coaster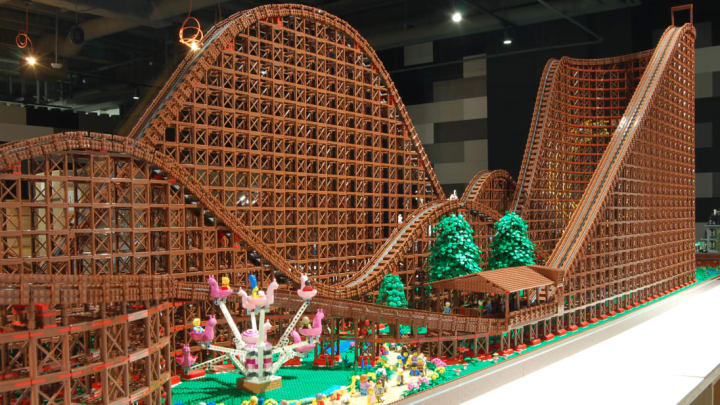 Courtesy of Tomáš Kašpařík / Courtesy of Tomáš Kašpařík
A thrilling new POV video puts you in the front seat of a roller coaster made completely out of LEGOs. Spotted by Gizmodo's Sploid, the coaster was built by LEGO enthusiast and YouTuber Tomáš Kašpařík (aka Chairudo) in 2017, and was recently installed in a Prague toy store for its Czech RepuBRICK exhibition, opening March 6. While not quite life-size, the 4.5-foot drop is nothing to scoff at, especially if you're looking through the eyes of a minifigure.
Inspired by El Toro, a wooden coaster at New Jersey's Six Flags Great Adventure, the detailed structure took nearly 800 hours to build. The feat of LEGO engineering is made of almost 90,000 pieces and features a total of 85 feet of track. The whole design measures more than 21 feet long and almost 4 feet wide.
To get an idea of just how impressive the toy coaster is, check out the videos below. You can also scroll through these photos for a look at the detailed features built around the ride, including landscaping work, crowds of visitors, and other, smaller amusement park rides.
If you like this LEGO creation, you might want to check out Chairudo's previous works, like the detailed amusement park that's currently on display alongside the coaster in Prague.
[h/t Gizmodo]