5 Most Interesting Comics of the Week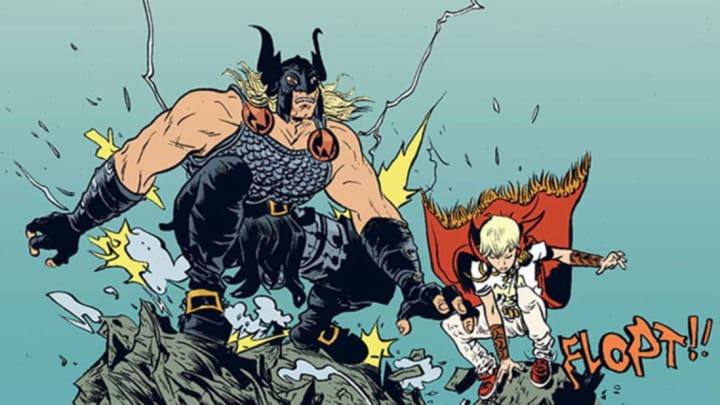 First Second / First Second
Every Wednesday, I preview the 5 most interesting new comics hitting comic shops, Comixology, Kickstarter and the web. If there's a release you're excited about, let's talk about it in the comments.
1. Battling Boy
By Paul Pope
First Second

One of the most anticipated books of the year (years even, since this is arriving later than many had expected) is the first volume of Paul Pope's sci-fi epic Battling Boy. Set on an alternate earth, monsters are overrunning the sprawling city of Arcopolis, stealing children and eating automobiles. The only hope Arcopolis has is their Batman-like vigilante science hero, Haggard West. Except that Haggard West is now dead and that hope now rests in a 12-year old boy.

Paul Pope is one of the comic industry's rare rock stars. He is adored by indie and mainstream fans alike—at least since his award-winning 2006 graphic novel Batman Year: 100 put him on many people's radar. One of the reasons' Battling Boy has been so delayed is that Pope has gotten himself involved in the movie business, including writing a potential film adaptation for Brad Pitt's production company of this very book even though he hadn't yet finished writing the book itself.

Most people will find it was worth the wait, though, as it pulls together many of the elements we love about Pope's work while being a little more all-ages-friendly than most of his previous books. Pope is one of the great sci-fi cartoonists working today. He has a loose, sexy and inimitable way of drawing comics that looks like what would happen if Hugo Pratt or, heck, Egon Schiele had created DC's Fourth World. He mixes a European sense of sci-fi scale and landscape with early 20th century gadgetry and clothing styles and a Japanese feel for action and storytelling to create a very American story of superheroes and overcoming insurmountable odds. 

The titular Battling Boy is going through a rite of passage and is sent by his demigod father to complete the Herculean challenge of saving this world. He comes with a suitcase of goodies to help him along, including a set of printed T-shirts that embody him with the power of whatever animal is depicted on its front (i.e., a Tyrannosaurus Rex). Despite this, Battling Boy is in over his head when it comes to fighting these monsters, and that's a secret he wants to keep from the people of Arcopolis who want him to be their new Haggard West. Battling Boy looks like a typical Pope protagonist with his tousled hair and skinny jeans, but he's also a straight-out-of manga, monster-fighting boy hero. However, the more compelling character of the book may be Haggard West's teenage daughter, Aurora, left behind by her father's death to make sense of his secret lair and all its weapons. I imagine she'll become even more central to the story in the book's sequel. 

Battling Boy is out today and you can read a preview here.
2. The Nib
Edited by Matt Bors
Medium
Medium is the newest social media/blogging project from Evan Williams, the man who brought us Blogger and Twitter. It is basically a blogging platform with many of Twitter's successful aspects built into it: a central feed of incoming content, easy sharing of that content, and a growing user base of smart, thoughtful people creating the content. If you haven't heard of it or read anything on it yet, you probably will soon. It has begun to get a lot of attention across social media due to both the high quality of some of the articles and some controversy surrounding a few of the lower quality ones. It is considered to be revitalizing the nature of blogging, but it also is considered a potential avenue to follow for the online publishing industry. While Medium has been invite-only during its roll out, it has also been paying for a certain percentage of its content, in some cases without making that completely clear to the readers.
That brings us to The Nib, a new section of Medium that launched a few weeks back that falls into the paid content category and is openly promoted as such. Cartoonist Matt Bors (who I've previously written about here) was hired by Medium as a full-time cartoonist to create editorial cartoons but to also hire other cartoonists to contribute their own work to the section. Bors so far has curated a collection of primarily Progressive editorial pieces that include: political cartoons about subjects such as Syria and drone warfare; a tongue-in-cheek info graphic about Millennials, Bill Roundy's cartoon about being gay and dating transgender men, and Molly Crabapple's illustrated account of visiting the prison in Gitmo. Many of the contributors are familiar names in political and editorial cartooning like Ted Rall, Susie Cagle and Brian McFadden. 
As many alt-weeklies are folding across the country and editorial cartoonists are finding it harder and harder to make a living in this field, Bors and Medium have suddenly come along with a new and promising outlet for this type of political-minded comics.
Browse through the list of offerings on The Nib and, while you're at it, admire that nice logo graphic designed by comic artist Jim Rugg.

3. Superman/Wonder Woman #1
Written by Charles Soule; art by Tony Daniel
DC Comics

It's easy for me to lose sight of whether or not civilians (people, unlike me, who don't keep up with the ins and outs of comics) are aware of the fact that since DC Comics rebooted their publishing universe as "The New 52" a couple of years ago, Superman and Wonder Woman have been a couple. It got a lot of mainstream press at the time and has been controversial among fans (particularly Wonder Woman fans who are understandably wary of a feminist icon being relegated to girlfriend status). Having not kept up recently on either character's books, I briefly forgot about this romantic hook up, myself, even though it may be the biggest change they've introduced to these characters in a long time

In the new ongoing Superman/Wonder Woman, Charles Soule, a new addition to the DC stable of writers, along with veteran artist Tony Daniel, explores the romance between these two iconic heroes. In this new rebooted universe, only a few years have passed since the Justice League came into being, so not only is this romance a new thing but these versions of Superman and Wonder Woman actually don't have much of a shared history together. This book will take the opportunity to show them getting to know each other as well as each's supporting cast and family. Somewhat disappointingly, to me at least, the romance and relationship will often be treated as a subplot to the superhero business that has to go on in this type of book. In the first issue, we see the first introduction of the "New 52" Doomsday, the villain that once killed Superman back in the classic 1990's event "Death of Superman." So think of it as a team-up book with the fighting occasionally broken up by a discussion of feelings.

DC seems to be trademarking the "/" as a way of denoting team up books, particularly in regards to Superman. This book comes on the heels of Batman/Superman which looks to explore the often adversarial relationship between those two characters. The use of the "/", especially in the previous book, makes some people chuckle at the probably unintentional reference to "slash fiction." With this book at least, any romantic overtones are indeed intentional.
4. Pulp
Written by Jeremy Holt; art by Chris Peterson
Self-published

Jeremy Holt and Chris Peterson recently released a 24 page comic, called Pulp, that they're selling in PDF form through the Gumroad shopping cart service that many self-publishers have taken to in order to easily and painlessly sell DRM-free digital comics. They're even going with the "pay what you want" model popularized by everyone from Louis CK to Brian K. Vaughan. For digital comics, selling through a service like Gumroad is becoming a nice alternative to Comixology that definitely has a number of pros and cons compared to that service.

However, the reason I mention Pulp is because it is a very good comic that will be well worth whatever you choose to pay for it. As the name indicates, it has a noir slant to it and a deliciously bleak twist ending that harkens back to the pre-Comics Code short stories from EC Comics. It is also a commentary on writing and the pains of trying to get published that makes Holt and Peterson's route for self-publishing all the more important to the theme of the story.

Since I don't want to give too much away about the plot and its twist, I'll just say that it is about a writer, holed up in a house in the snowy woods, working on his latest novel. The scenes of him writing are interspersed with scenes of him meeting at the offices of his publisher. The writer is visited multiple times by a mysterious woman who appears to be his publisher's secretary from the scenes in the office. By the time we get to the end and see what's really going on, you'll probably want to go back and re-read it.

Holt and Peterson have both been self-publishing comics and working for smaller publishers. Peterson, especially, stands out here with some expressive brush work and great use of two colors—blue and yellow—to differentiate time and place as scenes intercut back and forth.

Go here, read a quick preview and then pay what you want for Pulp.
5. Rocket Girl #1
Written by Brandon Montclaire; art by Amy Reeder
Image Comics

Rocket Girl began its life as a successful Kickstarter earlier this year with funds going towards printing and production costs for the initial 5-issue story arc for a planned ongoing series. Image Comics, the popular publisher for creator-owned genre works, stepped in to distribute the series and now the first issue is hitting stores this week.

The hero of the story, Rocket Girl, is a teenage police officer from an alternate 2013 that is sent back to 1986 to investigate "crimes against time" committed by a megacorporation called Quintum Mechanics. Her investigation soon leads her to realize that her 2013 should not even exist.

Amy Reeder draws the book and co-created it with writer Brandon Montclaire, with whom she previously collaborated on another creation called Halloween Eve. She has done a variety of work for DC Comics, most notably on Madame Xanadu for which she was nominated for an Eisner, and an ill-fated run on Batwoman that ended abruptly due to stated "creative differences". With surprisingly few female artists working in the superhero and sci-fi genre for the bigger publishers, Reeder is developing a successful career with her own projects like this one. Her work is dynamic and stylish and with this book she gets to show off not only her ability to draw future tech but her ability to capture the essence of the '80s.

Read a preview of Rocket Girl here.
HONORABLE MENTIONS

The Shaolin Cowboy Vol. 2 #1
Geof Darrow's ultra-violent, insanely detailed art fest, which began way back in the mid-2000s when the Wachowskis briefly had their own comic book company, returns this time from Dark Horse. Read a preview and marvel at the line work.

Three #1
Another new book from Image plays off the story of 300, as Kireon Gillen and Ryan Kelly tell the story of three slaves trying to escape the Spartan army. Preview here.

God Hates Astronauts Vol. 1
Another Kickstarter success story brought to Image Comics. Ryan Browne's absurdist satire of superheroes, NASA and other things is a cult favorite. Info here.

Mind Mgmt Vol. 2
Matt Kindt's excellent series about a shadowy agency and the mind-manipulating people that once worked for them is collected in a second volume here.  Here's a preview.
SHAMELESS SELF-PROMOTION
The second volume of my own graphic novel, Nathan Sorry, comes out on Comixology today. You can read all about it and buy volumes 1 and 2 here.