LEGO Set Lets Harry Potter Fans Apparate to the Hogwarts Great Hall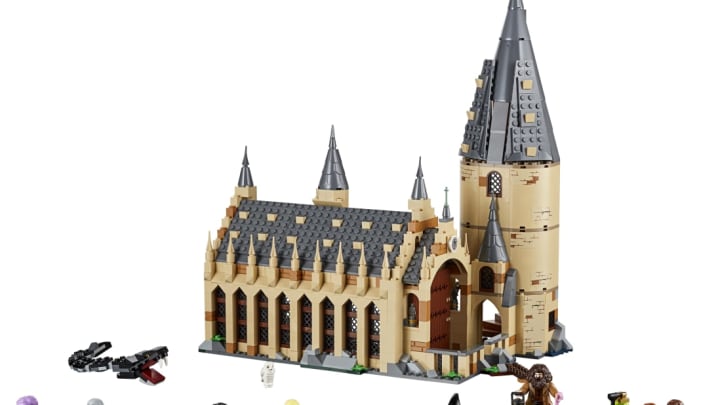 LEGO / LEGO
After reading the books and watching the movies, you may worry you've run out of ways to experience the world of Harry Potter at home. But apparating to Hogwarts is as easy as building a LEGO's take on the Hogwarts' Great Hall.
LEGO revealed the first look at the magical structure at the 2018 Toy Fair in New York City. When fully assembled, the four-story set measures 14 inches tall, 6 inches wide, and 11 inches deep. Comprising 878 pieces, the set packs plenty of features fans will recognize. Minifigures of Harry, Ron, Hermione, and Draco are included, as well as those of Hogwarts professors like Dumbledore, Hagrid, and Professor McGonagall. The Professor Quirrell piece looks innocent from one angle, but reverse his head and he morphs into Lord Voldemort. Susan Bones and Nearly Headless are also part of the set.
LEGO builders have no trouble keeping their characters busy either: There's a diverse collection of accessories to play with, including the Sorting Hat, Hagrid's umbrella, the Mirror of Erised, house banners, cauldrons, candles, and wands. There are even a few fantastic beasts hiding in the hall, like Hedwig, Scabbers, Fawkes, and a basilisk.
Fans looking to add the product to their collection of all things Harry Potter can purchase it for $100 on Amazon or the LEGO Store.
LEGO
LEGO