Mister Rogers Is Now a Funko Pop! and It's Such a Good Feeling, a Very Good Feeling
It's a beautiful day in this neighborhood for fans of Mister Rogers, as Funko has announced that, just in time for the 50th anniversary of Mister Rogers' Neighborhood, the kindest soul to ever grace a television screen will be honored with a series of Funko toys, some of them limited-edition versions.
The news broke at the New York Toy Fair, where the pop culture-loving toy company revealed a new Pop Funko! in Fred Rogers's likeness—he'll be holding onto the Neighborhood Trolley—plus a Mister Rogers Pop! keychain and a SuperCute Plush.
Pre-orders aplenty! https://t.co/n0iz49KoNj pic.twitter.com/ynO309hp3m

— The Mister Rogers Neighborhood Archive (@MRNarchive) February 17, 2018
In addition to the standard Pop! figurine, there will also be a Funko Shop exclusive version, in which everyone's favorite neighbor will be wearing a special blue sweater. Barnes & Noble will also carry its own special edition, which will see Fred wearing a red cardigan and holding a King Friday puppet instead of the Neighborhood Trolley.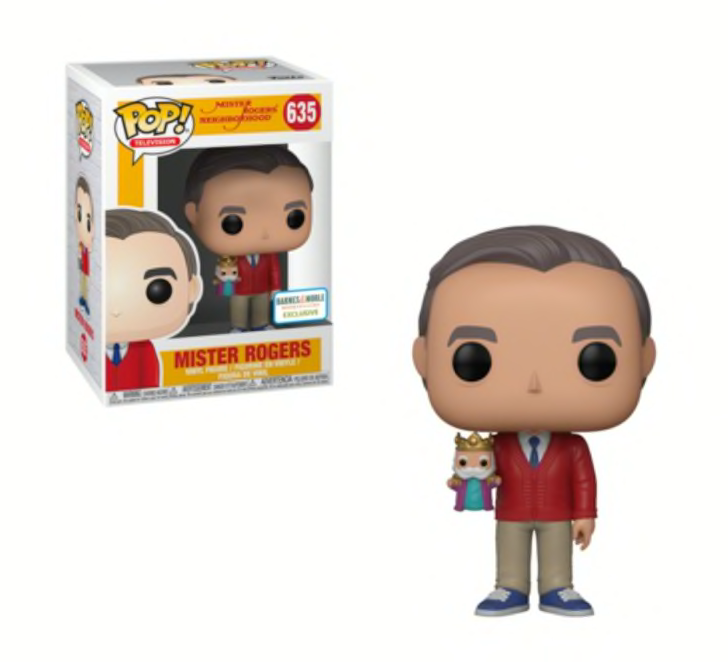 Mister Rogers's seemingly endless supply of colored cardigans was an integral part of the show, and a sweet tribute to his mom (who knitted all of them). But don't go running out to snatch up the whole collection just yet; Funko won't release these sure-to-sell-out items until June 1, but you can pre-order your Pop! on Amazon right now.