150 Northeast Lighthouses in One Illustrated Poster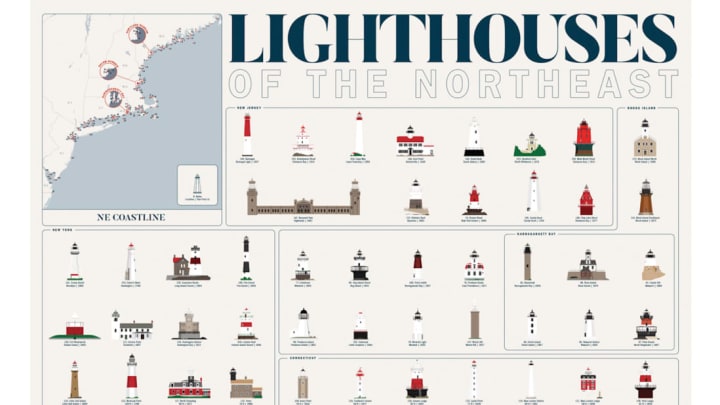 Pop Chart Lab / Pop Chart Lab
Some of the world's most beautiful and historic lighthouses can be found in the American Northeast. Now, Pop Chart Lab is releasing an illustrated poster highlighting 150 of the historic beacons dotting the region's coastline.
The 24-inch-by-36-inch print, titled "Lighthouses of the Northeast," covers U.S. lighthouses from the northern tip of Maine to the Delaware Bay. Categorized by state, the chart features a diverse array of lighthouse designs, like the dual towers at Navesink Twin Lights in New Jersey and the distinctive red-and-white stripes of the West Quoddy Head Light in Maine.
Pop Chart Lab
Each illustration includes the lighthouse name and the year it was first lit, with the oldest lighthouses dating back to the 1700s. There's also a map in the upper-left corner showing the location of each landmark on the northeast coast.
Pop Chart Lab
The poster is now available to preorder for $37, with shipping set to start March 21. After memorizing every site on the chart, you can get to work exploring many of the other unique lighthouses the rest of the world has to offer.