ENTERTAINMENT
Every New Movie, TV Series, and Special Coming to Netflix in May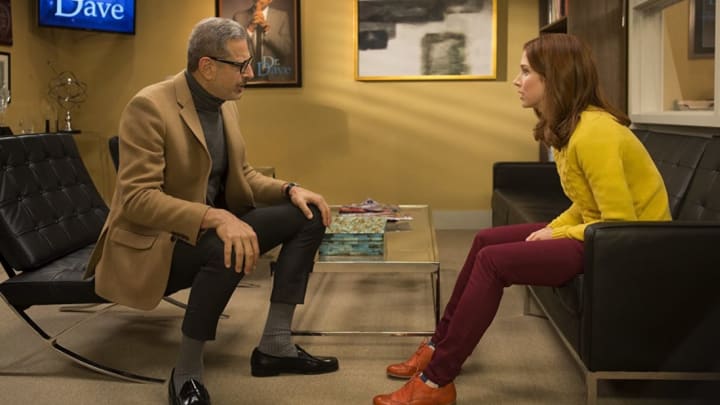 Netflix / Netflix
Netflix is making way for loads of laughs in its library in May, with a handful of original comedy specials (Steve Martin, Martin Short, Carol Burnett, Tig Notaro, and John Mulaney will all be there), plus the long-awaited return of Unbreakable Kimmy Schmidt. Here's every new movie, TV series, and special making its way to Netflix in May.
MAY 1
27: Gone Too Soon
A Life of Its Own: The Truth About Medical Marijuana
Amelie
Barbie Dreamhouse Adventures: Season 1
Beautiful Girls
Darc
God's Own Country
Hachi: A Dog's Tale
Harold & Kumar Escape from Guantanamo Bay
Hellboy II: The Golden Army
High School Musical 3: Senior Year
John Mulaney: Kid Gorgeous Live at Radio City
Mr. Woodcock
My Perfect Romance
Pocoyo & Cars
Pocoyo & The Space Circus
Queens of Comedy: Season 1
Reasonable Doubt
Red Dragon
Scream 2
Shrek
Simon: Season 1
Sliding Doors
Sometimes
The Bourne Ultimatum
The Carter Effect
The Clapper
The Reaping
The Strange Name Movie
Yu-Gi-Oh! Arc-V: Season 2
MAY 2
Jailbreak
MAY 4
A Little Help with Carol Burnett
Anon
Busted!: Season 1
Dear White People: Volume 2
End Game
Forgive Us Our Debts
Kong: King of the Apes: Season 2
Manhunt
My Next Guest Needs No Introduction With David Letterman: Tina Fey
No Estoy Loca
The Rain: Season 1
MAY 5
Faces Places
MAY 6
The Joel McHale Show with Joel McHale
MAY 8
Desolation
Hari Kondabolu: Warn Your Relatives
MAY 9
Dirty Girl
MAY 11
Bill Nye Saves the World: Season 3
Evil Genius: the True Story of America's Most Diabolical Bank Heist
Spirit Riding Free: Season 5
The Kissing Booth
The Who Was? Show: Season 1
MAY 13
Ali Wong: Hard Knock Wife
MAY 14
The Phantom of the Opera
MAY 15
Girlfriends' Guide to Divorce: Season 4
Grand Designs: Seasons 13 - 14
Only God Forgives
The Game 365: Seasons 15 - 16
MAY 16
89
Mamma Mia!
The 40-Year-Old Virgin
The Kingdom
Wanted
MAY 18
Cargo
Catching Feelings
Inspector Gadget: Season 4
MAY 19
Bridge to Terabithia
Disney's Scandal: Season 7
Small Town Crime
MAY 20
Some Kind of Beautiful
MAY 21
Señora Acero: Season 4
MAY 22
Mob Psycho 100: Season 1
Shooter: Season 2
Terrace House: Opening New Doors: Part 2
Tig Notaro Happy To Be Here
MAY 23
Explained
MAY 24
Fauda: Season 2
Survivors Guide to Prison
MAY 25
Ibiza
Steve Martin and Martin Short: An Evening You Will Forget for the Rest of Your Life
The Toys That Made Us: Season 2
Trollhunters: Part 3
MAY 26
Sara's Notebook
MAY 27
The Break with Michelle Wolf
MAY 29
Disney·Pixar's Coco
MAY 30
Unbreakable Kimmy Schmidt: Season 4
MAY 31
Bombshell: The Hedy Lamarr Story
My Next Guest Needs No Introduction With David Letterman: Howard Stern