Hawaii Just Voted to Ban Sunscreen That Harms Coral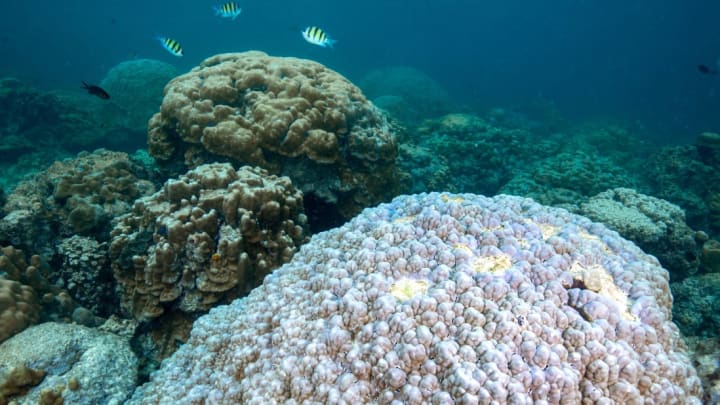 iStock / iStock
The widespread death of coral reefs across the planet's oceans in recent decades is the result of several factors—most of them human-made. Now, Hawaii's legislators have taken a major step toward keeping one notorious coral-killer out of its waters. As Gizmodo reports, Hawaii has passed the first law of its kind banning sunscreens with certain chemicals.
The compounds oxybenzone and octinoxate can be found in more than 3500 of the world's top sunscreen brands. Both serve a key role in chemical sunscreen formulas by protecting skin from UV rays, but once they've washed off into the water, they can have a devastating impact on marine life.
According to a 2015 study published in the journal Archives of Environmental Contamination and Toxicology, oxybenzone hurts coral in two ways: It prevents coral larvae from developing normally, and it poisons the symbiotic algae that reside in coral. These algae provide coral with an oxygen source and help clear out their waste, as well as giving reefs their vibrant appearance. If the algae abandon the coral, the reef accumulates waste and gradually turns white—a process know as bleaching. A 2016 study found that octinoxate in addition to oxybenzone can stunt the growth of baby coral.
Sunscreen brands like L'Oréal claim the evidence isn't strong enough to justify the ban, but Hawaii lawmakers felt differently: On Tuesday, May 1, 72 of the state's 76 legislators voted in favor of it. Democratic Governor David Ige has yet to sign the bill into law, but Hawaiian businesses are already clearing their shelves of chemical sunscreens in anticipation of it.
The waters of Hawaii are home to more than 410,000 acres of coral reefs. The island chain also attracts millions of sunscreen-slathered tourists each year, making it a natural spot for the world's first-ever ban on harmful chemical sunscreens. Of all the sunscreen that melts off swimmers' bodies when they enter the ocean, 14,000 tons of it ends up in coral reefs. Banning oxybenzone and octinoxate won't solve the coral bleaching epidemic completely—global warming and ocean acidification are the biggest culprits—but it is a start.
Even if you don't live in Hawaii, you can still choose to buy sunscreen that's easier on the environment. Look for sunscreen brands with simple formulas that feature biodegradable, non-nano-size ingredients (super-tiny nanoparticles in sunscreen are thought to harm marine invertebrates). Instead of these compounds, the brand Stream2Sea uses titanium dioxide coated with alumina to protect against the Sun's rays.
[h/t Gizmodo]