May the Forks Be With You: This Is the Star Wars Dinnerware You Didn't Know You Needed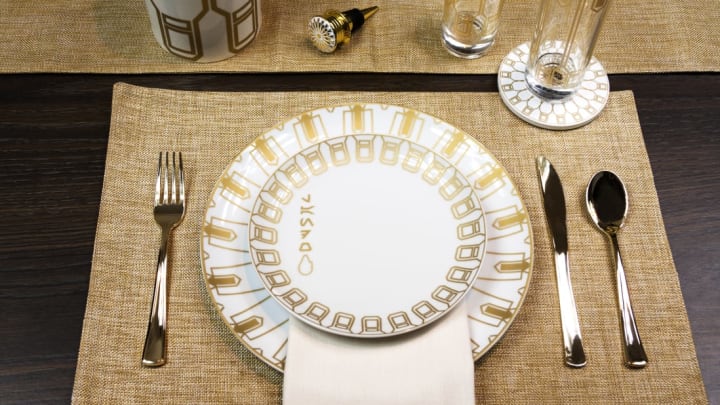 ThinkGeek / ThinkGeek
Art Deco meets space opera in a new collection of Star Wars-themed dinnerware, released just in time for May the 4th (Star Wars Day).
The collection comes from ThinkGeek, whose annual Star Wars Day sale has become a go-to source for movie merchandise, offering everything from a Chewbacca necktie to a Death Star waffle maker, because even Stormtroopers need to eat a balanced breakfast.
Dubbed the Lando Calrissian Accents Collection, it includes a bottle stopper and two different sets of porcelain salad plates with golden accents. One set features Lando's name in Aurebesh, an alphabet that appears in Star Wars, while the other bears a detailed Art Deco design.
Also featured is a set of Han Solo highball glasses, so that the next time you break out the Solo cups, they won't be the red plastic variety that litter frat house floors. The design was inspired by the Millennium Falcon.
ThinkGeek
ThinkGeek
ThinkGeek
The products are all officially licensed merchandise for the upcoming film Solo: A Star Wars Story, coming to theaters May 25.
Looking for other ways to celebrate Star Wars Day? We have a few suggestions for how to spend your day.