Twitch is Streaming More Than 500 Classic Doctor Who Episodes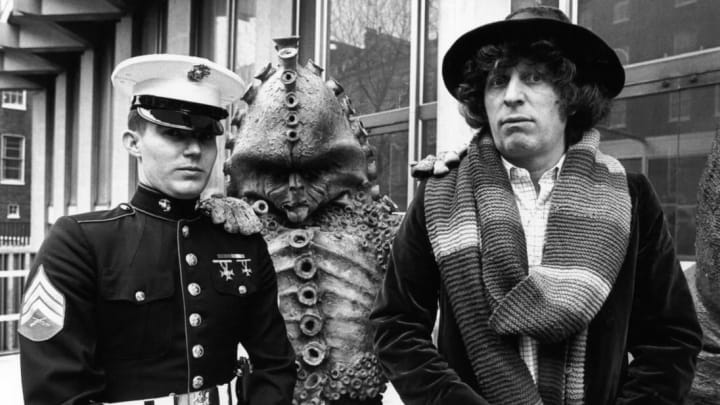 Evening Standard/Getty Images / Evening Standard/Getty Images
If you're a fan of campy sci-fi and can clear your schedule for the next seven weeks, we've got a suggestion on how to spend that time: watching more than 500 episodes of the original Doctor Who. On May 29, 2018, Twitch kicked off a truly massive marathon that will see six to seven hours of the original series live streamed each day beginning at 11 a.m. PT. (That programming block will then be repeated—twice—for late-comers and international audiences.)
In addition to capturing the interest of Time Lord obsessives, the streaming network is also hoping to lure Doctor Who newbies into the fold, as evidenced by their description of the long-running series:
Doctor What now? If that sounds like you, welcome! Doctor Who is a sci-fi cult classic TV series, which originally aired in 1963. It's about a Time Lord and his companions who travel through space and time, going on adventures and saving the universe. We're streaming 500 episodes of the original series, so you'll catch on soon enough!
For viewers expecting to see David Tennant, Matt Smith, and Peter Capaldi—or to catch a glimpse of incoming Thirteenth Doctor Jodie Whittaker—don't hold your breath. This marathon is dedicated to the series' original 26 seasons, which ran from 1963 to 1989. You will, however, get to see the TARDIS in its various incarnations, and admire Fourth Doctor Tom Baker's legendarily long scarf (which you can knit yourself, by the way). And on July 19—the marathon's final day—you'll finally get to meet Sylvester McCoy, who played the Seventh Doctor and unfortunately spelled the beginning of the end of the series' original incarnation.
While 500-plus episodes may seem like a lot, it's barely scratching the surface of the Doctor Who team's output. Many of the show's classic episodes have been lost to time, with the BBC and fans working together for decades to try and reassemble the missing pieces.
If you can't make the time to watch Twitch's Doctor Who marathon, you can catch the original episodes at your leisure on BritBox. Or, if you watch it all and want to keep the momentum going—or if you simply prefer your Time Lords in Chuck Taylors—Amazon Prime is streaming the rebooted series' first 10 seasons.