This $40 Wireless Keyboard is Solar-Powered and Might Just Revolutionize Your Workspace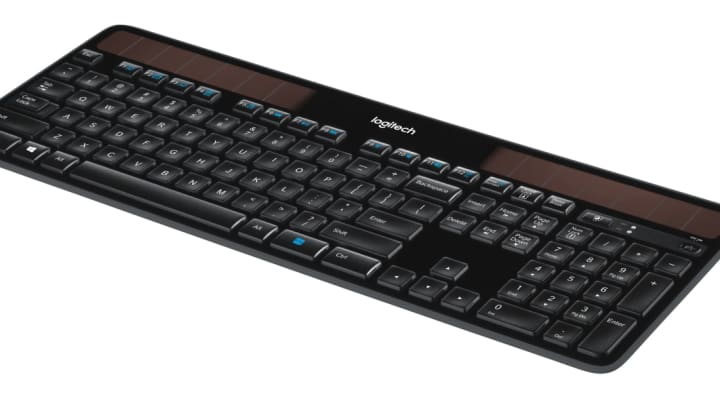 Logitech / Logitech
Meet the $40 solar-powered keyboard that's about to make your life a whole lot easier.
The Logitech K750 Wireless Solar Keyboard can be charged by sunlight as well as artificial lights, like your desk lamp, and stays juiced up for at least three months in total darkness. With this innovative gadget, Logitech is eliminating the annoyances that come with other wireless keyboards, like constantly having to change the batteries or plug it in to recharge. Best of all, the Windows-compatible model is on sale at Amazon for $39.99, down from $59.99. Never fear, Mac users—there's a model for you, too (although it's slightly pricier at $54.88).
(Mental Floss has affiliate relationships with certain retailers and may receive a small percentage of any sale. But we only get commission on items you buy and don't return, so we're only happy if you're happy.)
Having a reliable wireless keyboard can save you time and undue stress, whether you work in a cubicle or a home office. Plus, at one third of an inch thick, the keyboard is so sleek that Logitech compares it to typing on a laptop (and Amazon reviewers agree). You can monitor the gadget's power level by downloading the Logitech Solar App for your computer. Setting it up is easy: Just plug the receiver into your computer and you're done. It also comes with a three-year warranty for peace of mind.
Logitech
Customers rave about this gadget on Amazon: One person writes that it's "the single best keyboard I have ever owned." Another loyal customer notes, "I first encountered one at work, and I liked it so much that when I switched jobs, I had to get another!"
Take advantage of this deal on Amazon while you can. While you're at it, check out the $95 mattress that Amazon customers are losing their minds over.