For $188 Million, You Could Live in This Bel Air Mansion Fully Stocked With Wine, Candy, and Luxury Cars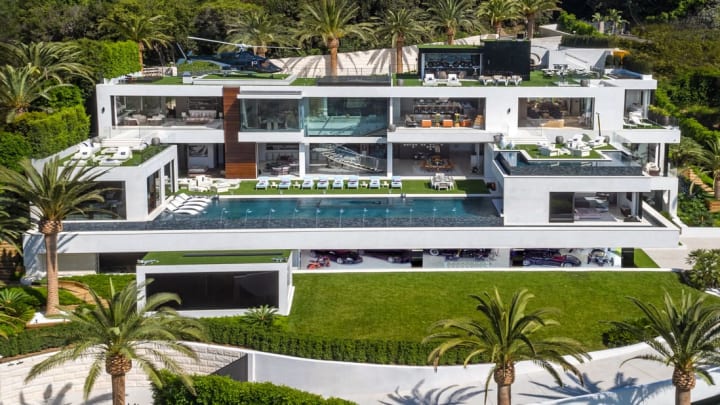 Bruce Makowsky/BAM Luxury Development / Bruce Makowsky/BAM Luxury Development
If you're going to shell out $188 million for a new house in one of the ritziest areas of the U.S., you might as well get a few luxury cars out of the deal. At least, that seems to be the rationale behind this insane mansion in Bel Air, a 38,000-square-foot palace with interiors that will stun you—just maybe not in the way that most mansions of this caliber might.
Spotted by Business Insider, the fully furnished home at 924 Bel Air Road first went on the market in January 2017 for $250 million, then one of the highest prices on the U.S. housing market. The property was built on spec by luxury developer Bruce Makowsky, whose company, the Los Angeles Times wrote in 2017, "caters to billionaires who pay tens of millions for his move-in-ready homes stocked with countless amenities and hand-picked designer wares."
Bruce Makowsky/BAM Luxury Development /
This eye-boggling mansion—literally named "Billionaire"—is no exception. It comes with a decommissioned helicopter used in the show Airwolf perched next to the swimming pool, decorative chrome-plated guns, a Champagne-bottle pinball machine, a lounge area that has enough sofas and chairs to host a whole nightclub, a 40-person movie screening room, a four-lane bowling alley, two fully stocked wine cellars, a game room that comes loaded with enough candy to rival an M&M store, a spa room that comes equipped with its own massage tables, and a personal gym. Ah yes, and the "auto gallery" filled with $30 million in luxury cars.
As for the actual accommodations, the four-story house also has two master suites, 10 "oversized VIP guest suites," 21 bathrooms, three kitchens, and five bars. The real estate listing notes that it also has a "seven-person full-time staff," though it doesn't mention if their salaries are included in the price tag.
It's truly a sight to behold. See the listing from real estate firm Hilton & Hyland here.
Bruce Makowsky/BAM Luxury Development
Bruce Makowsky/BAM Luxury Development
Bruce Makowsky/BAM Luxury Development
Bruce Makowsky/BAM Luxury Development
[h/t Business Insider]