Rare J.R.R. Tolkien Sketches Reveal Another Side of the Fantasy Author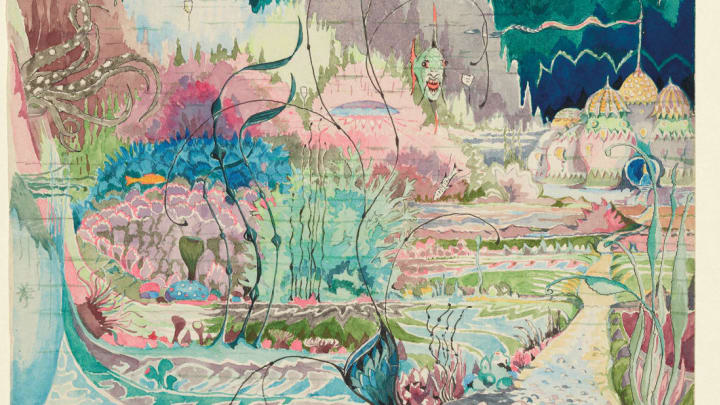 The Gardens of the Merking's Palace, from the story Roverandom / Tolkien Trust 1992
In addition to inventing languages and writing a trilogy of fantasy novels that spawned a multi-billion-dollar movie franchise, J.R.R. Tolkien was also a talented illustrator. His drawings of Middle-earth and other imagined lands often found their way into his books, including a cover and accompanying imagery he created for The Hobbit.
Now, over 300 illustrations, handwritten letters, and personal photographs that have never appeared in print before are featured in a new book published by the University of Oxford's Bodleian Libraries. Titled Tolkien: Maker of Middle-earth, the book's release coincides with an ongoing exhibition of the same name that's running at Bodleian Libraries until October 28.
The Tolkien Estate Limited 1937, Bodleian Libraries
The watercolor illustration featured on the book's cover, titled Bilbo Comes to the Huts of the Raft-elves, was Tolkien's personal favorite, and he was disappointed when it wasn't included in the first American edition of The Hobbit, published in 1937. In vibrant hues of blue and green, it depicts Bilbo floating down a river atop a wooden wine barrel after saving the dwarves from the dungeons of the Elvenking.
Another Hobbit illustration, also made in 1937, depicts an invisible Bilbo outwitting Smaug the dragon. Other images in the book are a little more obscure, like The Shores of Faery, a watercolor illustration of Kôr, the city of the Elves, that had been painted for The Silmarillion. Despite being Tolkien's earliest work, the book wasn't published until after his death. Similarly, a story called Roverandom that Tolkien wrote as a bedtime story for his children in 1925 wasn't published until 1998. An accompanying illustration depicts lush underwater gardens.
The Tolkien Estate Limited 1937
The Tolkien Trust 1995
To see more illustrations like these, check out Tolkien: Maker of Middle-earth, which can be purchased on Amazon for about $48.