100 Years of Typewriters on One Giant Poster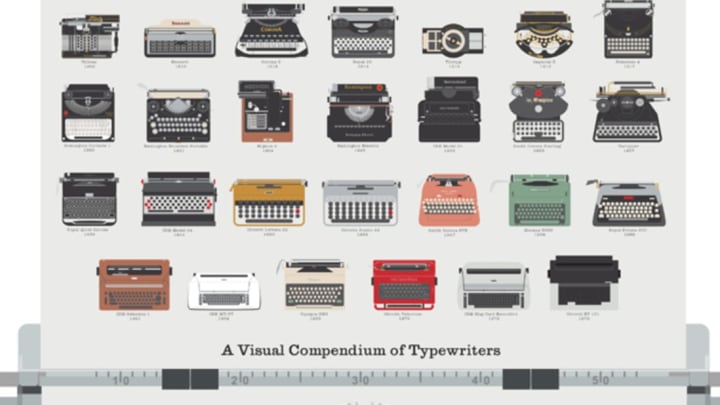 Pop Charts Lab / Pop Charts Lab
From the Hansen Writing Ball of 1870 to the Olivetti ET 101 of 1978, the visual history of the typewriter is rendered in beautiful hand-illustrations on Pop Charts Lab's latest poster. With over 60 models featured, the poster highlights the varied—and sometimes colorful—evolution of the nostalgia icon.
The researchers relied on The Virtual Typewriter Museum and the Martin Howard Collection in Canada to get an initial overview of machine's history before delving deeper into the makers of specific models. But finding resources for the rich history wasn't all that difficult. "There really are a substantial amount of people out there who are dedicated to cultivating an appreciation for the craftsmanship and interesting history associated with typewriters," the creative team said.
Rendering the objects clearly in eye-catching two dimensions was a challenge: "You really have to study them and imagine yourself sitting in front of one in order to draw them in a simplistic and concise way."