This LEGO Coffee Table Is Made From More Than 10,000 Bricks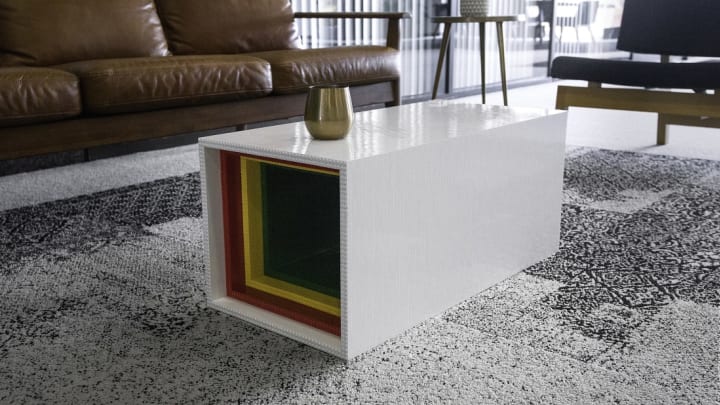 Yusong Zhang / Yusong Zhang
How many LEGO blocks does it take to build a coffee table? For Los Angeles-based art director Yusong Zhang, the answer is 10,480.
As spotted by Dezeen, Zhang designed a fully functional table using only white, red, yellow, and green LEGO bricks—no glue or screws necessary. Its structure is reinforced by four colored layers, which are pieced together in a way that's designed to withstand the weight of objects placed on top of it.
Yusong Zhang
"It's absolutely no problem if you want to put two feet up or a stack of magazines. It's very sturdy," Zhang told Dezeen.
According to Zhang's website, he wanted to challenge himself "to build something truly functional without sacrificing the aesthetic and creativity that's rooted in LEGO designs."
And challenging it was. In total, the project took three weeks to complete, with Zhang chipping away at it after returning from work in the evenings. The finished table is two feet tall and four feet long.
While this particular model isn't for sale—Zhang says he's using it as his personal coffee table, and we can't blame him—the artist is open to taking custom orders. He said he also wants to try out different color combinations in the future.
[h/t Dezeen]