4000-Year-Old Egyptian Tomb Opens to the Public for the First Time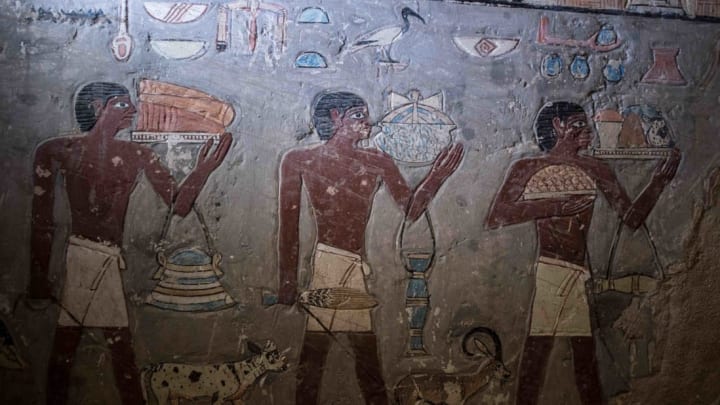 Khaled Desouki, AFP/Getty Images / Khaled Desouki, AFP/Getty Images
Sightseers traveling to Egypt have a new stop to add to their itineraries. As CNN reports, the 4000-year-old tomb of a royal vizier has opened to the public for the first time since its discovery.
Mehu was a high-ranking advisor to King Titi of the sixth dynasty sometime around 2300 BCE. He was buried in Egypt's Old Kingdom not far from modern-day Giza, home to the Great Pyramids and the Great Sphinx.
The walls of the tomb are decorated with well-preserved, brightly-colored paintings, which include everyday scenes like fishing and metalworking, as well as more fantastical images such as a crocodile marrying a turtle. Mehu's son Meren Ra and his grandson Heteb Kha are also buried there.
The site was discovered by Egyptologist Zaki Saad in 1940. By inviting members of public to explore the chambers, Egypt hopes to draw even more tourists to the region.
You can take a look inside the tomb by watching the video below.
[h/t CNN]