The 'Diagrammed Declaration of Independence' Combines U.S. History With Graphic Design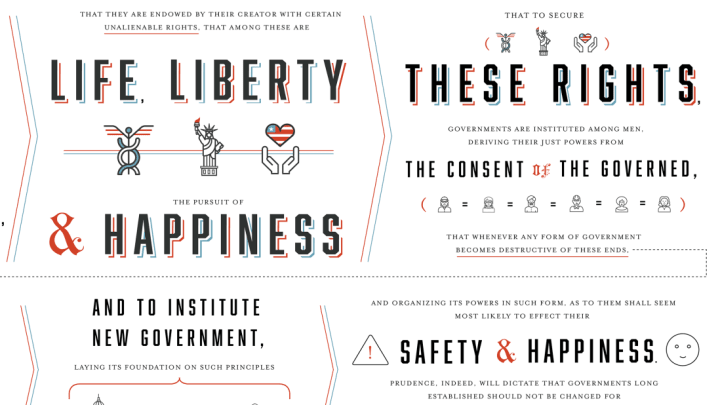 Pop Chart Lab / Pop Chart Lab
The Declaration of Independence is one of the most important documents in our nation's history, but most Americans have probably never sat down and read it from beginning to end. This poster from Pop Chart Lab makes the 242-year-old document a lot less daunting.
In the Diagrammed Declaration of Independence, the text is broken down section by section. The most important phrases, like "all men are created equal," "life, liberty and the pursuit of happiness," and "let facts be submitted to a candid world," are highlighted in big, bold lettering. Arrows show how the different ideas in the document connect, and colorful pictographs illustrate various points, like the three branches of government.
Like the original Declaration, the poster starts with the preamble up top and ends with the 56 signatures at the bottom. In this version, the signing delegates have been organized by state.
The Diagrammed Declaration will be ready to ship out on Monday, October 15. You can preorder a 24-by-36-inch poster from Pop Chart Lab today for $37.
Pop Chart Lab