The Most Interesting Comics of the Week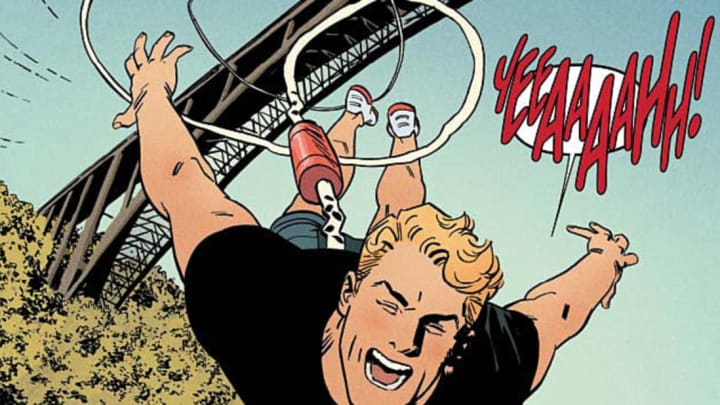 Evan Shaner/Dynamite Entertainment / Evan Shaner/Dynamite Entertainment
Every Wednesday, I highlight the most interesting new comics hitting comic shops, bookstores, Comixology, Kickstarter, and the web. These are not necessarily reviews insomuch as they are me pointing out new comics that are noteworthy for one reason or another. Feel free to comment below if there's a comic you've read recently that you want to talk about or an upcoming comic that you'd like me to consider highlighting.
1. Flash Gordon #1
Written by Jeff Parker; art by Evan "Doc" Shaner; colors by Jordie Bellaire
Dynamite Entertainment
To celebrate the 80th anniversary of Flash Gordon, Dynamite Entertainment is launching a new series with a rebooted, modernized version of the character. The new book is written by Jeff Parker who has already introduced this Flash Gordon in the pages of the recent Kings Watch mini-series which featured The Phantom and Mandrake the Magician, heroes from the pulp era of the '30s and '40s.
This new Flash Gordon is a thrill-seeking, bungee-jumping cast-about who is an embarrassment to his father but adored by his fans (and sought after by reality TV producers). He's surrounded by the familiar supporting cast including Dale Arden, a television reporter on the science affairs beat and Dr. Zarkov, a hard-drinking Russian scientist. The first issue gives us a little glimpse of their backgrounds and their previous lives on Earth but otherwise jumps right into the action on the planet Mongo as the three are pursued by henchmen of Ming the Merciless.
Many Dynamite comics seem to have a particular "house style" with realistic and sometimes over-rendered artwork. For these, the publisher has been upping its artistic game. Evan "Doc" Shaner is a perfect choice for this comic; his style succeeds in balancing detailed realism with a more classic cartooning style that honors the look of old news strips by greats like Alex Toth, Al Williamson, and Flash Gordon creator Alex Raymond. Jordie Bellaire, the book's colorist, deserves the same plaudits for straddling that line between retro and new with the color palettes she uses throughout. Even when viewed on screen, they look like they're seeping into newsprint.
Read a preview of the first few pages of Flash Gordon #1 here.
***********************************************************
2. All New Ultimates #1
Written by Michel Fiffe; art by Amilcar Pinna
Marvel Comics
In the aftermath of the recent Ultimate Cataclysm mini-series, Marvel's Ultimate Universe has been greatly altered. The world has been left in shambles after a disastrous attack by the world-devouring Galactus. Major heroes died and the teams that make up this long-running alternate Marvel Universe, The Ultimates and The FF, no longer exist as they once were. The appealing aspect of the Ultimate Universe is that dead is dead and change usually seems to stick, unlike in the regular Marvel Universe. With cities like New York now pretty much disaster zones, crime is running rampant, and a new team of Ultimates is needed.
If the original Ultimates were The Avengers, then this All New Ultimates seems to draw some cues from Kieron Gillen and Jamie McKelvie's popular but recently ended Young Avengers. This new group is made up of a diverse cast of teenage heroes including: Spider-man (not Peter Parker, who is dead in this universe, but Miles Morales), Black Widow (not Natasha Romanov but a female clone of the dead Peter Parker), Cloak and Dagger, and reformed villain and former X-man Kitty Pryde. It's worth noting that there is not one white, male character on this team.
The creative team for All New Ultimates is made up of two up-and-coming talents: Amilcar Pinna, a Brazilian illustrator who's previously done the mini-comic Banana Frita and Michel Fiffe, a writer who created his own highly acclaimed superhero comic Copra (see the next item on this list), which has been lauded in the indie comics circuit.
Here's an unlettered preview of All New Ultimates #1.
***********************************************************
3. Copra #1
By Michel Fiffe
Self-published
The comic that put All New Ultimates writer Michel Fiffe on the map is a self-published, high octane superhero adventure called Copra. It's about a team of heroes-for-hire that go on the run after their last mission goes horribly wrong and leaves half their squad dead and an entire town obliterated. Inspired by DC Comics' classic Suicide Squad (the series was born out of a Suicide Squad fan-comic Fiffe made called Deathzone), Copra features a similar cast of expendable mercenary types working with a government handler who is very reminiscent of Squad's Amanda Waller.
Fiffe has been writing, illustrating, and coloring a new 24-page issue of Copra every month and selling them on his website. It has developed a huge fan following and has become a critical darling of comic bloggers, making plenty of best of the year lists in 2013. The first issue of Copra, with only 800 copies ever printed, is long sold out but Fiffe recently made it available to read for free as a webcomic. Unfortunately, most of the other issues are sold out as well but hopefully Fiffe will find more ways to get this book out there.
The best part about Copra is the DIY nature of its aesthetic. Fiffe's drawings seem rough at first glance but are wonderfully staged and remarkably dynamic. His action scenes are as good as any you'd see in a comic from Marvel or DC. The best part about it is his unorthodox but sparing use of color on top of cream-colored paper. It brings together the world of superheros and the aesthetics of indie comics in a really enticing way.
***********************************************************
4. Lumberjanes #1
Written by Grace Ellis and Noelle Stevenson; art by Brooke Allen
Boom! Box
Boom! Studios recently created an imprint called "Boom! Box" to allow creators working on their licensed properties like Adventure Time to find a place to publish their own stories. The first comic in this imprint was Ryan North's The Midas Touch and this week sees the latest, Lumberjanes, from writers Grace Ellis and Noelle Stevenson and artist Brooke Allen. Stevenson is a popular webcomic creator known for her award-winning Nimona. Ellis worked with Boom! Editor Shannon Watters to develop this concept, which they have described in terms of mixing elements of Buffy the Vampire Slayer, Gravity Falls and Scooby Doo.
The series follows a group of girls at summer camp solving mysteries and saving the world from giant yetis, three eyed wolves, and other supernatural threats. Brooke Allen brings a lot of energy to this with her artwork which is very reminiscent of Faith Erin Hicks in its manga-influence.
***********************************************************
5. Batman Eternal #1
Written by Scott Snyder and James Tynion IV; art by Jason Fabok; colors by Brad Anderson
DC Comics
DC is a big proponent of the weekly comic, having had success with it in 2006 with 52. Lately, with the easy deliverability of digital comics, more and more comic makers are experimenting with a weekly schedule despite the high investment needed from the reader as well as staggering multiple art teams to keep up the pace. This year, DC plans two big new weeklies. The New 52: Future's End, is set five years into the DC Universe's future, and this week they launch the much anticipated Batman Eternal.
Batman Eternal will be a year-long series, shepherded by regular Batman series writer Scott Snyder but written by a team of writers who will alternate story arcs for the duration of the book. This series will start off with a time jump and then work its way towards showing you how things got to that point. The plan is to explore various aspects that make up the vast world of Batman: the "Bat Family", the assortment of villains, and Batman's relationships with supporting characters like Jim Gordon.
Here's a preview of the first issue.
***********************************************************
6. Cosplayers
By Dash Shaw
Fantagraphics
Fantagraphics is typically known for their high-end, bookstore-friendly graphic novels and coffee table collections of classic comic strips, so it's nice to see them release an actual comic book. Cosplayers is a 32-page one-shot by Dash Shaw about two teenage girls who enjoy cosplaying and shooting guerrilla-style YouTube videos.
Shaw is known for his longer comics work like the 700+ page literary tome Bottomless Belly Button or his art comic endeavors like Bodyworld and last year's The New School, but this seems to be a more light-hearted, yet still artistically experimental, effort from him.