The Most Interesting Comics of the Week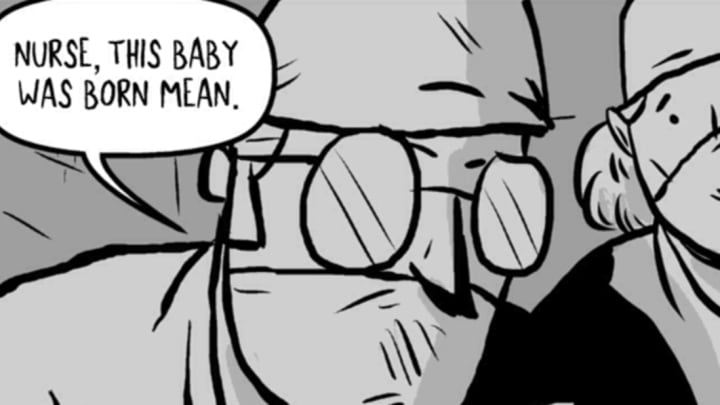 Kyle Starks / Kyle Starks
Every Wednesday, I write about the most interesting new comics hitting comic shops, bookstores, Comixology, Kickstarter, and the web. These are not necessarily reviews (though sometimes they are) but more pointing out noteworthy new comics that you may want to seek out. Feel free to comment below if there's a comic you've read recently that you want to talk about or an upcoming comic that you'd like me to consider highlighting.
1. Over Easy
By Mimi Pond
Drawn & Quarterly
In one of my first columns here, I highlighted Mimi Pond's charming webcomic about a road trip she took with some friends to a hamster show (yes, a hamster show. Just go read it). Pond has had a long career making short comics and writing for a variety of classic TV shows (she wrote the first episode of The Simpsons as well as episodes of Pee Wee's Playhouse and Designing Women). This week, she releases her first graphic novel, a fictionalized memoir called Over Easy that she has been working on for the past 15 years.
Pond recounts her experiences as an art school dropout who took a job as a dishwasher in a quirky restaurant in Oakland, CA. She has changed the names of all the characters that appear, as well as the name of the restaurant itself. It's referred to as the Imperial Cafe, but the real restaurant (which still exists) is called Mama's Royal Cafe. She also changes her own name (here she is Margaret who, in turn, takes on the name "Madge" as way of reinventing herself within the story). This is a coming of age tale in which young, naive Madge learns to become a confident and creative woman.
Over Easy is set in a transformative era in California when the hippie subculture of the 1960s quickly becomes the punk subculture of the 1970s. Sex and drugs were still flowing freely but women, living at the start of second-wave feminism, now were becoming freer to make their own choices about what they want to do and who they want to do it with. Madge practically idolizes the waitresses in the Imperial Cafe for the no-nonsense attitude they take with their customers and for their freedom to pick and choose who they sleep with (who are sometimes their customers). Eventually, Madge works her way up to becoming a waitress herself, learning to navigate the sexual and social politics of the job.
Pond's artwork, a combination of pen and watercolor wash, gives her story an approachable, quirky look. The entire book is colored in a greenish blue hue that seems somehow "diner-ish" while also feeling like it is conveying the soft haze of a memory. Like a lot of auto-bio comics, there can be a sense of "well, you just had to be there" with some of Pond's anecdotes, but she generally has a knack for telling funny, engaging stories. She is currently working on a sequel, which will explore the next stage of her young adulthood.
Drawn & Quarterly has a PDF preview of Over Easy here.
***********************************************************
2. Sexcastle
By Kyle Starks
Kickstarter
If you love '80s style action movies (and who doesn't, really), you're going to want to back the Kickstarter for Kyle Starks' 200-page graphic novel that has a name you can't forget: Sexcastle. It's a mashup of all the tropes you love from cheesy tough guy films, and filters them through the absurdist lens of comic book comedy.
We first meet Shane Sexcastle at his birth when the doctors inform the nurse that "this baby was born mean." Fast forward 30-odd years to Shane being released from prison. He's a former assassin/secret service agent who is ready to start a quiet life without all the constant killing that usually surrounds him. Shane is like a cross between Kurt Russell, Patrick Swayze and David Carradine, complete with eye patch, long hair, kung-fu skills and a frank way of telling you how it's going to be. Almost immediately he gets caught up in defending a mother and her son from a ruthless small town crime boss and has to fend off a team of assassins that resemble all your favorite '80s action stars like Sylvester Stallone, Steven Seagal, and Mr. T.
This is a laugh-out-loud comic from a real rising talent. I first noticed Starks' work on Tumblr with his hilarious series of comics, Secret Agent Toddler In A Man's Body. He draws in a simple, angular style similar to Box Brown and Bryan Lee O'Malley. Starks has a great sense of comedic timing and can really draw an action scene. He hits all the right notes here—anyone who grew up on these movies will eat this up.
There is a week to go on the Kickstarter for Sexcastle and it has already exceeded its goal. I'm not sure what Starks' future publishing plans are, so this may be the surest way to get your hands on a copy. Pledge your support here.
***********************************************************
3. Flash #30
Written by Robert Venditt and Van Jensen; art by Brett Booth, Norm Rapmund
DC Comics
One of the biggest questions since DC rebooted their line of comics in 2011 has been: "Where is Wally West?" Debuting in 1959 as Kid Flash, the teen sidekick to the "Silver Age Flash" Barry Allen, West took over the name after Allen's death in 1985's universe-altering mini-series Crisis on Infinite Earths. For an entire generation of readers, Wally West was the Flash. That is, he was until 2009 when Barry Allen was brought back from the dead. The older Barry Allen fans were ecstatic, but younger readers were a little put off. Then, when the so-called "New 52" reboot took place and Flash #1 debuted with Barry Allen as the one-and-only Flash, Wally West was seemingly not a part of the new continuity.
Now, finally, 30 issues into the new series, DC has promised we'll see a new Wally West. There has been a lot of speculation about how the character might be different in this new universe and whether or not DC actually plans to make him into another version of the Flash. The answer may lie within future timelines that will apparently play a part in this new story arc, and that will feature heavily in upcoming DC events like the new weekly series Future's End.
This issue also debuts the new creative team of co-writers Robert Venditti and Van Jensen with artists Brett Booth and Norm Rapmund. Venditti and Jensen have previously worked together on the Green Lantern books. Like fellow writer Jeff Lemire, they are some of the few current DC creators who have come in from successful careers making indie comics (Venditti is best known for his series The Surrogates and Jensen for the much-loved Pinocchio Vampire Slayer). Jensen spent years as a crime reporter for a small newspaper and will be bringing that experience into the police procedural aspect of the book in which Barry Allen is a forensic scientist for the Central City police force.