The Best Snow Shovel to Help You Survive Winter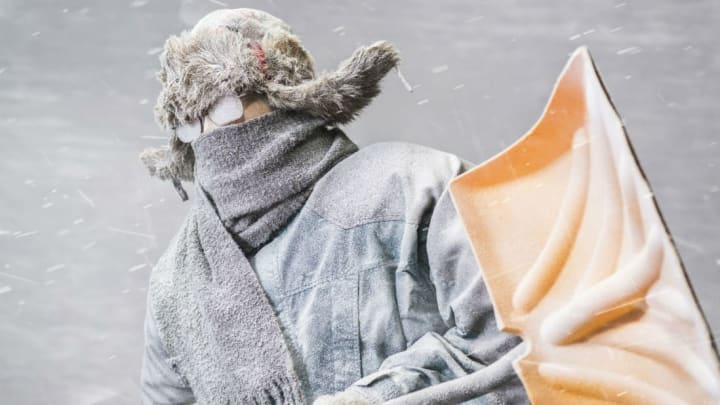 iStock.com/cmannphoto / iStock.com/cmannphoto
For clearing snow, the best tool is undoubtedly a neighborhood child. If you don't have any enterprising kids living nearby, the coming of winter means you're likely going to have to clear your driveway and walkway yourself. If you've found this task particularly miserable over the years, it might not be because you're out of shape. It could be your shovel.
There are a lot of snow shovels on the market, but not all of them are designed for comfort or efficiency. Some are too big, making each heavy scoop a burden on your back. Some are too small or flimsy. The best one clears powder without the need to visit a chiropractor.
According to Wirecutter author Doug Mahoney, who has tested a variety of shovels over the past several years, your top choice should be the True Temper 18-inch Ergonomic Mountain Mover, which is available for $47 on Amazon.
The True Temper, in Mahoney's words, has a plastic scoop that is "neither overly large and awkward nor too small and inefficient." The curved shaft of the shovel makes hefting piles of snow easier; a nylon edge means you won't be damaging the wood on stairs or decks.
If you still have trouble moving snow, you can opt for a Back EZ from EZiMate, a $9 second handle that can be attached to the shaft of any shovel to provide another place for gripping. That balances the weight and takes pressure off your back.
When you clear now, make sure to take several passes during heavy snowfalls rather than letting it accumulate for one big removal. If there's already a lot of snow on the ground, scoop it up in layers. And exercise some caution when trying a "life hack" like spraying cooking oil or WD-40 on the shovel surface in an effort to get wet snow to slide off. It may work, or it may not—but you don't want to fall on an already-dangerous surface made even more slippery by the excess.
[h/t Wirecutter]