Romaine Lettuce Growers Are Adding Safety Labels to Assure Shoppers It's Safe to Eat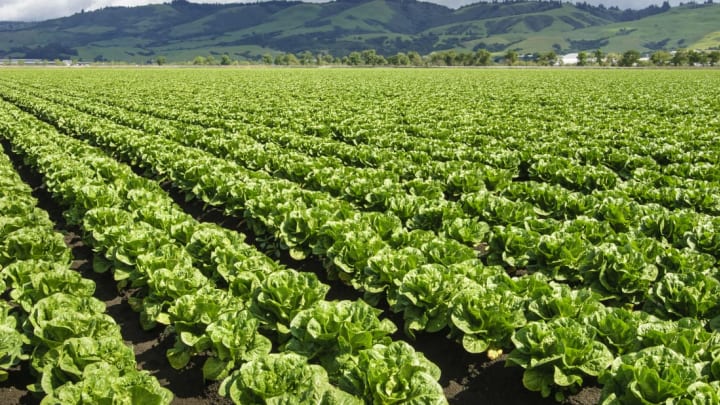 iStock.com/GomezDavid / iStock.com/GomezDavid
This article contains affiliate links to products selected by our editors. Mental Floss may receive a commission for purchases made through these links.
On Tuesday, November 20, the CDC urged produce sellers and consumers to toss out all romaine lettuce in light of a nationwide E. coli outbreak. The contaminated produce has since been traced back to farms on the Central California Coast, which means romaine grown elsewhere is officially safe to eat again. If you're still hesitant to add the lettuce to your grocery list, USA Today reports that some growers have begun adding labels to assure shoppers their products are E. coli-free.
The new, temporary labels are being adopted by lettuce growers in California and southern Arizona. They state where the lettuce was grown and the date it was harvested, differentiating it from the contaminated romaine grown in central and northern California during the end of the summer growing season. The safety labels aren't mandatory, but by using them, growers have convinced federal health agencies to end the nationwide warning against all romaine lettuce.
The E. coli strain that was identified—E. coli O157:H7—is a potentially deadly strain of the bacteria that can sometimes cause kidney failure. Though no one has died from the outbreak, 43 people have gotten sick from it so far, with 16 ending up in the hospital and one developing kidney failure in the U.S.
"It was critically important to have a 'clean break' in the romaine supply available to consumers in the U.S. in order to purge the market of potentially contaminated romaine lettuce related to the current outbreak," the FDA wrote in a press release. Now that the growing season has ended in the region connected to the outbreak, your chances of picking up contaminated romaine from the grocery store are slim, but you can always wait for the labeled bags to start appearing in the produce section if you need extra reassurance.
[h/t USA Today]