This Functioning Toy Dyson Vacuum From Casdon Turns Chores Into Playtime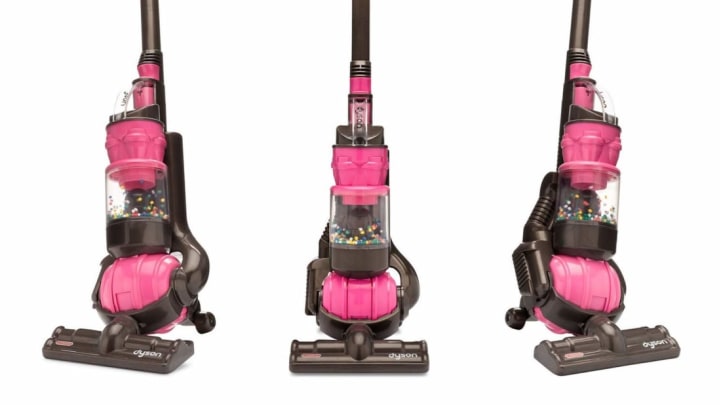 Cadson, Amazon / Cadson, Amazon
If there's slime, glitter, or Hatchimals on your child's wish list this holiday season, get them a gift that will balance out the mess. This toy vacuum from Casdon is a scaled-down replica of the Dyson ball vacuum, and it's so realistic that it even sucks up dirt and debris like a real vacuum cleaner, News 9 reports.
At two feet tall, the toy vacuum is the perfect size for kids ages 3 and up. Like the original Dyson vacuum, the toy swivels on a rotating ball, making it easy for young users to navigate around the house. When it's switched on, realistic sounds play and colorful balls bounce around the clear cylinder to illustrate that it's working. The vacuum even features real suction that's safe for kids to use and still strong enough to pick up lint, dirt, hair, and small crumbs off the ground, according to the Amazon reviews. When the dust bin fills up, parents can remove it from the back of the vacuum and empty out the waste.
The cordless gadget runs on four C batteries, and it comes in three playful colors: pink, purple, and yellow. Parents looking for a way to get their kids to help them clean up after the holidays can order the toy from Amazon for $45.
[h/t News 9]