12 Thoughtful Gifts for Mom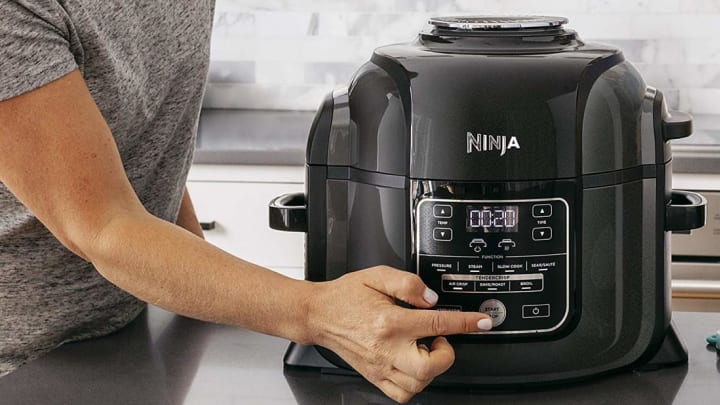 The Ninja Foodi / Amazon
This article contains affiliate links to products selected by our editors. Mental Floss may receive a commission for purchases made through these links.
If you're like most, childhood gifts to mom involved macaroni, macrame, and possibly glitter. Now that you're fully grown, it's time to graduate to something just a little nicer. Whether your mom likes beauty products or tech gifts, we've rounded up some of the best presents to help her rest, relax, and enjoy the year ahead in great style.
Mental Floss has affiliate relationships with certain retailers and may receive a small percentage of any sale. But we only get commission on items you buy and don't return, so we're only happy if you're happy. Thanks for helping us pay the bills!
If mom's a foodie who likes things fast and low-fat, she'll love this pressure cooker, steamer, and air fryer in one. The easy-to-clean, ceramic-coated 4-quart Cook & Crisp basket can handle a 5-pound chicken or three pounds of french fries—not to mention an almost unlimited variety of other foods—and finish them all to perfection. Buy it for her and then invite yourself over for dinner.
Find It at:
The nodpod weighted sleep mask / Amazon
Weighted blankets are all the rage, so why not give the sleep mask version? The microbeads in the nodpod provide a gentle pressure that reduces anxiety while promoting deep sleep. The scalloped design features a notch at one end that the wearer slips the other end through, which allows the mask to stay on in any position, or if they're the type who tends to toss and turn. (If Mom wants a looser experience, she can also just drape it across her head before falling asleep—the weight makes it more likely to stay in place than the average eye pillow.) The machine-washable Jersey cotton side is cooling, while the fleece side is warm and cuddly.
Find It at Amazon for $25 and also at these other retailers:
The Sips by tea subscription box and sample contents / Sips by
Sometimes it seems like there are almost as many tea varieties in the world as there are tea drinkers. But since tea can be a little on the expensive side, not everyone wants to splurge on a whole box or tin just to try something new. Enter Sips by. After mom (or anyone else) takes a quiz to develop their own "tea profile," they can receive a monthly box that includes four premium teas chosen from over 100 brands around the world. Each box makes at least 15 cups, and includes biodegradable filters for loose-leaf teas. It's a great way to try niche brands or unusual tastes—and who knows, mom might end up with a new favorite.
Find It at Sips by for $45 and up.
The Overnight Footcare Kit from Uncommon Goods / Uncommon Goods
This gift set is a great way for mom's feet to get some pampering with minimal effort on her part. She can just rub in the rosemary-and-mint-scented cream, slip on the fuzzy socks, and drift off to moisturizing heaven. Reviewers say the socks are just the right weight to sleep in, and they're machine washable, too. Even a shorter session—maybe while watching TV—will help mom's feet make it through the winter in tip-top condition.
Find It at Uncommon Goods for $18.
The Rifle and Paper Co. Queen Anne recipe box and recipe cards / Rifle and Paper Co.
This handsome black-and-gold recipe box is perfect for moms who like to keep their cooking ideas organized analog-style. The set includes a dozen letterpress dividers and 24 recipe cards printed with charming black spoons on the top. If mom's recipe box hasn't seen an update since the 1970s, she's sure to appreciate this charming gift.
Find It at:
A Merino wool chunky blanket from Etsy / Etsy
Chunky knitted blankets are on trend, so why not give mom a super-luxurious version in Merino wool? Made-to-order, hand-knit, and available in a dozen colors from vanilla to lime, they'll keep her toasty—and stylish—for many winters to come.
Find It at: Etsy for $81 and up.
7. Amazon Home Cleaning
iStock.com/Tatomm
Ultimately, love is saying "I will do the dishes for you. Or at least, I will hire someone to do them for you." Amazon Home Cleaning makes it a snap to book professional house cleaners who are background-checked and licensed—they'll even stick to eco-friendly products if that's what mom prefers. They'll dust, mop, clean the tub and toilet, and even change the sheets. Because these days, she probably has better things to do.
Find It at Amazon.
The Kodak Scanza Digital Film Scanner / Kodak
Does mom have a hoard of precious family photos on old camera film? Help her upgrade to the 21st century with this digital film scanner, which converts 35mm, 126, 110, Super 8, and 8mm negatives into JPEGs. Easy to use and with built-in color correction, she can just scan and save to a microSD card, then store, print, or—maybe the most likely scenario—share on Facebook.
Find It at: Kodak for $170 and also at these other retailers:
9. Dry Baby Bodysuit
The Dry Baby Bodysuit in Starry Night / Amazon
If you're looking for a gift for a new mom, these water-, stain-, and odor-repellant bodysuits from Dry Baby are both adorable and practical. They're developed by a former NASA scientist and made in the USA from 100 percent cotton, with no fluorocarbons or other weird additives that can irritate a baby's skin. Plus, this bodysuit has a high neckline to prevent spills and drool from landing on skin, and it features a super-cute stargazing design.
Find It at: Amazon for $14.
10. Amazon Basics Enameled Cast Iron Dutch Oven
The AmazonBasics Enameled Cast Iron Dutch Oven in red / Amazon
Le Creuset enameled dutch ovens are seriously covetable, but the hefty price tag can put them out of reach. Fortunately, Amazon sells its own well-reviewed version of the kitchenware starting at just $40. It's got a similar look to the Le Creuset, and is just as handy for mom's stews, soups, and braises.
Find It at Amazon for $50.
The Lusomé Donna Sleep Shirt and Pants in Dark Shadow / Amazon
Night sweats are an uncomfortable fact of life for women of a certain age, but it's not something many fashion brands take into account. The folks at Lusomé designed their ultrasoft nightwear to wick away moisture and bacteria by commissioning a unique material from an activewear fabric producer. Lab tests show it's 10 times more effective at eliminating perspiration and bacteria than its nearest competitor, but the menswear-inspired designs still look great. Complete the set with the Donna Relaxed Fit Sleep Pant for a mom who stays cool as a cucumber during the night.
Find It at Amazon for $25 and up.
The Fresh Sugar Advanced Therapy Lip Treatment in Sheer Pink / Sephora
The Fresh Sugar lip line is a cult favorite both for its smoothing properties and lemony scent—it seriously works magic on dried-out lips in a way many brands can't match. This balm smooths out fine lines, plumps, and helps improve lip definition, which can fade a little with age. The sheer pink tint is subtle and lovely on its own, although there's also a clear version that works well layered with lipstick. A good stocking stuffer for a mom who's always going for her chapstick.
Find It at: Sephora for $26 and also at these other retailers: