This Amazing Travel Wallet Can Hold Your Passport and Keep You Organized on the Go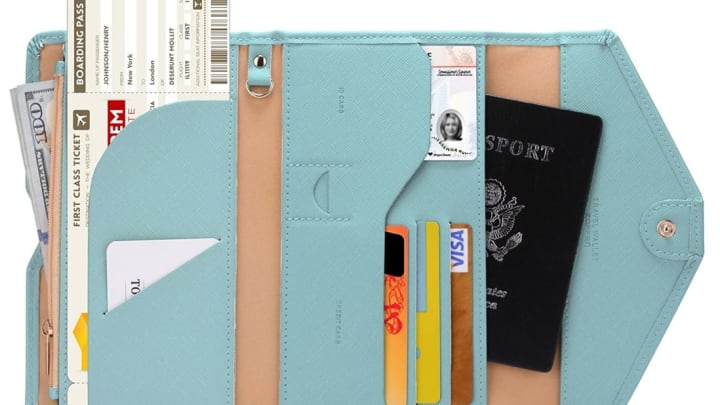 Amazon / Amazon
Traveling is the ultimate test of one's organizational skills. There's a lot to keep track of—including your passport, driver's license, boarding passes, credit cards, and possibly several types of currency—and it helps to have a wallet that can handle it all.
That's where the Zoppen travel passport wallet comes in. As Travel + Leisure points out, this $14 wallet on Amazon's Most Wished For list has more than 1800 five-star reviews, making it one of the best travel wallets you can get on a budget. There's a compartment for just about everything, including your phone, passport, pen, oversized travel documents, and those tiny SIM cards (for prepaid phone plans) that are so easy to lose.
Plus, it may provide some peace of mind if you own any contactless credit cards with RFID chips (the cards often have a radio wave symbol on them). The wallet contains RFID-blocking technology, which means your credit card information will be safe from "skimmers." (Though most U.S. credit cards have EMV chips, those in other countries are more likely to have RFID chips, according to NPR.)
The wallet is made from artificial leather and comes in 33 different colors (though some colors have a slightly higher price). And if extra space for your plastic is important to you, you can shell out an extra dollar for the Version 5 wallet, which has four additional credit card slots.
Want more tips on how to get organized for your next big trip? Check out our guides to crafting the perfect itinerary and packing like a pro.
[h/t Travel + Leisure]