A Forktula Is the Utensil You Never Knew You Needed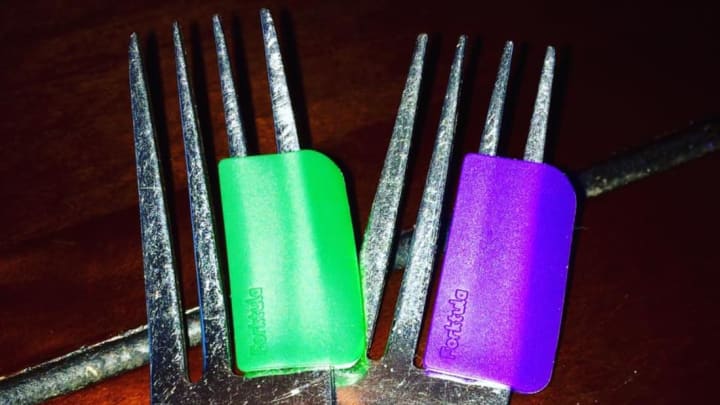 Courtesy of Forktula / Courtesy of Forktula
This article contains affiliate links to products selected by our editors. Mental Floss may receive a commission for purchases made through these links.
Move over, sporks: The forktula is the kitchen accessory you never knew you needed. This food-safe silicone sleeve slides over a fork's outer two prongs and lets you scrape your plate clean without embarrassing yourself or insulting polite company, according to Bustle.
If you've ever found yourself struggling to spoon up that last little bit of meat sauce from your plate of pasta, then you'll understand the inspiration behind this product. Co-inventor Oliver Sauvé told Canada's CBC News he got the idea while working at a cafe, where he would frequently hear customers say, "That was so good, I wish I could just lick my plate."
After teaming up with business partner Josh Lindsay, the inventors were able to make "the world's first and only fork accessory" a reality. The accessory is just three centimeters long, so it's easily portable. Customers could theoretically bring it along with them to restaurants, if they're truly dedicated to leaving no crumb behind.
"Now you can lick your plate, especially in public or at dinner parties," Sauvé told CBC. "You can use it in public, you can use it at home."
It's also easy to clean and dishwasher-safe. Firebox—a website that sells off-the-wall products like Elon Musk air fresheners, gin-flavored marmalade, and narwhal-shaped bottle openers—makes bold promises in its description of the forktula. It's said to be "superior to a spoon" and "more efficient than fingers."
If you want to put those claims to the test, you can order the forktula from Firebox or get a pack of four from Amazon for $6.
[h/t Bustle]